Museums in Destin FL. Have more fun on vacation
There are two categories of vacationers: the 'give me a beach and leave me alone' type, they are looking for R&R at the sea without any distractions, and the curious nerdy type, who loves visiting historic sights and learning about the heritage of the places they visit. This article is for those who are in the middle and enjoy the best of two worlds.
We're inviting you to northwest Florida, to the cute little town of Destin, whose beaches have a stellar reputation.
We'll tell you about the museums in Destin, FL, and the surrounding area, so when you go there, you'll be armed with a decent guide.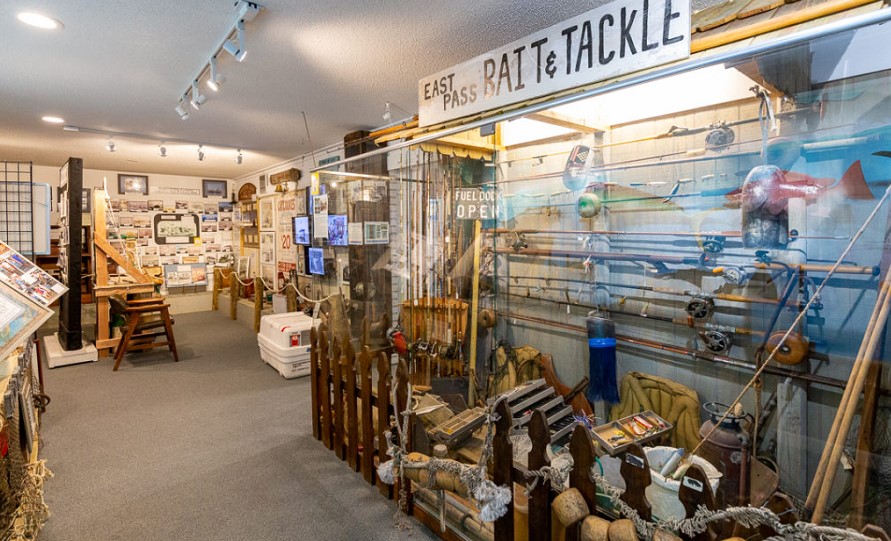 Past and present of the Emerald Coast
Whereas some of us enjoy antiquity: striking ruins and historic artifacts dating thousands of years, others prefer something new and edgy.
That's why we divided all the museums in Destin into 2 categories: museums that tell us stories about the distant and not-very-distant past, and the ones devoted more to the present or very recent past.
Past of the Emerald Coast
Indian Temple Mound Museum, Fort Walton Beach
139 Miracle Strip Pkwy SE, Fort Walton Beach, FL 32548
You'll find the Indian Temple Mound Museum in a serene park with beautiful greenery and tranquility in the air.
It's part of the outdoor historic park complex, where you'll learn about the history of the area. Pensacola culture Indians used to live here for thousands of years. You'll see exhibits of Native American culture, like beautiful pottery and other invaluable artifacts.
Amazing exhibits highlight the early economic activities of the Native American culture. You'll be able to explore the ways Pensacola culture Indians wove baskets and hand drilled. That part of the exhibition is interactive and a lot of fun.
You'll travel in time and relive the history of the area by observing the extensive collection of the Indian Temple Mound Museum. You'll see Spanish invaders in their leather armor, which is part of the exhibition, then you'll witness the Civil War by looking at its artifacts.
A Civil War Exhibit Building is part of the park complex and offers an interactive exhibition along with the Indian Temple Mound itself.
The Indian Temple Mound Museum is amazing. Make sure you visit the Civil War Exhibit building too.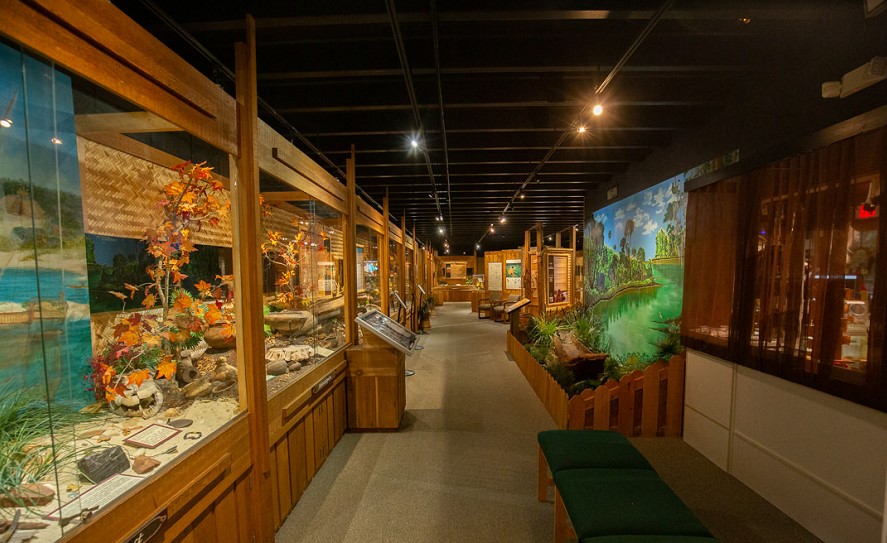 Destin History and Fishing Museum
108 Stahlman Avenue, Destin, FL 32541
As Destin was originally a small fishing village, it should have its own Destin fishing museum. And it does. In a convenient location across the Destin Community Center.
The Destin History and Fishing Museum is an amazing place where you can learn about the history of fishing in the area and the founder of the town, Captain Destin. You'll see how Native American tribes caught fish with arrows, spears, and nets for thousands of years.
The museum boasts a great number of historic artifacts, including ancient rods and reels, and giant fishing lures. The Destin History Fishing Museum is also in possession of Hemmingway's fishing rod, which was made especially for him. A famous writer spent a lot of time in Florida, though it was mostly Key West.
There is an impressive collection of fish caught in the area, including truly remarkable species.
The outdoor exhibition will fascinate you too with a Seine fishing boat named Primrose. It was made in 1925 and used for catching big schools of fish with huge weighted nets. You can find restored historic boats from various periods here.
Kids can have fun in scavenger hunts, and adults — watch interesting documentaries.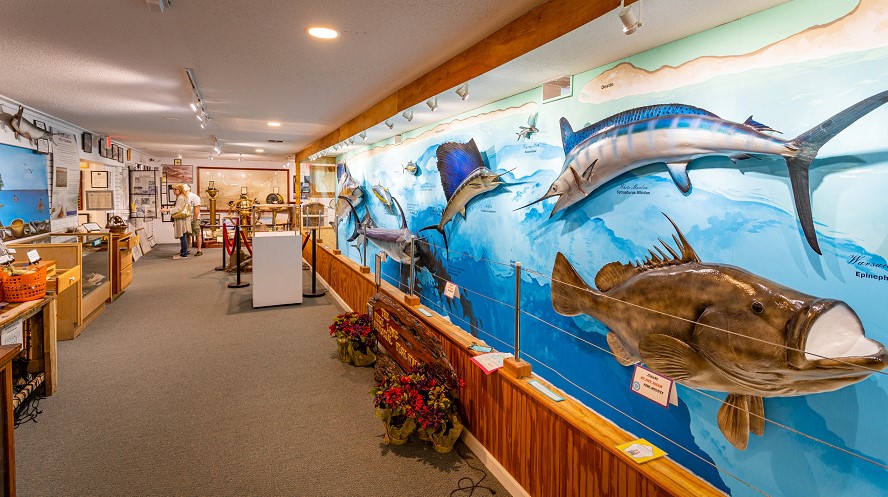 Heritage Museum of Northwest Florida, Valparaiso
115 Westview Ave, Valparaiso, FL 32580
The museum is located to the north of Destin, but we decided to include it in our list because it is a national historic landmark with an outstanding collection telling us about the civil and military history of the area, its culture, and art.
The collection of historic documents, and the archive, are truly extensive. You can study historical artifacts pertaining to the events which brought this area to where it's now.
From Native Americans to Spanish conquerors, from the founding fathers to the Civil War, the Heritage Museum of Northwest Florida is an excellent source for educational and research programs, but it offers fun activities too.
The museum is doing a great job of organizing various events, like the Haunted Heritage Mini Museum or a summer camp.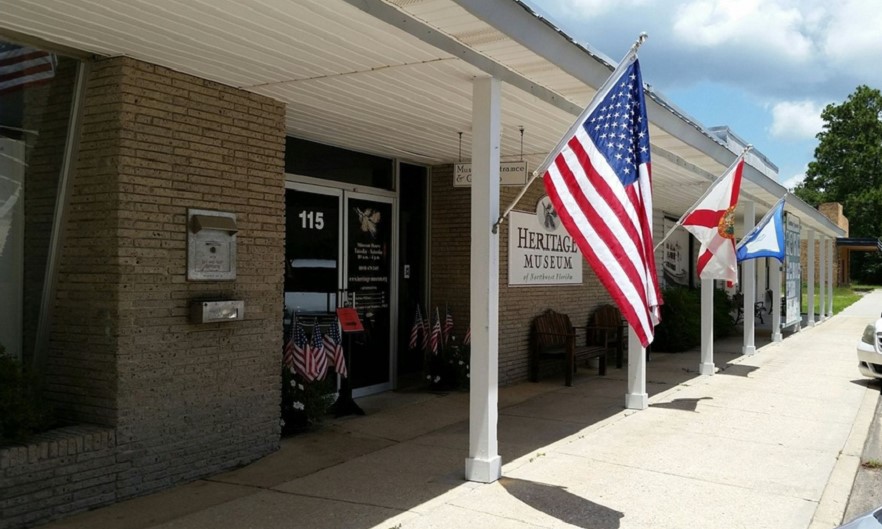 Garnier Post Office Museum, Fort Walton Beach
127 Miracle Strip Pkwy SE, Fort Walton Beach, Florida 32548
The Garnier Post Office Museum is a part of the same heritage park complex as the Fort Walton Temple Mound. It's a real post office founded in 1918.
The museum will tell you a story of how a post office in the countryside worked at that time and how people got their mail.
The post office has been closed since the middle of the 50-s and became a small museum.
Drop by if you visit Fort Walton Temple Mound and the museum heritage park.
Camp Walton Schoolhouse Museum, Fort Walton Beach
127 Miracle Strip Parkway SE Fort Walton Beach, FL 32548
One more museum in the heritage park. The Camp Walton Schoolhouse Museum is an actual school.
People from the town of Camp Walton decided that education was important for their children and built this small wooden structure with only one classroom because there weren't many kids in Camp Walton.
However, the school grew with the children and acquired a second room for the older students. The school grew out of the old building in the mid-30-s and the house was transformed into the Camp Walton Schoolhouse Museum.
People already understood the value of education at the beginning of the previous century. That's how Camp Walton's education system was born.
Camp Walton is an old name for Fort Walton Beach.The present of the Emerald Coast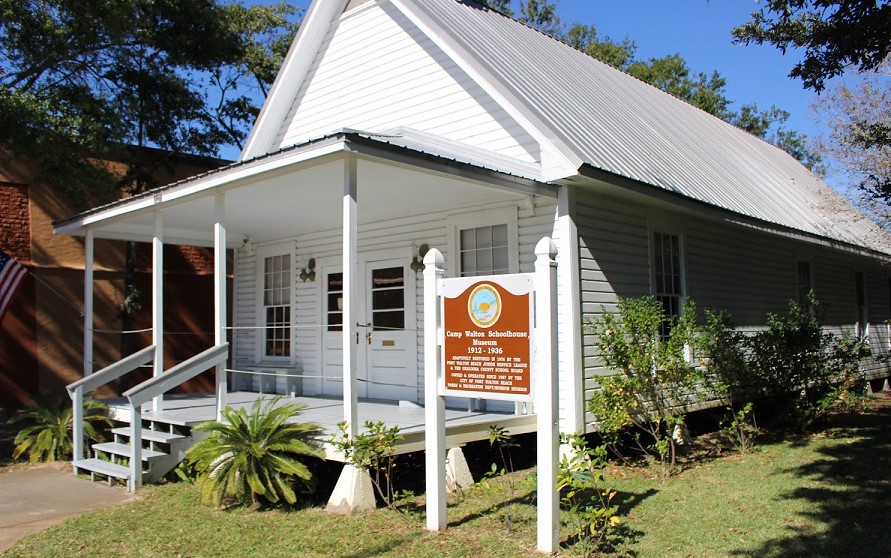 Emerald Coast Science Center, Fort Walton Beach, FL
31 SW Memorial Parkway, Fort Walton Beach, FL 32548
The Emerald Coast Science Center is doing a wonderful job to show both kids and their parents that science and learning can be fun. The museum dedicated to science has various exhibitions pertaining to different scientific fields, like math, technology, zoology, ecological science, and others.
It's interactive and engaging. If you bring the kids there, they will be thrilled. They'll get acquainted with the wildlife of the area, climate, and ecological concepts. An augmented reality sandbox will transform complex scientific issues into virtual experiments using the most advanced technology.
Another exhibition (SMALLab) will invite you to take part in fun activities using motion capture technology. After watching it on the big screen, you'll have a chance to see how it works and even play with it.
An impressive collection of fauna representatives will charm you with their names. They were named after world scientists, like a cute bearded dragon Newton. There are small animals, birds, and reptiles, and your children will have a delightful experience getting to know them and learning about them in a relaxed and exciting manner.
There are so many amazing rooms in the Emerald Coast Science Center, and each of them represents a scientific field with games and puzzles, experiments, and adventures. This is really a place where science becomes an exciting game.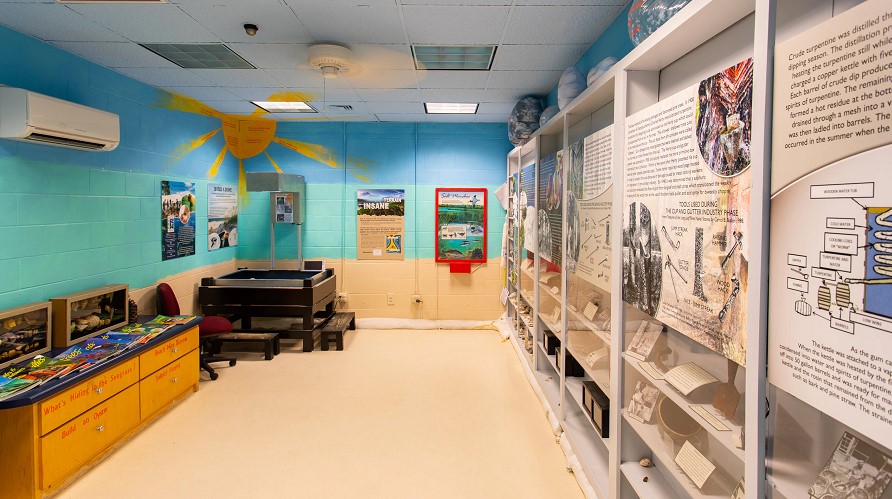 Man in the Sea Museum, Panama City Beach
17314 Panama City Beach Parkway, Panama City Beach, FL 32413
Although technically, the Man in the Sea Museum is located outside Destin FL, we put it on the list of Destin museums. The theme of the museum is in its name. How a man interacts with the sea, how a man survives there, and how he explores it.
Of course, there are historic artifacts raised from the shipwrecks which had sunk and stayed on the bottom for centuries. But alongside them, there will be exhibits proving the possibility of living and working underwater.
You can find various diving suits and see how they developed and improved with time, and examine the suit that allows diving as deep as 400 feet.
You'll see that people have always been passionate about the sea and aspired to explore it and find out its secrets.
Zoo Gallery, Miramar Beach
1209 Airport Road Number 1 Destin, FL 32541 (shop)
The Zoo Gallery is a place for connoisseurs and everyone who loves crafts and unconventional art. The gallery has a fascinating collection of unique items which in reality match perfectly and create an artful synergy. Amazing jewelry, bright pottery, books, paintings, candles, furniture, and handmade soaps, all in one place in a striking ensemble.
The couple who owns the Zoo Gallery made their dream come true by creating this unique space. Collecting art and craft from all over the US, they show their findings to people and share their artistic vision.
Buying something from the gallery shop will make you the owner of something unique and unconventional.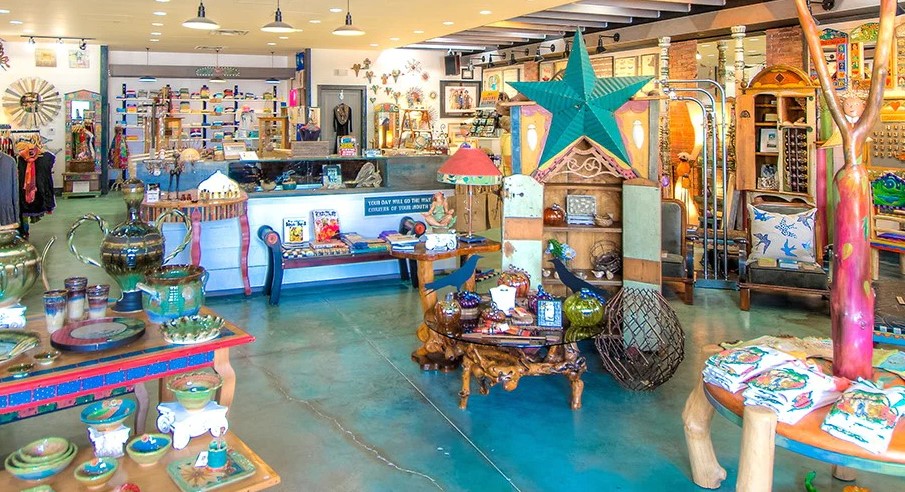 Air Force Armament Museum, Eglin Air Force Base
100 Museum Drive, Eglin Air Force Base, FL 32542
To get to the Air Force Armament Museum, you won't have to go far from Destin FL. Just a half-hour drive south and you are at the Eglin Air force Base.
The exhibition is presented both indoors and outdoors. The Air Force Armament Museum is unique, as it's the only museum devoted to the history of Air Force weaponry.
You will see and even climb on board of the planes participating in the Vietnam and Iraq wars, as well as World War II. If you are interested in the history of arms and modern weapons as well, you'll have a blast.
A collection of rockets, missiles, and multiple types of firearms is presented to the guests of the museum.
Children will have a time of their life climbing the planes parked outside and trying simulators.
To recap
Destin, FL is known as the 'world's luckiest fishing village'. But it's not only a fantastic destination for a beach vacation, it will pleasantly surprise you with its great museums. Among the museums in Destin, everyone can find one to their taste. Use our guide and hit the road. Destin is a perfect destination.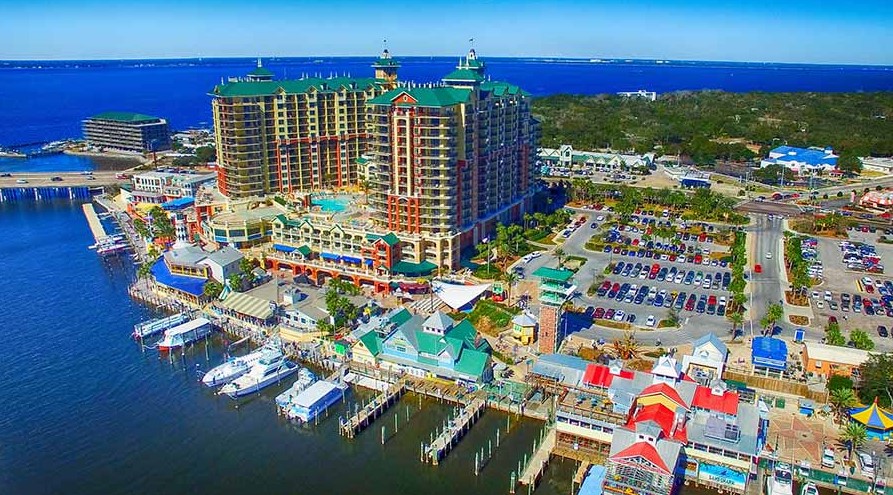 Frequently asked questions
Does Destin have a zoo?
The Emerald Coast Zoo is only 45 min from Destin, FL, and houses a diverse fauna.
What celebrities own homes in Destin, FL?
Among the celebrities owning houses in Destin, FL, are Britney Spears, Jessica Simpson, Tim McGraw, Sheryl Crow, and Keith Urban.
What is Destin, Florida, best known for?
Destin, Florida is well-known for its incredible beaches. There are also amazing museums in Destin.
Do any celebrities live in Destin, Florida?
Yes, some celebrities have purchased houses in Destin, including Keith Urban, Sheryl Crow, Jessica Simpson, and Britney Spears. Maybe that's why it's called 'the world's luckiest fishing village'.