Temples in Phuket: exploring the island
While many tourists flock to Phuket for its picturesque shores, the island is also home to numerous magnificent temples that offer a glimpse into the region's religious traditions and architectural splendor.
Phuket Temples, often referred to as "wats" in Thai, provide a serene and spiritual escape from the bustling beach resorts. Let us embark on a journey to explore the captivating temples in Phuket.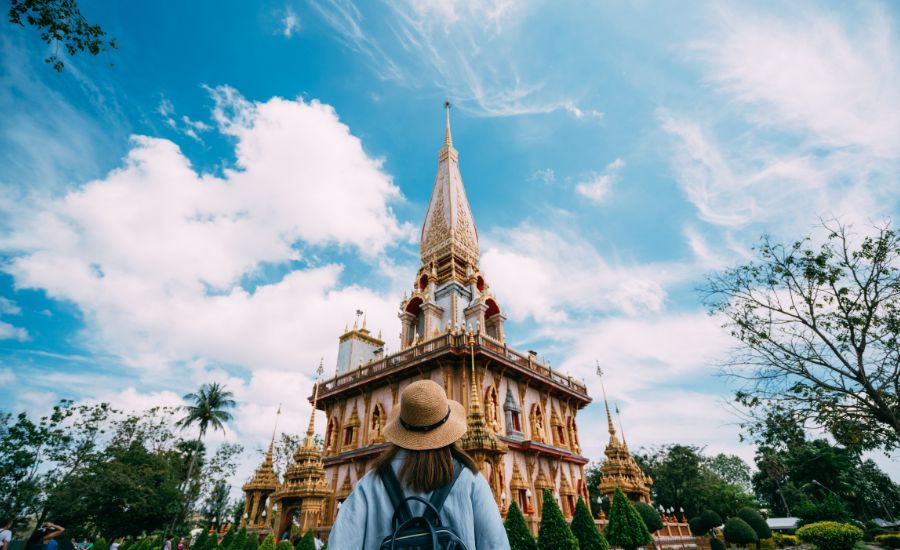 Wat Phra Thong Temple
Wat Phra Thong Temple or Golden Buddha Image Temple is known for its unique legend. The highlight of this temple is the half-buried golden Buddha image, which is believed to bring good fortune to those who pay homage.
According to local folklore, a young boy discovered a partially buried golden Buddha statue at this site.
However, as he tried to dig it out, he mysteriously disappeared, and his family believed it to be a divine intervention.
Today, visitors can witness the captivating sight of the Buried Buddha image, partially concealed beneath the earth. The statue is still partially buried and is a popular attraction for tourists.
Wat Srisoonthorn
Wat Srisoonthorn, in the Thalang district, is revered for its exquisite architecture and tranquil atmosphere. The highlight of this temple is the impressive reclining Buddha statue, measuring 95 ft (29 meters) in length. The statue depicts the Buddha in a peaceful sleeping position, symbolizing his entry into nirvana.
Wat Kathu
Wat Kathu, in the Kathu district, is an ancient temple believed to bring good luck and fortune. The temple is known for its iconic statue of the Turtle God, also known as "Kuan Yin" or the Goddess of Mercy. Devotees often come to seek blessings, leaving offerings of fruit and flowers.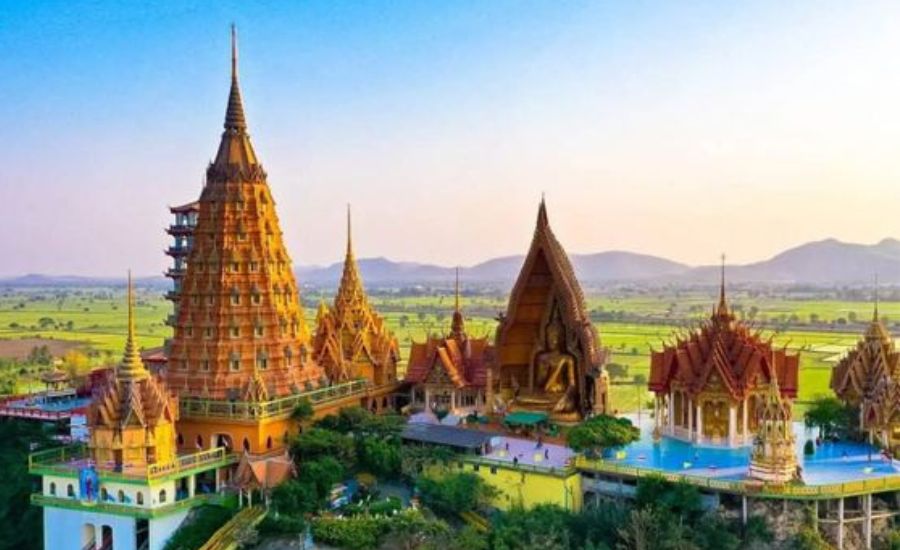 Wat Suwan Khiri Khet
Wat Suwan Khiri Khet, located in Thalang, is recognized for its impressive golden dragon statue winding around a tower.
The dragon, known as Naga, holds great significance in Thai mythology and is believed to bring prosperity and protection.
Wat Mai Luang Pu Supha
Wat Mai Luang Pu Supha, in the Thalang district, houses an unusual relic—the mummified body of a former abbot, Luang Pho Supha.
The preserved body is displayed in a glass case, attracting curious visitors intrigued by the concept of eternal preservation.
The temples in Phuket include a meditation hall and a stunning white stupa that adds to the serene ambiance.
Wat Lipon
Nestled in the Thalang district, Wat Lipon is known as one of the most peaceful Phuket temples. It has marvelous surroundings and idyllic lake views.
The temple features a striking red and white pagoda, adorned with intricate artwork.
Visitors can stroll through the temple grounds, engage in meditation, or witness the enchanting sunset over the tranquil lake, making it an ideal spot for contemplation and relaxation.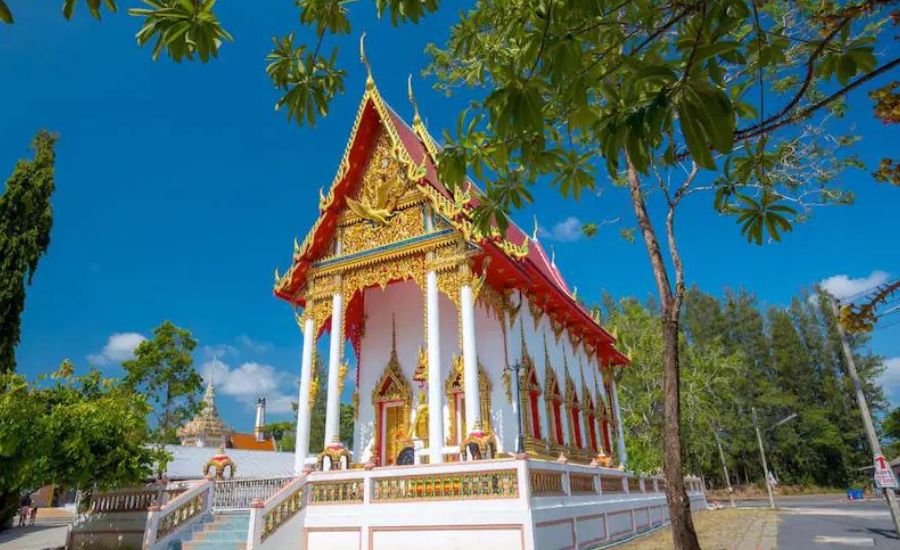 Wat Phra Nang Sang
Wat Phra Nang Sang, located in Thalang, is a historic temple with a fascinating story.
Legend has it that an Indian princess named Mook Ja was shipwrecked on the island, and her remains were discovered here.
The temple Wat Phra Nang Sang is dedicated to her memory and attracts visitors who come to pay homage and seek blessings.
Wat Pa Aram Rattanaram
Nestled amidst the lush greenery of Phuket's forests, Wat Pa Aram Rattanaram offers a serene retreat away from the island's bustling tourist areas.
This tranquil temple allows visitors to immerse themselves in nature while exploring the serene temple grounds.
Wat Ladthiwanaram
Wat Ladthiwanaram, in Thalang, is known for its striking golden Buddha statue.
The temple complex showcases traditional Thai architecture, with ornate designs and colorful murals adorning the walls.
The peaceful ambiance and the magnificent Buddha image make it a revered place for worship and contemplation.
Temples as cultural treasures
The temples in Phuket not only hold religious significance but also serve as cultural treasures that reflect the island's rich history and traditions.
Each temple is a testament to the artistic skills and craftsmanship of the local community, with intricate details and ornate decorations adorning their structures.
Many of the temples in Phuket provide serene and peaceful environments suitable for spiritual retreats and meditation. These tranquil spaces offer a respite from the bustling tourist areas, allowing visitors to find solace and inner peace.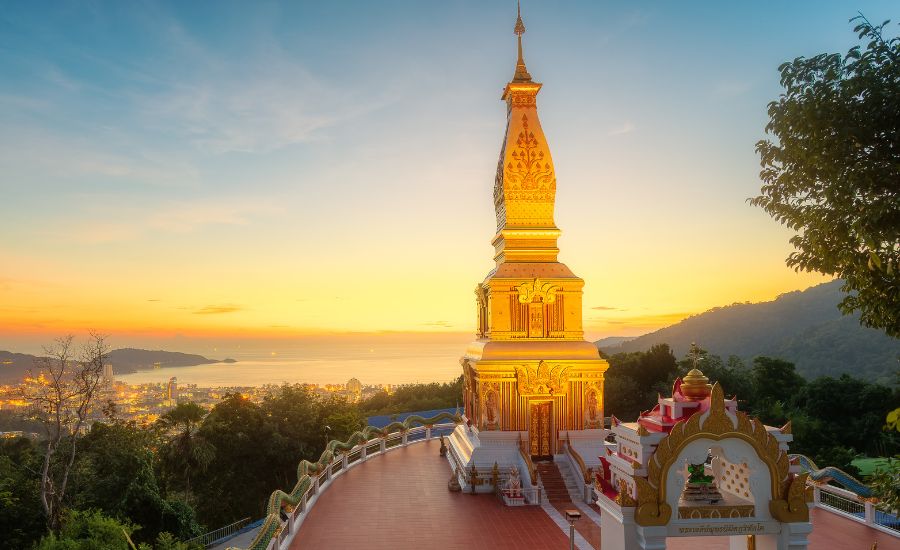 Exploring the Buddhist temples of Phuket
These sacred sites hold immense cultural and religious significance, offering visitors a deeper understanding of Thai culture and spirituality.
From the majestic Big Buddha overlooking the island to the serene temples nestled in Phuket Town and along its picturesque beaches.
The Phuket Big Buddha Temple
Perched atop Nakkerd Hill, the Phuket Big Buddha stands as a towering symbol of serenity and spirituality.
This iconic landmark is one of the most visited temples in Phuket.
The towering statue, standing 147 ft (45 meters) tall, is visible from various parts of the island and offers panoramic views of Phuket and Phang Nga Bay.
Visitors can bask in the tranquil ambiance, make merit, and admire the intricate details of the golden big Buddha image.
Wat Chalong
This Buddhist Temple holds deep historical significance, as it played a pivotal role in the resistance against Burmese invaders in the 19th century.
Today, Wat Chalong remains a center for Buddhist worship and cultural festivities, offering meditation sessions and a chance to pay respects to the revered Luang Pho Chaem and Luang Pho Chuang.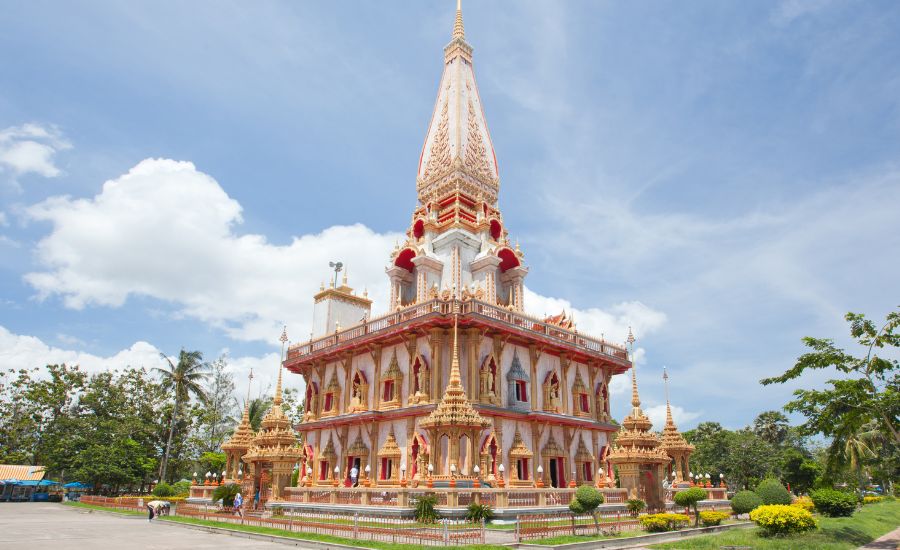 Blending Chinese and Thai Traditions
Phuket's cultural tapestry is enriched by the presence of Chinese shrines, and the Jui Tui Shrine in Phuket Town is a prime example.
This beautiful temple, adorned with colorful dragon sculptures and elaborate decorations, reflects the fusion of Chinese and Thai traditions.
Khao Rang Hill's Temple
Nestled on Khao Rang Hill, overlooking Phuket Town, Wat Khao Rang offers a captivating blend of natural beauty.
This beautiful temple is known for its stunning views of the cityscape and the Andaman Sea. Visitors can explore the temple grounds, adorned with intricate carvings and statues of Lord Buddha, and soak in the peaceful atmosphere.
Karon Temple
Karon Beach is not only renowned for its pristine sands. Karon Temple, also known as Wat Suwan Khiri Khet, provides a serene escape from bustling beach activities.
Surrounded by lush greenery, the temple boasts a golden dragon sculpture winding around its tower, exuding a sense of enchantment.
Phuket Town's Temples
From the ornate Wat Mongkol Nimit to the revered Wat Suwan Khiri Wong, these temples showcase intricate architectural details, vibrant murals, and sacred Buddha images.
Exploring the narrow alleys of Soi Bang Yai, visitors will encounter hidden gems such as the Thai temple, Wat Putta Mongko.
Phuket's breathtaking beaches not only allure sun-seeking tourists but also host captivating temples that blend seamlessly with the coastal landscape.
Along Patong Beach, visitors can find Wat Kalim, a peaceful temple overlooking the azure waters. Karon Beach is home to Wat Suwan Khiri Khet, where one can seek solace amidst the tropical surroundings.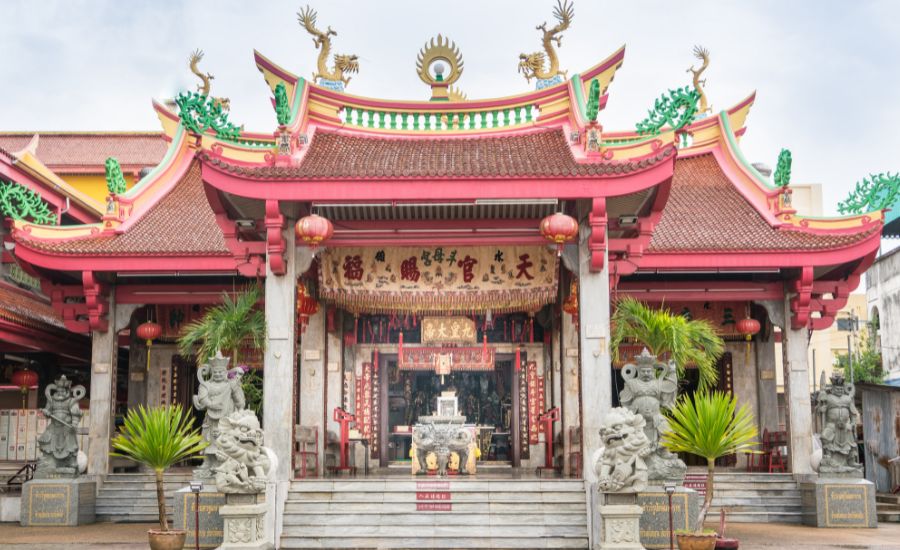 FAQ
If you have any questions left:
Does Phuket have temples?
Phuket, an enchanting island in Thailand, boasts a rich heritage of Buddhist temples that dot its landscape.
Adorned with exquisite Buddha images, these temples hold deep reverence and cultural significance among the local community and visitors alike.
Beyond their religious and cultural importance, these temples also serve as community centers, hosting various religious ceremonies, and festivals. They provide a gathering place for locals and devotees to come together and celebrate important occasions.
What is the largest temple in Phuket?
The largest temple in Phuket is Wat Chalong. It is a revered temple complex located in Chalong Bay.
How many Buddhist temples are there on Phuket?
The exact number of temples in Phuket may vary, but there are multiple temples spread across the island, and the number of them riches more than 25.
Conclusion
The Buddhist temples of Phuket present a mesmerizing tapestry of spirituality, cultural heritage, and natural beauty.
From the awe-inspiring Phuket Big Buddha to the serene Wat Chalong and the enigmatic half-buried golden Buddha of Wat Phra Thong, each temple invites visitors to immerse themselves in Thai culture, find moments of tranquility, and reflect on the teachings of Lord Buddha.
Whether exploring the bustling streets of Phuket Town or relaxing on the pristine beaches, the island's temples offer a gateway to discovering the spiritual essence of southern Thailand.