Don't start backpacking in Japan before read this guide
Japan is not a cheap country for travelers but attracts backpackers from all parts of the Earth. Japan combines feudal culture and modern urban cities. You can visit medieval temples and castles, meet geishas in colorful kimonos and samurais with shiny katanas and also have great impressions from bullet trains, robot shows, nightlife, and unusual delights.
So before starting your backpacking in Japan, read this guide to know some tips and tricks to save money and schedule your perfect itinerary.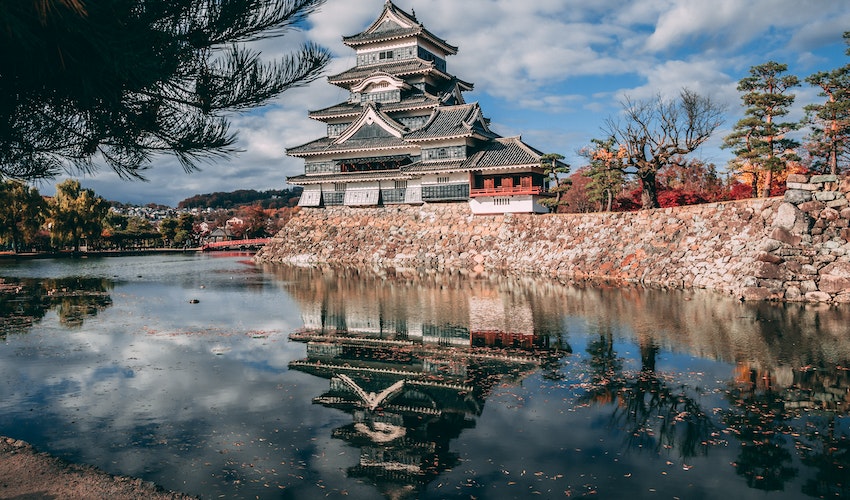 Is Japan good for backpacking?
Japan is on the TOP list of countries that are convenient for backpacking. You can spend some weeks in Japan only at temples visiting or mountain climbing.
Backpacking Japan is also safe for foreign visitors as for native residents.
There aren't so many crimes, and real thieves aren't so many. If you leave your wallet at a metro station, you'll probably get it back.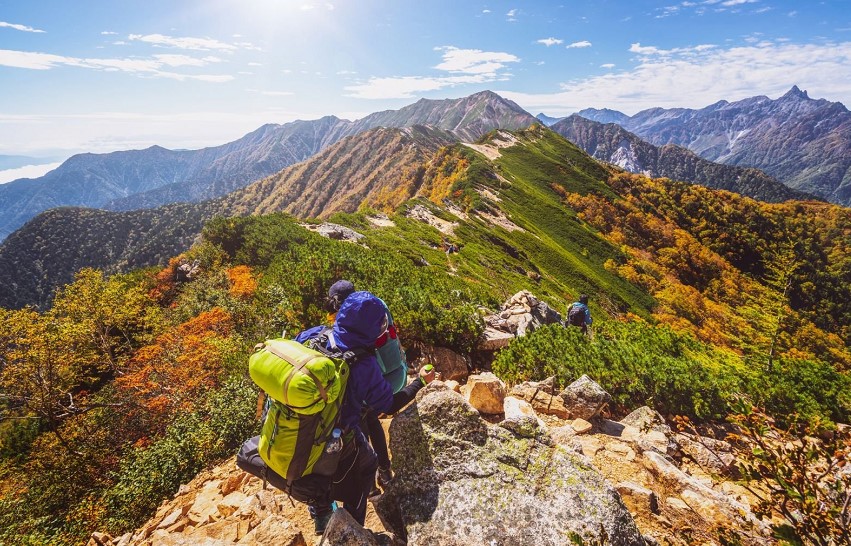 Keep safe yourself in Japan backpacking
There are some risks when you try backpacking in Japan without travel insurance. Before start visiting Japan, consider purchasing good travel insurance. It's not mean that you will use it. When you have an insurance policy, you will avoid accidents.
You must be careful during backpacking in Japan. Despite on low crime rate, there are such crimes as phone or bag snatching. So pay attention while you are walking around major cities at night.
And the last warnings are about some forbidden fruits. For example, there is a Kabukicho district in Tokyo where you can find adult entertainment in host – clubs, pachinko saloons, and Golden Gai bars. So you need to remember that prostitution is not legal and there are strict rules about ganja possession and consumption.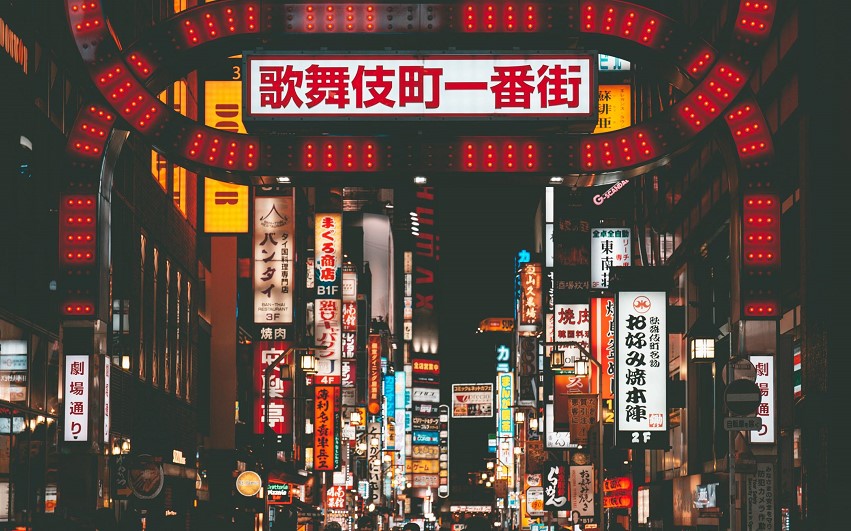 Are there backpackers in Japan?
Thousands of backpackers are in Japan. You will meet tourists and travelers everywhere during your Japan backpacking trip. The most popular seasons are from March to May because it is the famous cherry blossom season, and from September to November.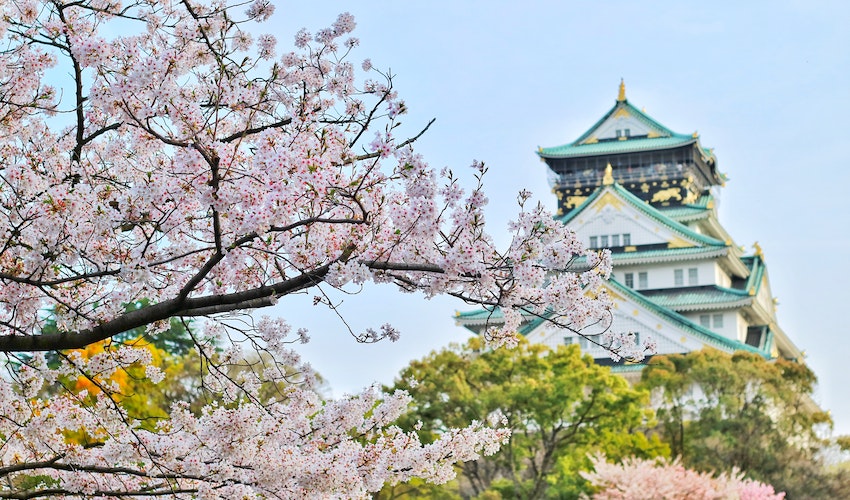 Money in Japan
Approximate quotes for Japanese yen as of May 2022, 1 USD = 130 yen, or if it is easier, count as 100 yen = 76 cents.
ATMs are all over the country in stores, banks, and malls. But the transaction fee for getting cash is rather high. So it is better for financial matters to use Wise or Western Union because of lower fees compare with PayPal or banks.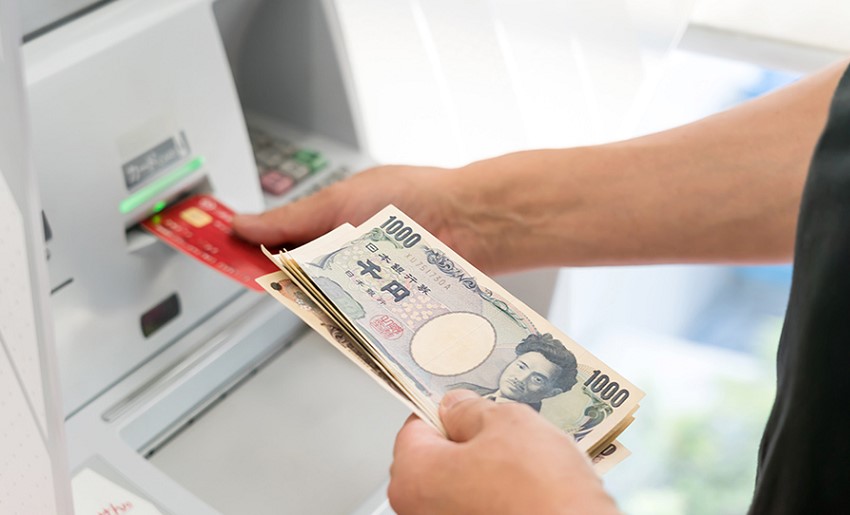 How much would it cost to be in Japan for 2 weeks?
There are 3 variants depending on your budget possibilities – budget backpackers, frugal travelers, and creatures of comfort:
1.      A budget backpacker needs $322 – $854 for 2 weeks. Details of day expenses with amounts are accommodation – $10 – $20 (using camping); food – $6 – $13; transport – $3 – $10 (using hitchhiking); activities, nightlife, and delights – $4 – $18. The total amount per day is $23 – $61.
2.      A frugal traveler needs $896 – $1820 for 2 weeks. Details of day expenses with amounts are accommodation – $20 – $30; food – $14 – $25; transport – $10 – $30 (using JR Pass and Suica card); activities, nightlife, and delights – $20 – $45. The total amount per day is $64 – $130.
3.      Creature of comfort needs a minimum of $2590 for 2 weeks. Details of day expenses with amounts are accommodation – $40+; food – $30+; transport – $50+; activities, nightlife, and delights – $65+. The total amount per day is $185+.

How long does it take to backpack Japan?
If you want to visit the most significant highlights, you should plan a minimum of 2 weeks' itinerary. It is a Tokyo trip with 7 days in duration, a Kyoto trip for 3 days, and 1 day for a Nara visit. 3-day trip to Osaka for the ending Japan itinerary to fly out of the country.
For first Japan backpacking recommendations consist 3-week itinerary:
7 days-trip Tokyo and around;
2-day adventure to Mt. Fuji;
2-day trip to Matsumoto;
4-day to visit Kyoto and Nara;
3-day trip to Osaka;
3-day trip to Hiroshima and Miyajima then back to Osaka.

Flights and ticket prices
Before starting, your journey to Japan kindly recommends checking ticket prices. Flight prices to/from Tokyo and Osaka airports. International airports like Narita, Haneda, and Kansai have different flight prices, especially one-way flights to/from other Asia destinations.
So recommend using Google Flights service to compare prices, save money and choose a more convenient airport to fly in or out of the country.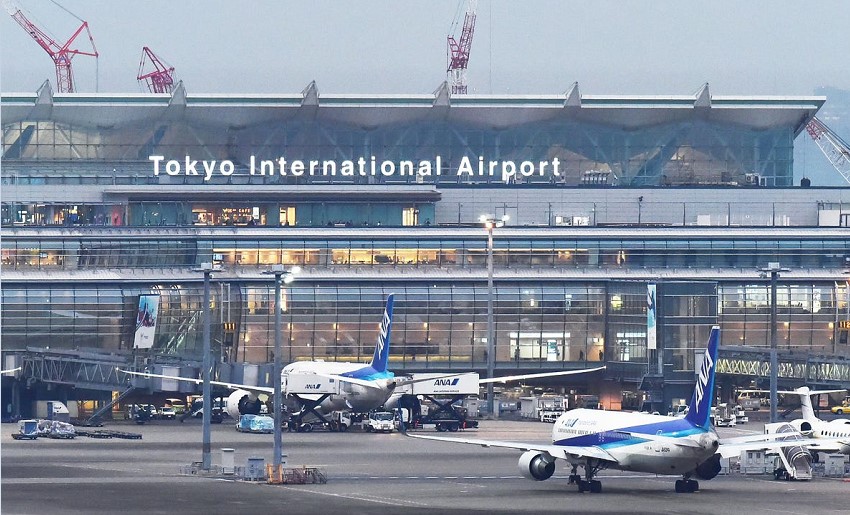 Transport expenses and tricks
The most popular transportation method among the tourists is JR Pass buying. You have unlimited rides during a 7-day, 14-day, or 21-day by JR lines and also by bullet train. It is a good decision to save a lot of time getting around Japan but JR Pass has quite an expensive price.
JR Pass is not recommended for a budget 3-week Japan itinerary because it is not cost-effective.
Suica card is the best way to for budget Japan backpacking. It accepts all kinds of transport in Tokyo city. For example, Odakyu lines that take you to Kamakura aren't part of JR so you can't use Japan Rail pass there.
Around Japan, you can use a Suica card where IC cards are accepted. So popular in Japanese backpacking cities like Kyoto and Osaka, where the Suica card is also used.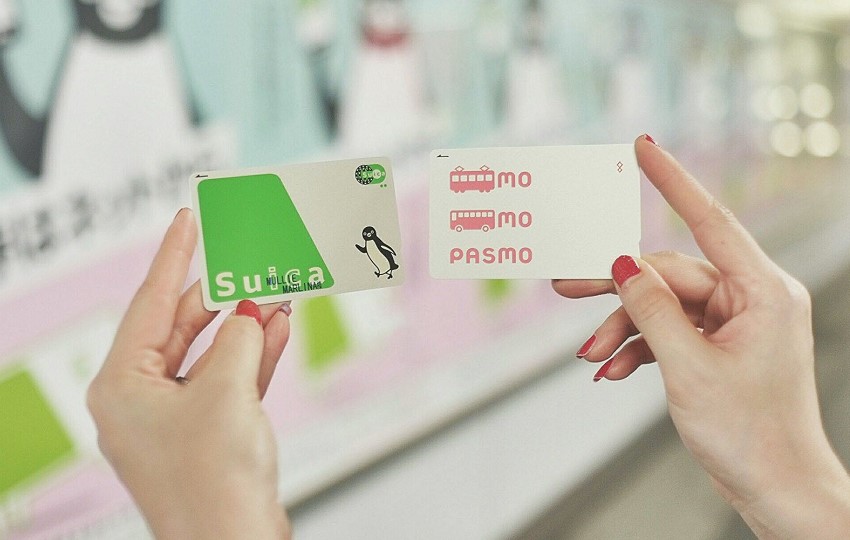 Japan backpacking in Tokyo
All travelers start their 3 weeks of Japan adventure from Tokyo. You can dedicate all days to the Tokyo trip, and even then, you will barely scratch the surface of its culture and nightlife. So recommend a 1-week Japan itinerary, spend in Tokyo and its around.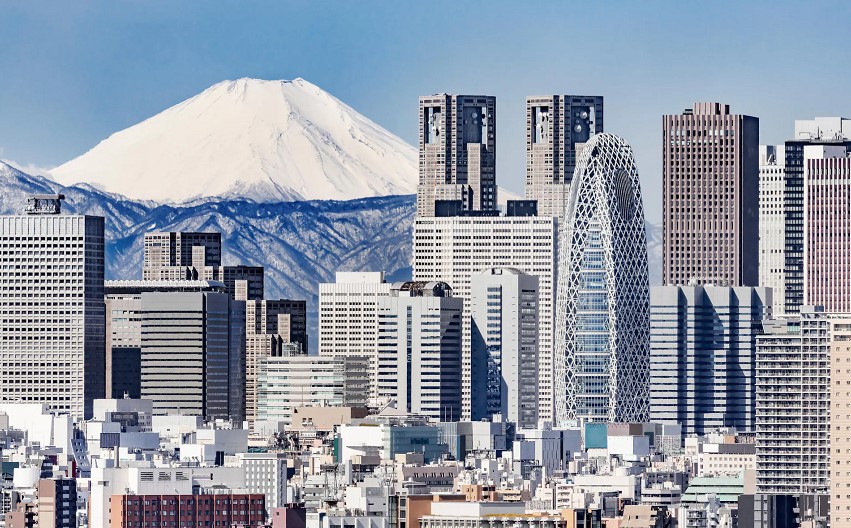 3-day Tokyo trip
You'll never get bored during backpacking in Tokyo because there are many wonderful and sometimes weird things to explore. Also, you can try to investigate more quiet off-the-beaten-path. Below you see a common agenda for the Tokyo trip.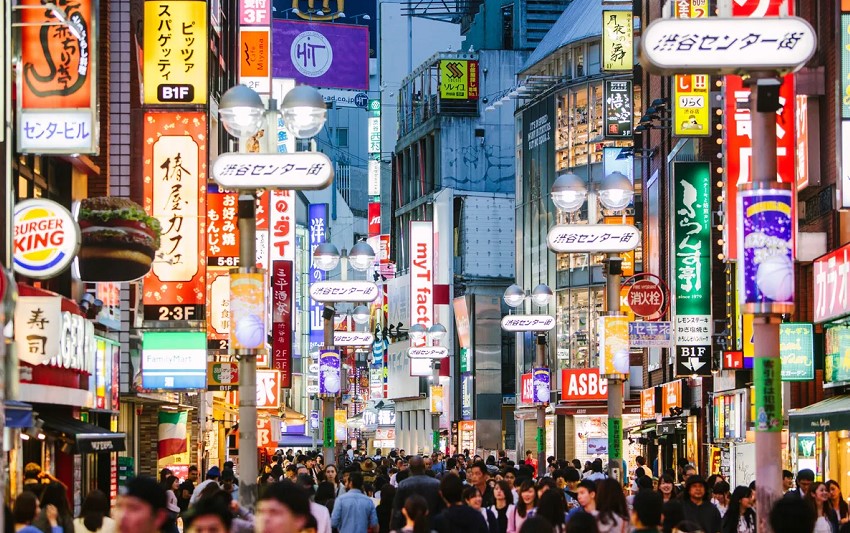 1 day Tokyo tour around Tsukiji Market is the perfect beginning of backpacking Japan. Countless food stores propose various seafood samples for your tastes.
Continue your shopping while walking through a great place located in the Ginza district. It's like 5th Avenue in Tokyo.
If you are tired of the crowds, take a rest in the Imperial Palace Gardens. At Tokyo Station's underground, ramen restaurants with cheap food are the best place for the lunch break. Further, you may check out some quirky Character Street shops.
Akihabara district is famous for its anime and electronics events. Here you have a real pleasure with modern Japanese culture and may buy some souvenirs in a convenience store.
For a good ending to the day trip, visit Asakusa's, Sensoji Temple. It is one of the most iconic sights in Tokyo. If you dare, you can take part in the traditions of this Japanese temple.
2 days Tokyo proposes to start from Mori Art Museum located in the ritzy district of Roppongi. Here you will have a great city overlook.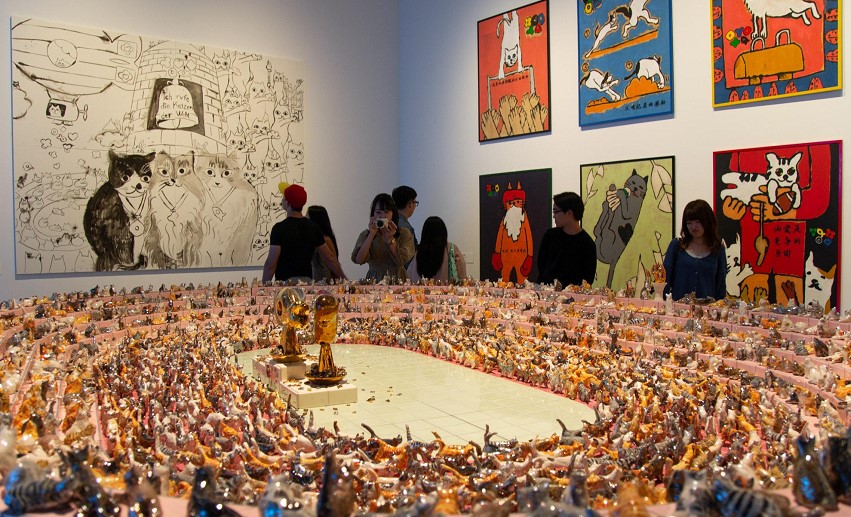 Young Tokyo residents prefer the trendy Shibuya district. There are famous Hachiko dog statues and popular Shibuya crossings here. Shibuya Sky is a quiet new viewpoint over Tokyo where you feel delighted from great views over Tokyo.
Visit one of the most important Japanese shrine grounds of the Meiji Jingu dedicated to the first Emperor and Empress.
Then you have a nice dinner at the Kawaii Monster Cafe or take part in eating rainbow food or other wacky activities on Harajuku and Takeshita street.
If you go to the Shinjuku district in the evening, you may relax with a good drink or just walk through Shinjuku Gai. There are many tiny bars and izakaya in a grid of alleyways.
3 day Tokyo recommends choosing one of the incredible modern museums Teamlab Planets or Teamlab Borderless. There are some exhibitions of immersive digital art there. Explore old Tokyo in the Yanaka Ginza district.
At the Nezu Shrine, you can pass through a row of vermilion torii gates. There are fewer people than at Fushimi Inari in Kyoto, and the gates are smaller.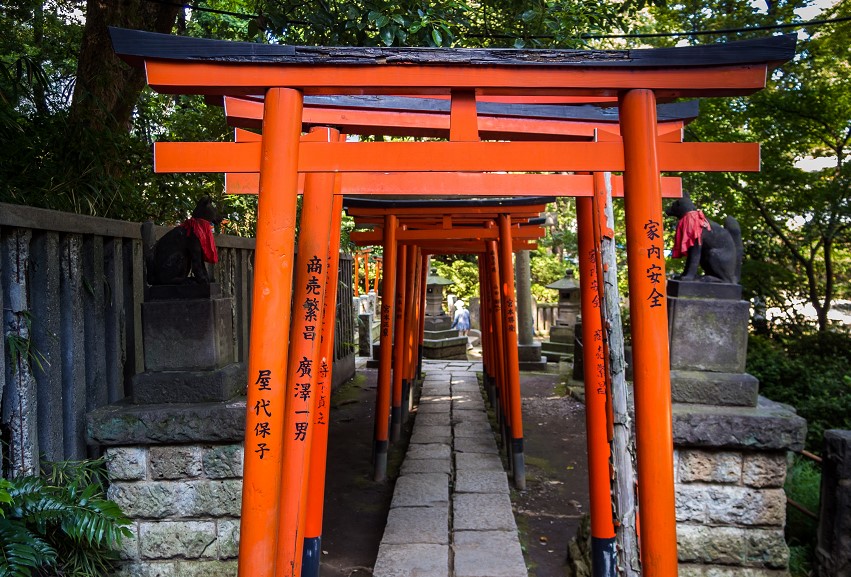 Day trips out of Tokyo
Amazing backpacking Japan you can feel with next day trips out of Tokyo itinerary. Here you may choose a day trip for your preference. So you will enjoy mountains, temples, hiking, Disney or shopping.
Recommend including Japan itinerary day trips to Yokohama, Kamakura, and Enoshima and a trip to the mountains that are located in the east of Tokyo.
Day trip to Yokohama. Yokohama is a large port city, the second largest city in Japan. You head to Yokohama in 30 minutes by train. Day-trip to Yokohama is popular among the local residents.
To reach a port city from Tokyo costs a cheap price (below 500 yen from Shinjuku station). Some of the famous highlights of Yokohama are two Ramen Noodle museums and the sprawling Chinatown.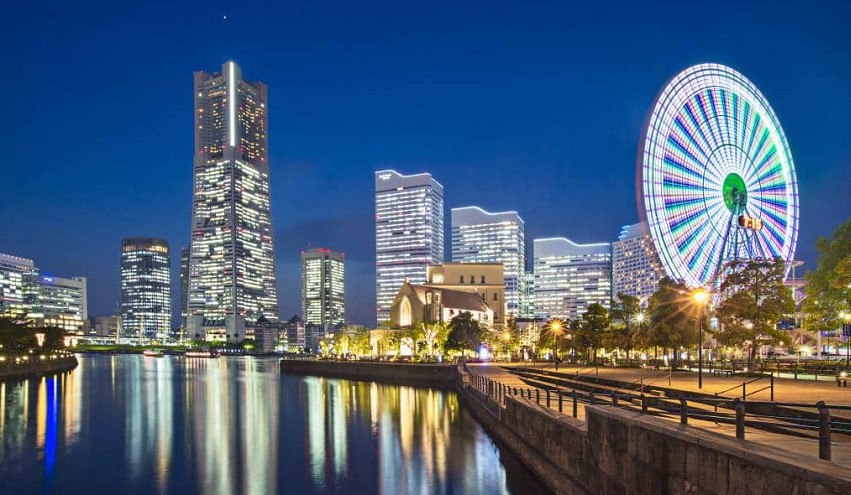 Day-trip to Kamakura and Enoshima
Kamakura and Enoshima are located not far from each other. So it is the right way to save money and time when you combine two visits into one itinerary. An Odakyu one-day free pass costs above 1520 yen that allows you unlimited rides from Shinjuku to Kamakura and Enoshima.
The bronze statue of the Great Buddha is one of the highlights of Kamakura for visiting. You may explore traditional temples and shrines. It's a good chance to see real rural Japanese life when you're across Kamakura's off-the-beaten-path. You need to walk through beaches too.
Near the coast of Kamakura located an island Enoshima. Visit its famous ancient shrines, or you can explore water-formed caves and rugged cliffs. There is a great shoreline for swimming and for sunset wandering. Also, you may head to a viewpoint, and lighthouse and buy some food in a local shopping street.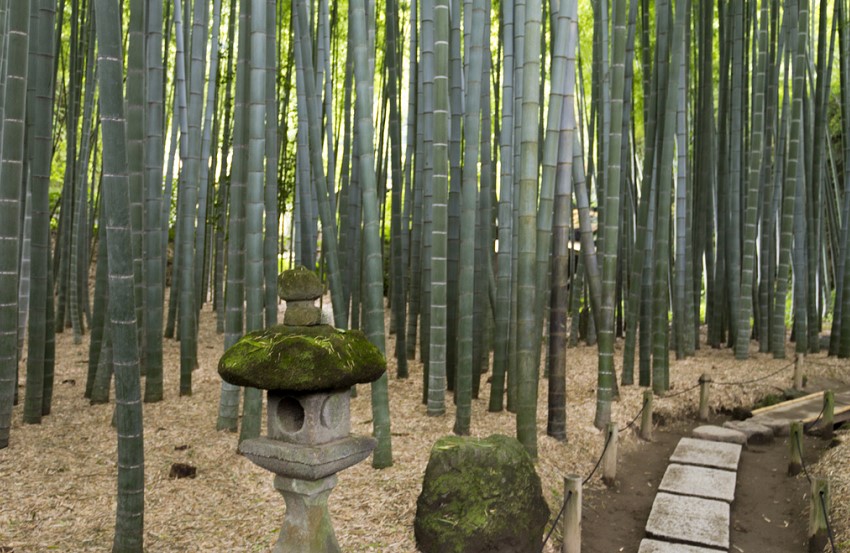 Day trip to mountains Takao, Jinba or Mitake and nature
Japan backpacking is a good possibility to spend time in nature. To the west of Tokyo, mountain chains are sprawling. During the day trip, you have enough time to explore one of the three most popular mountains.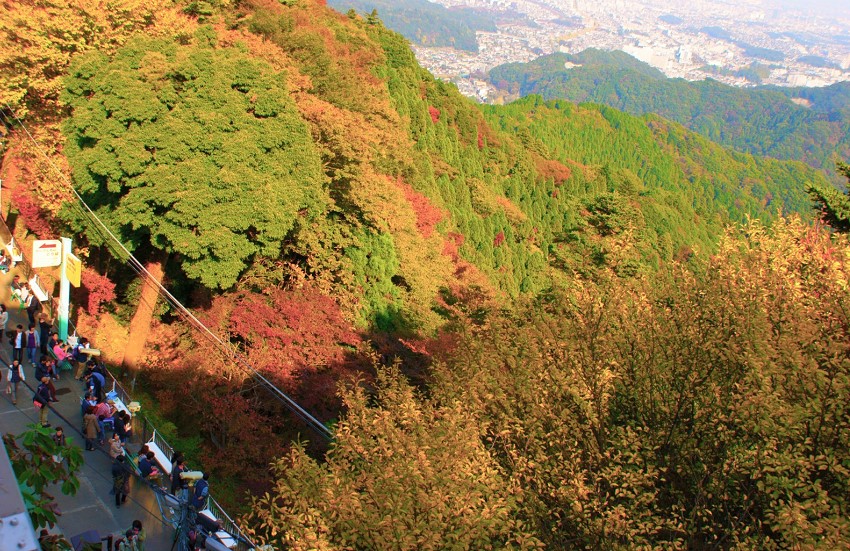 More people prefer to spend day trips on Mt. Takao. Crowds of tourists are always there because it is very easy to get from the city center (a direct route from Shinjuku). You can reach the top by cable car or chair lift. If the day is clear, you will be pleased by a view of Mt. Fuji.
Mt. Takao is a habitat for some kinds of monkeys. Japanese hikers may visit several temples and have cheap meals in restaurants there.
Mt. Jinba is a popular object for trail runners and hikers. The top of Mt. Jinba is rather wide with grassy carpets. There are many benches with tables for picnics and also restaurants there. You can eat and observe the Kanto plain and Mt. Fuji. If you want, you may combine a day trip to Mt.Jinba with Mt.Takao.
Mt. Mitake is located further from Tokyo. It is a holy peak for pilgrimage sites. Monks went to the temple and lived there. If you want, you can ask temple monks to stay till sunrise. Mt. Mitake is home to many souvenir shops and restaurants. You have lunch with an amazing view, then wander around a small mountain village.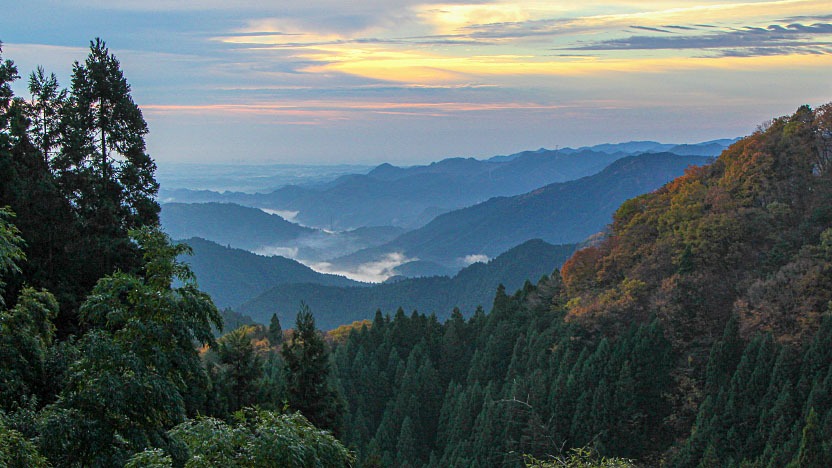 Day trip to Disneyland or Disney Sea
When you visit Japan with kids, you must take an all-day excursion to the renowned park Disneyland. Tickets must be purchased in advance. You and your family will have a nice day in different Disney heroes' thematic zones.
If you want to take a good time with a bit older crowd, head to Disney Sea. You will have an adult-only entertainment experience, ride a ship around seven thematic lagoons with attractions, visit shows, and can buy some alcoholic drinks too.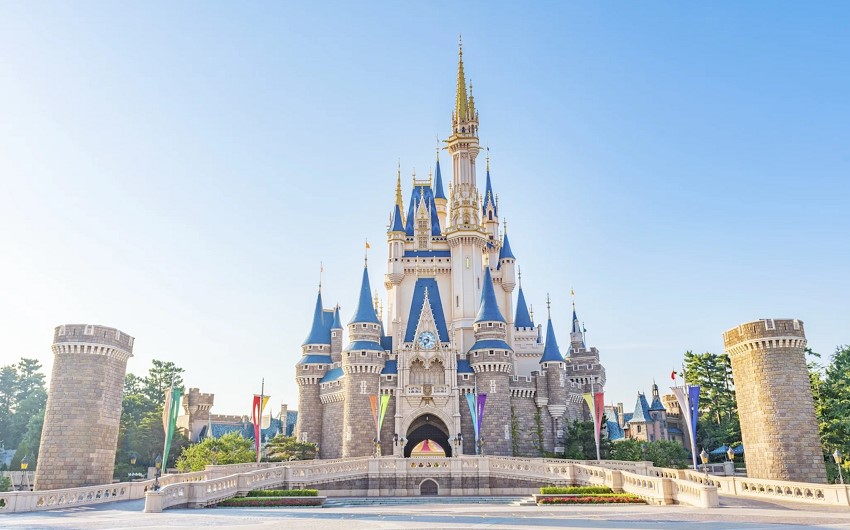 Day-trip to Kawagoe
You should include a backpacking Japan budget for a day trip to Kawagoe. Kawagoe is located northwest of Tokyo in Saitama prefecture. You get there by short train ride from Ikebukuro station.
Local tourists walk through the old Japanese streets, dressing up in traditional kimonos. "Little Edo" is the nickname of Kawagoe where you can explore an ancient clock tower and candy shops along a historical "Candy Alley". And of course, visit a temple.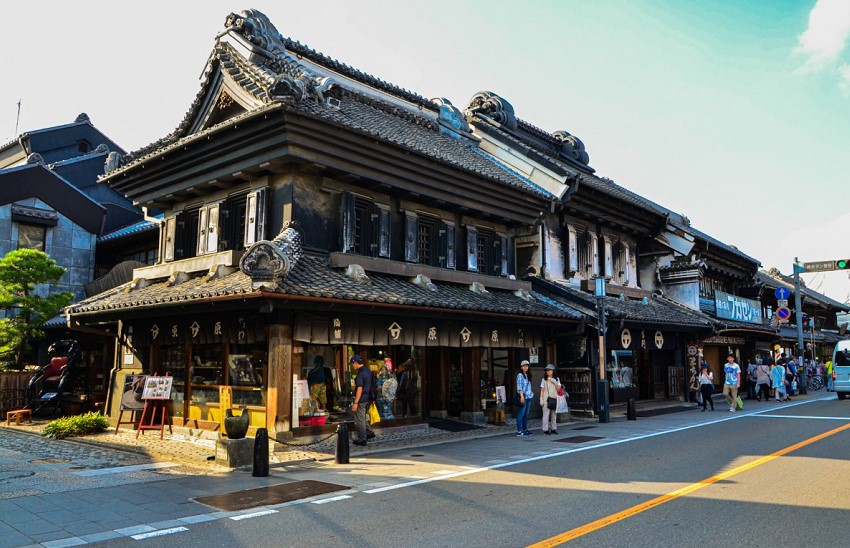 2-day trip to Mount Fuji
There is a famous Japanese saying – 'One who never climbs Mount Fuji is a fool; one who climbs it twice, is twice the fool'. That's why you should climb Mount Fuji at least one time. So you include this adventure in your backpacking Japan budget.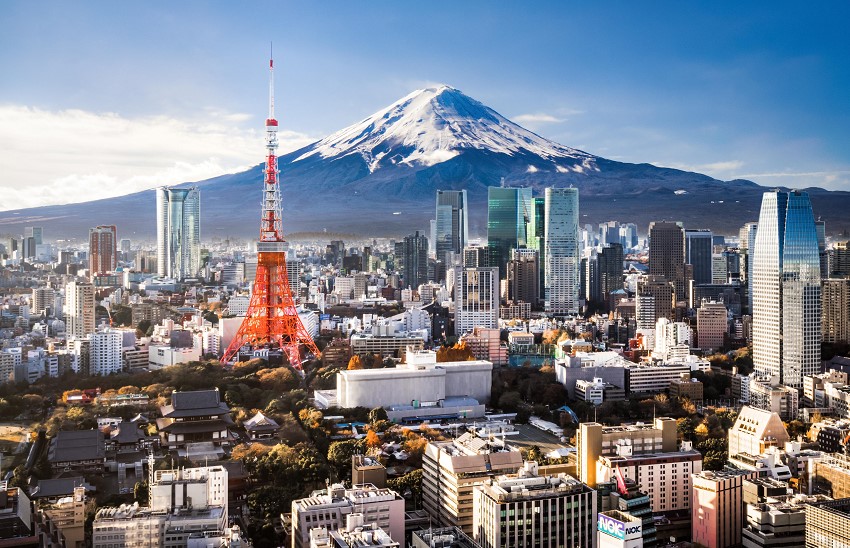 Mount Fuji is one of the most significant attractions. Many travelers go to the top to meet the wonderful sunrise.
Backpacking in Japan to a high point 3776 meters above the sea is a trip to Mt. Fuji. However, climbing isn't very difficult, but you must be aware of the possibility of altitude sickness.
You don't need special training for this hike because every man or woman is available to reach the top.
You start your trip by arriving at Hakone township in the National Park Fuji-Hake-Luz. It's difficult to find in Japan cheaply hostel with a magnificent view of the volcano Fuji. Here you can rest before hiking, and after it, meet other travelers and talk with them.
Check your equipment according to the list: good hiking shoes, enough warm clothes, plenty of water, and some energy bars.
The best season to climb Mt. Fuji is July to the end of August. It's the official season so you must be ready to meet crowds of tourists. So hiking to Mt. Fuji is not suitable for you if you are looking for a quiet sunrise and to be alone in nature.
At other months of the year, this Japan itinerary is shut due to low temperatures and snow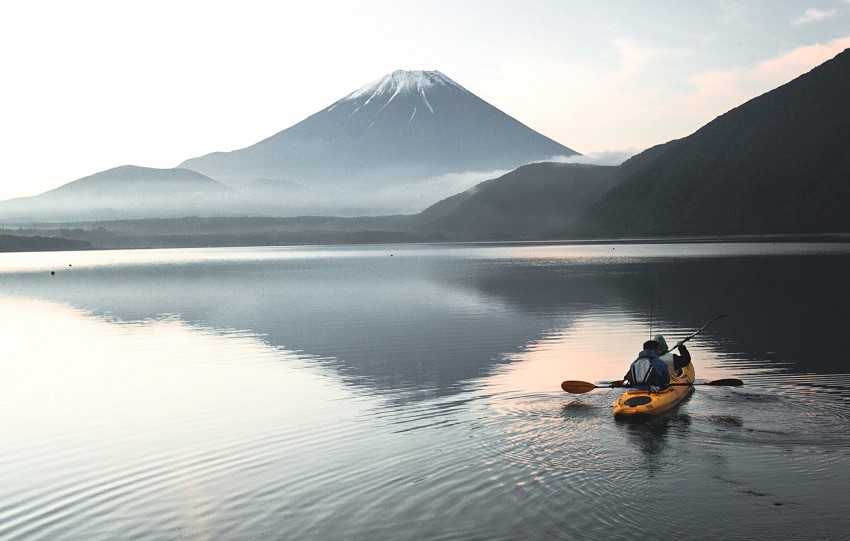 2-day tour to Matsumoto
Matsumoto city is well-known for its castle. This fortress was built in the sixteenth century and is named Crown Castle. Backpacking Japan budget must be spent for visiting such a sign architecture.
Then you explore the city with Nakamachi street. Here you visit old merchant houses and have dinner at the river bank at nighttime. Also, you can bathe in traditional hot springs that call onsens.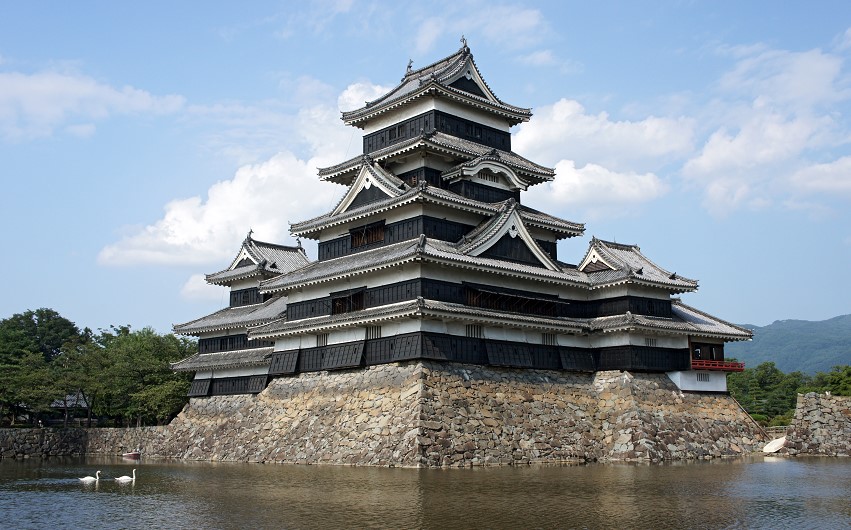 3-day tour to Kyoto
Your trip is better to continue in the south region like Kansai.
Backpacking Japan is impossible to imagine without excursions to these famous cities: Kyoto, Nara, and Osaka.
For starting this Japan trip, you should search highway bus that runs from Tokyo to Kyoto at Bus Online service or Willer Express. Don't forget about the useful Suica card for unlimited travel weeks in Japan.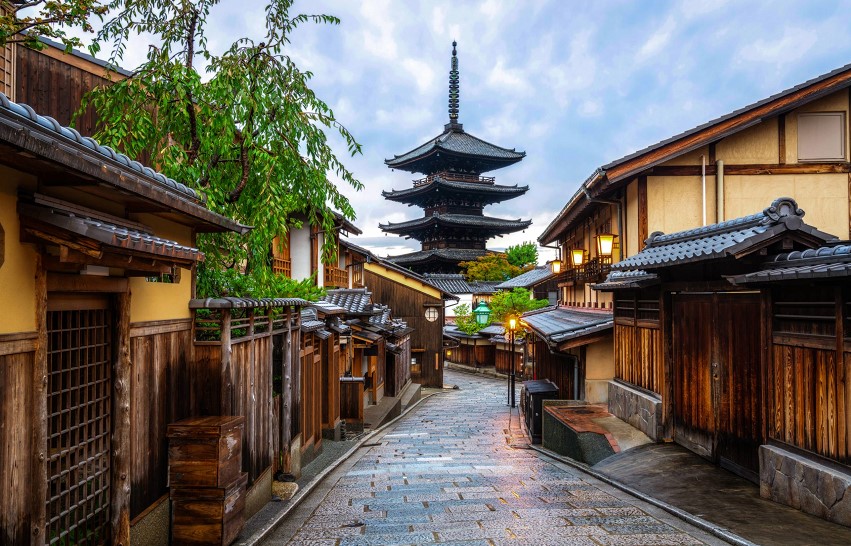 1st day in Kyoto
You must hurry up to Kiyomizudera if you don't want to get in crowds of school groups and tourists in the morning. This is an amazing sample of the great temples of Kyoto that were built into the side of a mountain.
The long winding shopping street name Sanneizaka ended with Kiyomizudera temple. There are many souvenir shops where merchants sell keychains, Japanese traditional treats, foldable fans, and teas.
Also, investigate temple Yasui Konpiragu and try to crawl through the big stone in it if you want your wish to come. May come in a colorful Kongoji Temple.
If you want to have lunch, visit the historic district, Gion, with its restaurants and old houses.
Also, grab an interesting snack at large street food and souvenir Nishiki Market.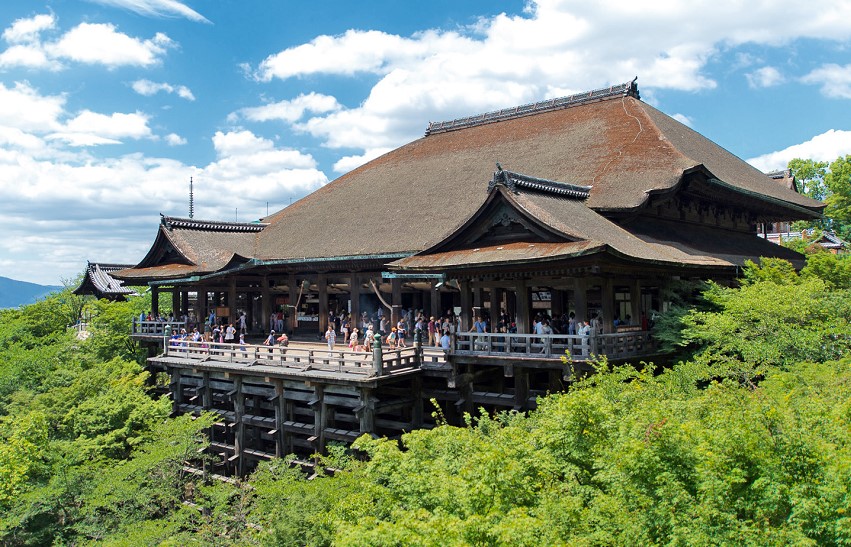 2nd day in Kyoto
The next morning wakes up early too for walking through the famous rows of torii gates going to the Fushimi Inari shrine.
Recommend investigating Tofukuji Temple and Komyō-in Temple. They are not so well-known and rather close to Fushimi Inari.
Head to the north area to Higashiyama Jisho-Ji, also known as Ginkakuji. It is a great pleasure to walk through the Philosopher's Path along the river. A quiet Hōnen-in Temple is near Ginkakuji.
Back to the center of Kyoto to observe the great Heian Shrine. And a shopping tour along the Teramachi-Dori shopping district.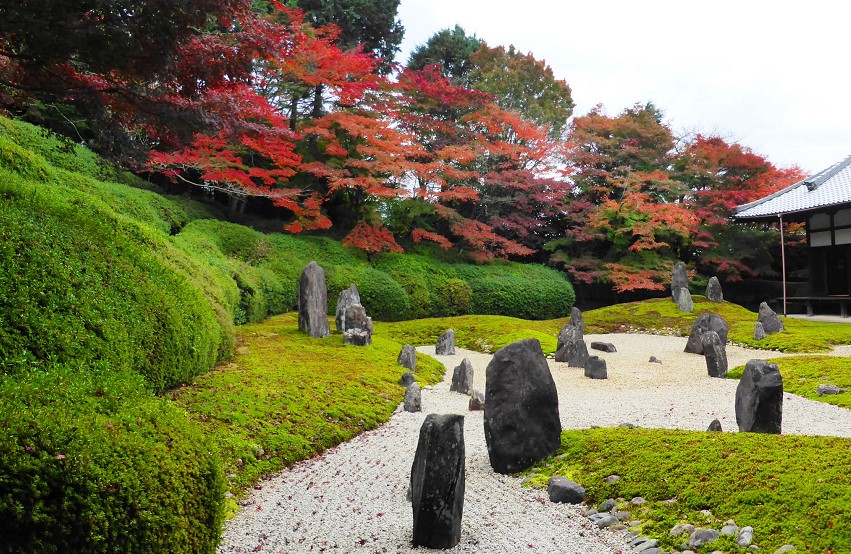 3rd day Kyoto
This backpacking in Japan started in the Bamboo forest called Arashiyama located in western Kyoto. Next, must visit station Kinkakuji, more well-known as the Golden Pavillion. It is in the north direction from Arashiyama. For saving money, try to find a public bus in Kyoto. Don't forget to come to the famous rock garden of Ryōan-Ji temple.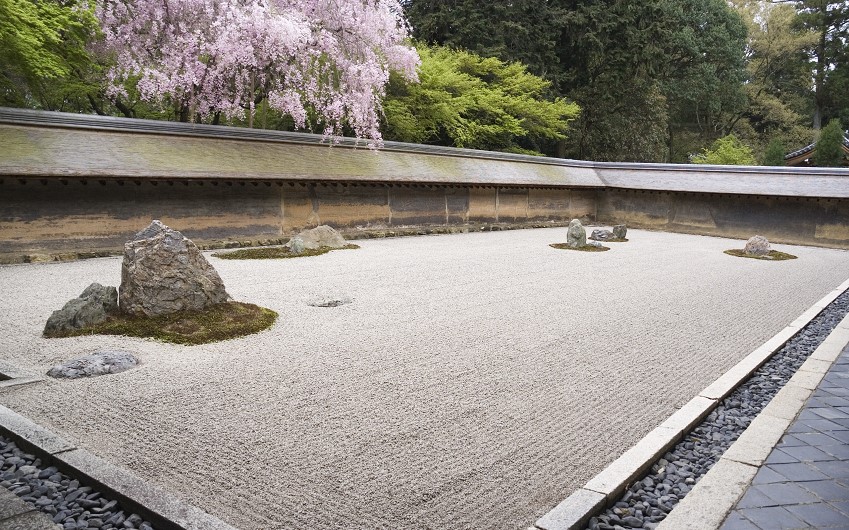 Backpacking in Japan – Nara
Nara is famous for its amazing old temples and hundreds of domesticated deer. Deer is a holy animal because many centuries ago people perceived the appearance of deer as a good omen from gods. Today if you visit Nara you may buy cookies to feed the deer. It's one of the best activities during backpacking in Japan.
Small advice is to feed the deer in a quiet place. There are accidents when some deer may bite for food because they surround cookie vendors and wait for cookies impatiently.
Explore Tōdai-Ji with a large bronze Buddha statue. This temple was built in the 700's century. Also, walk through the main temple area and visit some less-known temples. And don't forget to feed the deer spending weeks in Japan.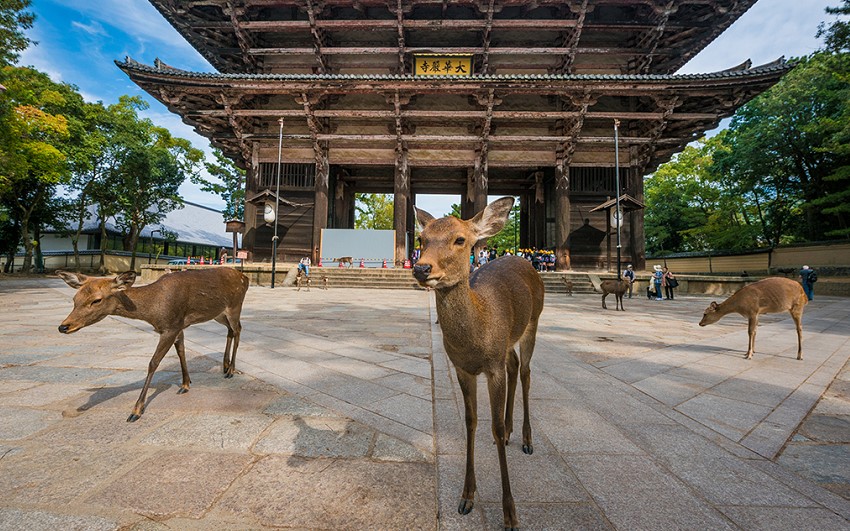 Backpacking in Osaka – 3-day tour
Osaka is a Tokyo of Kansai. If you want to taste Japanese delights, you should visit Osaka, that calls "Japan's Kitchen".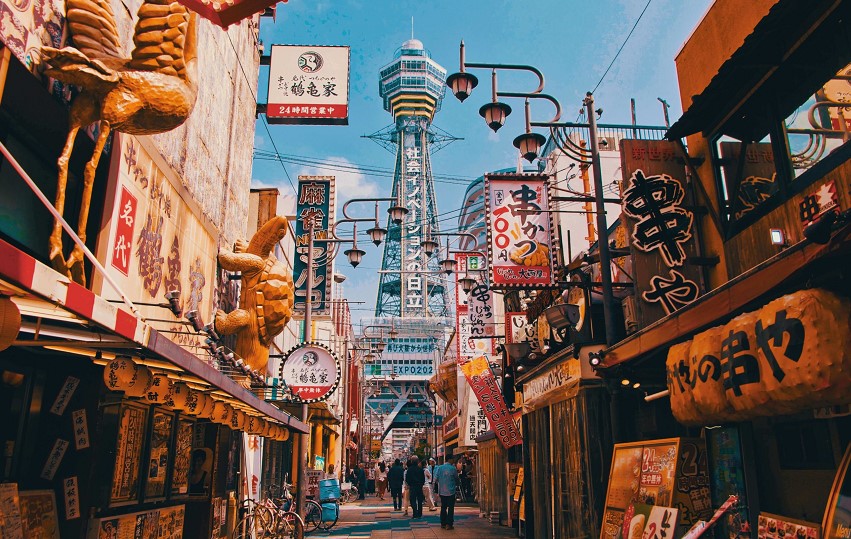 So for one day in Osaka, you may visit the most popular sightseeing and two other days dedicated to the nearest Kansai areas.
The best view over Osaka is at the top of Osaka Castle. Osaka Castle is an impressive architectural object surrounded by large gardens and moats.
All visitors to Osaka prefer to buy food and have lunch on Shinsaibashi street, famous for its shops and also Rikuro's Cheesecakes.
Restaurants of Dotonbori street for their dishes and large moving figurines of their specialties. Here you choose between an octopus and enormous crabs, pufferfish, and gyoza. Recommend tasting famous Osaka octopus dough balls calls takoyaki.
There are various tours out of Osaka to spend time in theme parks. The first tour is an excursion to Universal Studio Japan park. The second way to spend time is a trip to Kobe.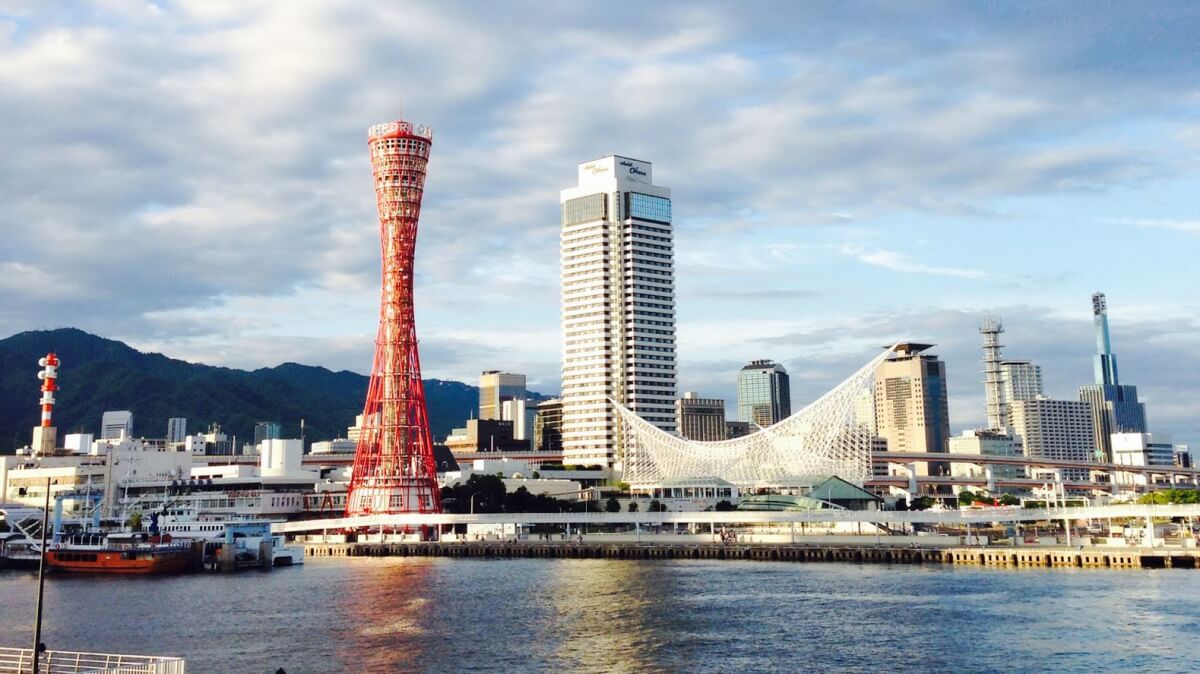 Universal Studio Japan is an amusement park for kids and adults. Every visitor has the possibility to explore Hogwarts Magic School and Diagon Alley, Nintendo world with the popular Super Mario brothers, and meet naughty yellow minions from cartoons.
The large port city of Kansai is Kobe. It attracts travelers who are interested in history, dining, and shopping.
Begin your tour around Kobe from the largest in Japan Chinatown. It is a real heaven for street food fans. You should feel the taste of Kobe beef. This delicacy is well-known throughout the whole world.
Then explore the Kitano-Cho district with famous European architectural structures. There are the English house, the Vienna house, the Dutch house, and other buildings.
Also interesting to observe remnants of a devastating earthquake that hit Kobe in 1995. This exposition is in the port of Kobe Earthquake Memorial Park. Then visit the commercial area of Kobe named Harbor Walk for shopping in the mall and dining in restaurants.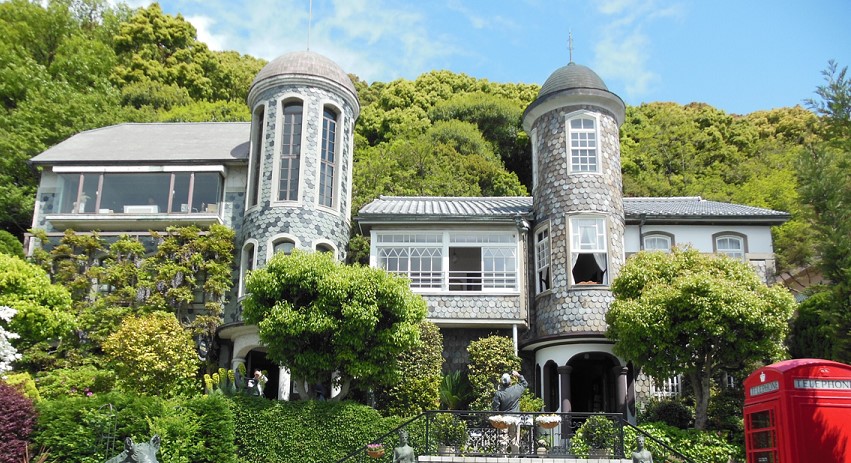 Backpacking Japan – Hiroshima + Miyajima 2-day tour
Backpacking Japan is impossible to imagine without the iconic city of Hiroshima and the famous Miyajima island. They are located close to each other but recommend spending 1 day on the Hiroshima tour and 1 day on Miyajima.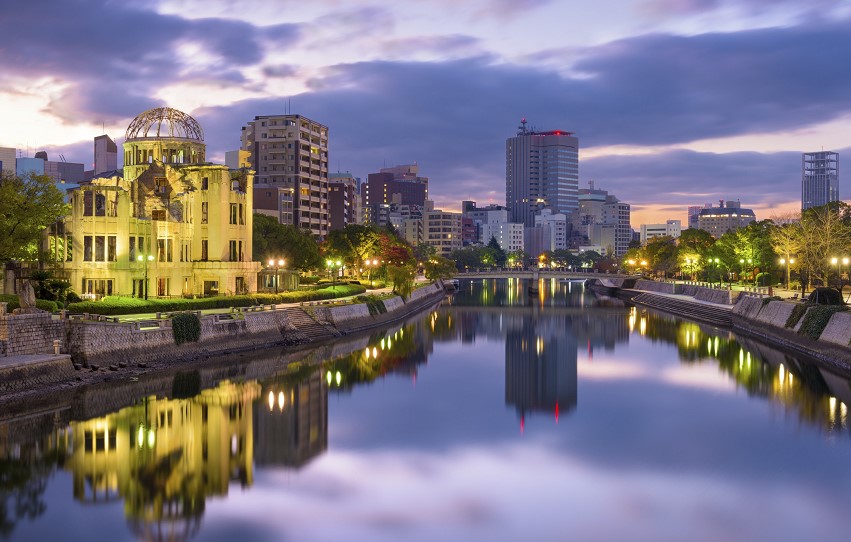 1st day Hiroshima excursion. On the 6th of August, people in Hiroshima take part in the annual lantern floating ceremony to remember the atomic bombing victims. Before World War II ends, the atomic bomb dome covered the city and killed thousands of civilians in a few seconds.
In 1 day Hiroshima tour, you should include visiting the Hiroshima Peace Memorial Museum. There you can find exhibitions in the memory of the atomic bombing victims and the chaos and suffering among those who survived. The horrors of war are heart-wrenching, not for the weak nervous system.
Also, there are some memorials, fountains, and statues in Hiroshima Peace Memorial Park where atomic bombing victims are remembered.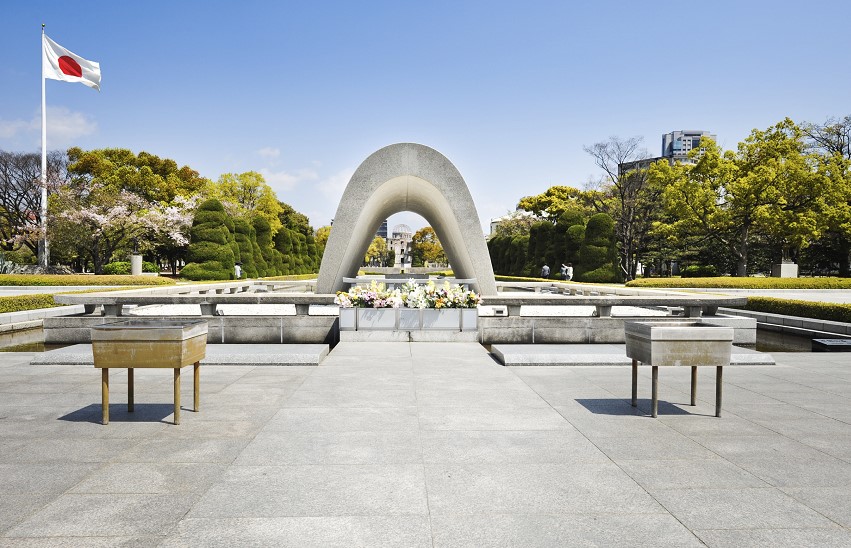 The history of Hiroshima isn't only about war. There is an amazing Hiroshima Castle where you can explore samurai clothes, weapons, and traditions. Also, you find a nice view over the city from the top of the hill. For dinner, you buy savory pancakes made in okonomiyaki restaurants in the Okonomiyaki-mura building.
2nd day Miyajima. You may head to Miyajima island from Hiroshima by tram or ferry. If you spend all day in Miyajima, you will be available to climb Mt. Misen and visit magnificent temples and shrines.
The most iconic attraction of Miyajima is the bright red Itsukushima Shrine and the floating torii gate. If you want to walk through the torii gate, then head to while low tide. The best time for Itsukushima Shrine visiting is high tide, when seawater covered the coast under the building.
Also, may add to your itinerary the Buddhist Daisho-in Temple, which was built in the 9th century.
To get to the summit of Mt. Misen by ropeway or hiking is your choice. From the highest point of Miyajima, you observe neighboring islands and the coastline of Japan. There are small temples on the mountainsides.
After 3 weeks in Japan, you come back to Osaka to fly out from Kansai International Airport.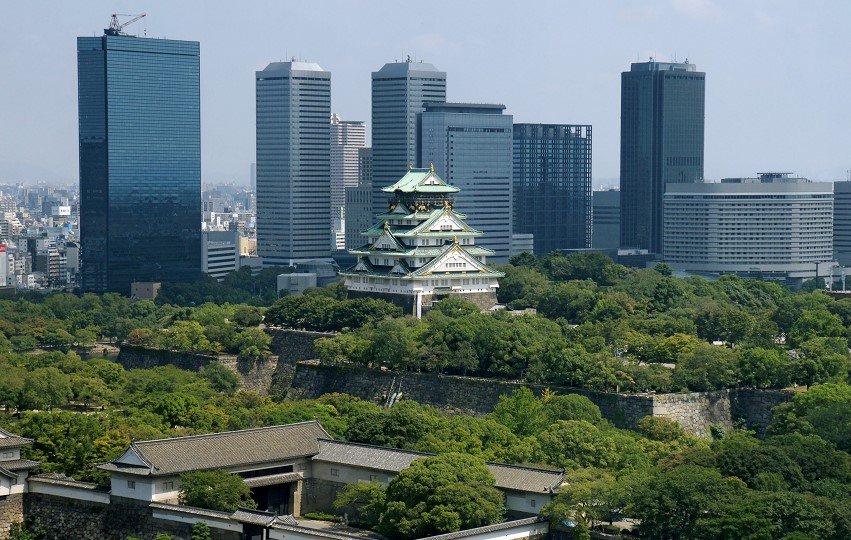 Backpacker accommodation in Japan
Weeks in Japan are difficult when you don't know anything about budget accommodation. The best way is to stay in a hostel. The average price per night is $15-$20, and you can meet interesting people there.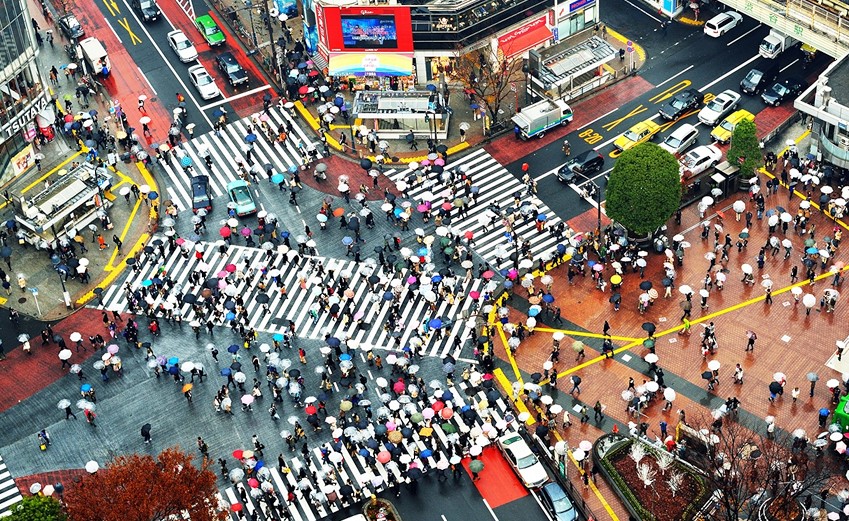 Travel tips – Japan on a budget and saving money
3 weeks in Japan is not a cheap adventure, so recommend reading some tips below.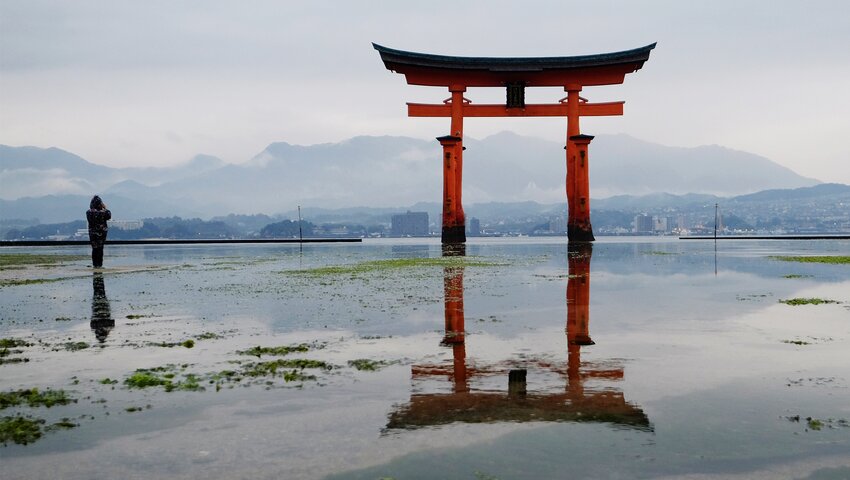 Couch-surfing is a good way to explore a country with a limited budget and conclude a good Japan itinerary.
Try to cook your own food. If you have a possibility to travel with your own gas cooker. It is advisable for camping and hitchhiking adventures.
If you compare big restaurants' prices with street food, food courts, and small stores, you will feel the difference.
So it is also a way for increasing spending.
As for budget accommodation in Japan itinerary – the cheapest way is camping. Take your tent and other adventure gear because Japan is one of the most convenient countries to camp.
If you want to decrease transport expenses, use hitchhiking. In other matters, buy JR pass or Suica card. Better hitchhike as much as you can when backpacking in Japan.
The last piece of advice for economy traveling but not last about ecological importance – everywhere take water in your own plastic bottle. You will drink very often and will spend less money on drinks. Also, you must not leave trash in nature.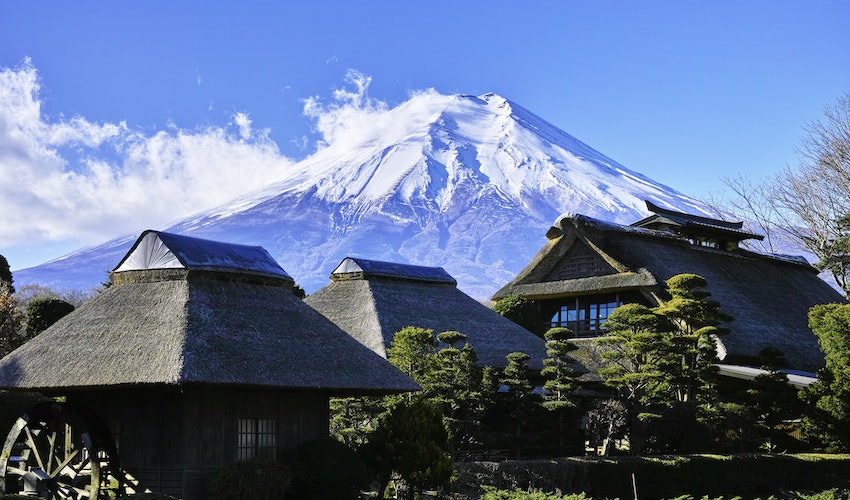 Conclusion
Now you understand that Japan is an expensive country. So, the Japan itinerary described above includes the most popular sightseeing, and the final decision about visiting them or not is yours.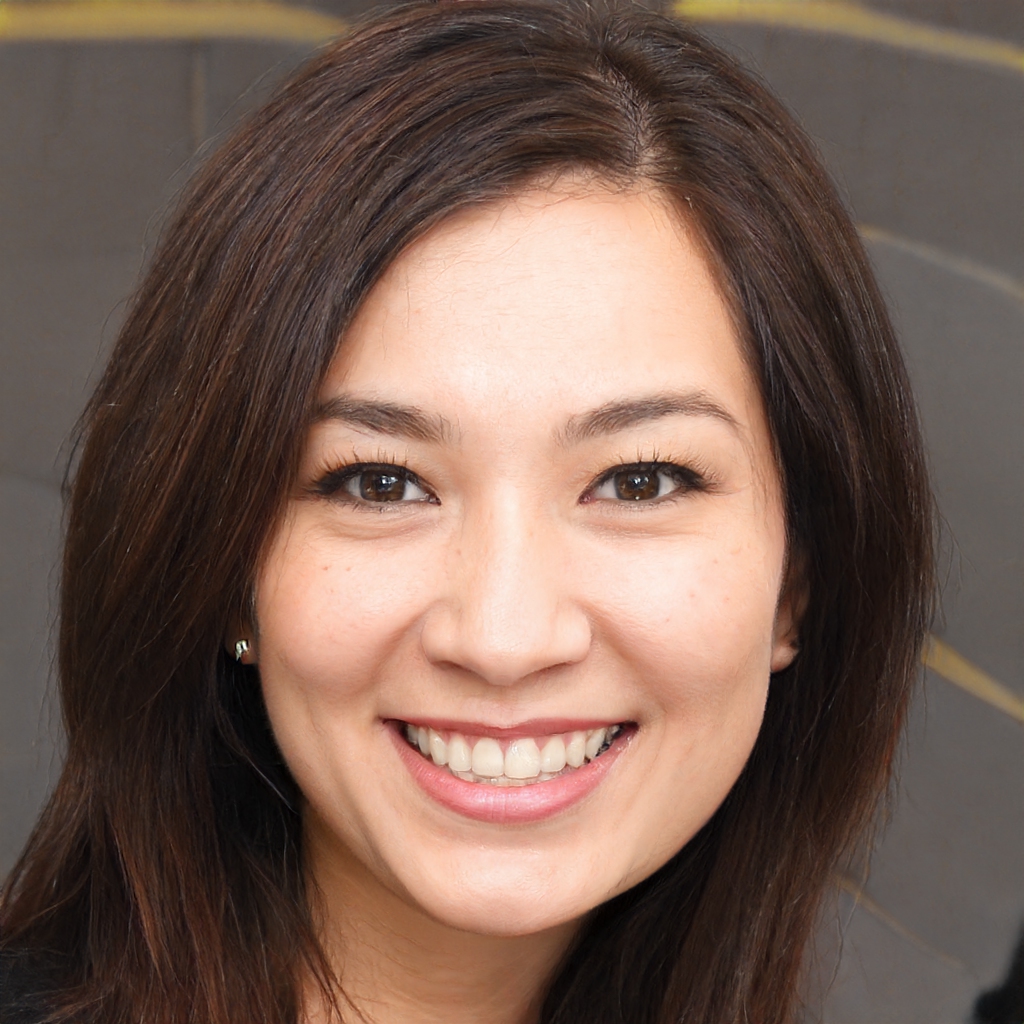 Hello reader. My name is Charlotte Noris and I am sure that you will definitely enjoy my blog. Do you know why? All because on the pages you will see bright and colorful photos, as well as useful information. My husband and I are freelancers, so we can travel at any time of the year.
For myself, I most often plan tours in advance, but it also happens that the trip turns out to be spontaneous when I see an interesting place and a nice price. At the age of 35, I have visited more than 30 countries and do not plan to stop there. I want to visit all continents and the most secret corners of our planet.