From must-see sights to delicious eats, here's the perfect Hanoi itinerary you need
You've just booked a trip to Hanoi, and you're starting to get excited. This vibrant city is home to a mix of old and new, East and West, and offers plenty of things to see and do. But with so much on your plate, how can you make sure you don't miss a thing? The good news for those visiting Hanoi is that there are options for all travel styles and budgets.
No worries—we've got you covered. Below is an ideal Hanoi itinerary for spending a few days in Hanoi. We'll show you the city's must-see sights, as well as some off-the-beaten-path spots that are worth checking out. And of course, we won't forget about the delicious food that Hanoi is known for. So without further ado, let's get started!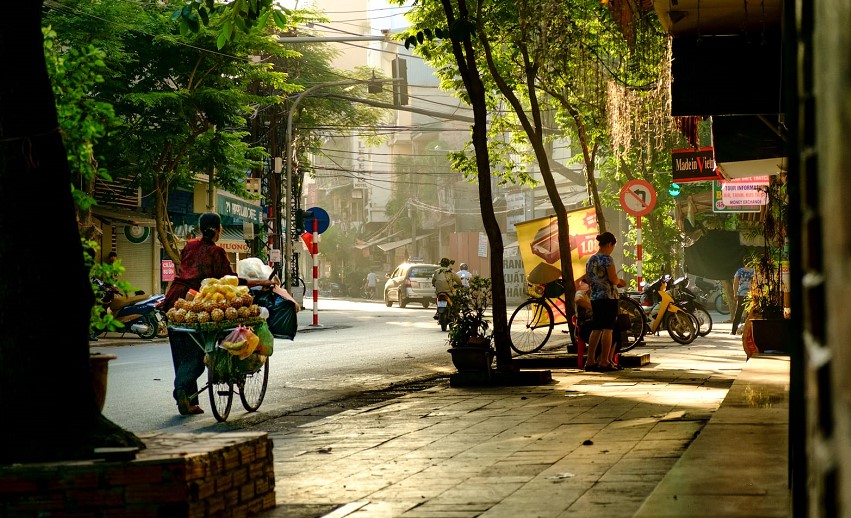 Hanoi itinerary Travel Guide
This Hanoi trip guide is comprehensive and long. Hanoi is a great base when traveling around Northern Vietnam. The city is the second most populous city in the country, and Hanoi is also called H Noi.
It is based upon an impressive cultural diversity that influences French, Chinese, and southeast Asiatic influences.
Being a major city in Northern Vietnam, Ho Chi Minh City is the best location to build a base to visit attractions like Sapa Ninh Binh & Halong Bay. Vietnam's currency is VNB / Dong.
How many days are enough for Hanoi?
There's no exact number of days you should spend in the Vietnamese capital, but somewhere between 3 and 4 is a good place to start. The ideal length of your trip depends on what you want to see and do, as well as when you plan on going.
You'll get more out of the experience if you visit during one of the best times to go; otherwise, some activities may be closed or inaccessible due to weather conditions or other factors.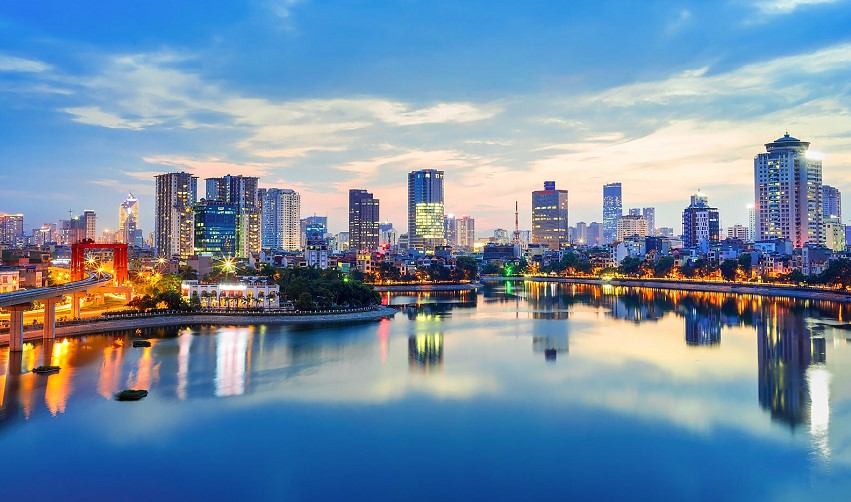 When should I visit Hanoi?
The best time to visit Hanoi will not only depend on how much you want to avoid the high season, but also on what kind of weather you find most comfortable.
Hanoi has distinct seasons that affect when it's most comfortable for travelers: winter (November through February), spring (March through May), summer (June through August), and autumn (September through October).
Some travelers prefer visiting during winter because they're less likely to deal with crowds; however, this season can be cold and wet—not ideal if you're seeking sunnier weather and temperatures above 60 degrees Fahrenheit/15 degrees Celsius at night.
Spring is also an excellent time for sightseeing because it coincides with national holidays like Tet Nguyen Dan (the Vietnamese New Year).
Most travelers prefer visiting during summer because the weather is warm and dry. This is also when many festivals occur; however, the heat can be oppressive in Hanoi at this time of year. Autumn is another good time to visit Hanoi because it's not too cold or hot, but it tends to be more crowded than other seasons.
Best place to stay
Hanoi has become the destination of travelers. The city offers many fantastic hotels. The recommendation is to base yourself in the old town for easier travel to Vietnam. The hotel has an excellent location, close to attractions, food, and entertainment.
The Peridot Grand Luxury Boutique hotel is Hanoi's top luxury hotel in Hanoi. However, you're safe to assume that Hanoi's most luxurious accommodations are affordable! The hotel has a very nice location with lovely room sizes and comfortable beds. It's also affordable.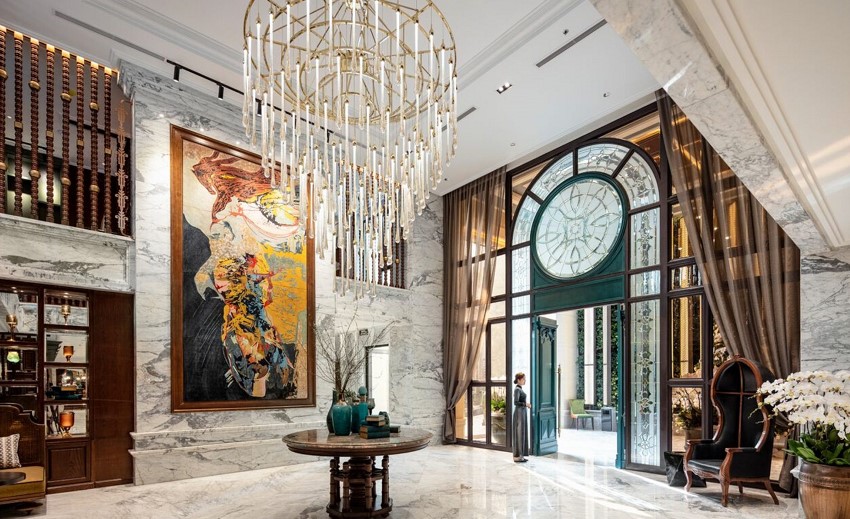 Where can I stay in Hanoi?
Booking a hotel is a must for every traveler, and here's a list of places to go in Hanoi. Hanoi has become an important destination among tourists of all shapes, so find the right accommodation for you. In the search for the most pleasant accommodation in Hanoi, it is important to identify where and why.
You will want an area in the center close to attractions and attractions, the best place to visit. Tourists generally look for a comfortable room in the Old Quarter of Hanoi, although some luxury apartments are located in the city's French quarter.
The top must-see Hanoi itinerary
Hanoi is a city rich in culture and history. There's no shortage of things to see and do, making it a perfect destination for tourists. If you're only going to have a few days in the city, here are the top must-see sights that you can't miss.
Start your exploration at Ho Chi Minh Mausoleum, where you can view the embalmed body of the country's former leader. Then, make your way to the Temple of Literature—the first university in Vietnam. Be sure to also check out the One Pillar Pagoda and the Ethnic Museum, both of which are located close by.
In the evening, head to the Old Quarter and explore its narrow streets lined with shops and restaurants. And no trip to Hanoi is complete without sampling some of its delicious cuisines—try some of the local favorites like pho or bun cha.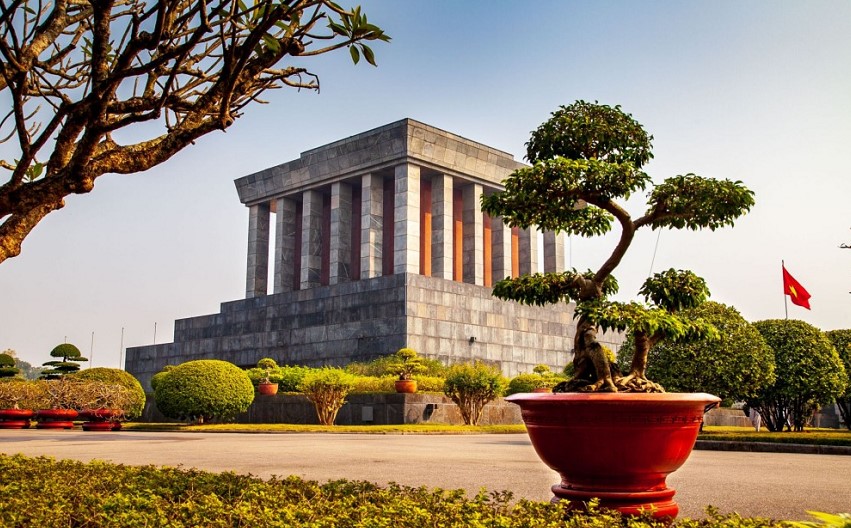 Exploring the culture and food of Hanoi
Start your exploration of the city by visiting some of the must-see sights. The Temple of Literature is a great place to start, followed by a stroll around Hoan Kiem Lake.
If you're interested in history, the Museum of Ethnology is worth a visit, while art lovers will want to check out the Fine Arts Museum.
When you're done with the sights, it's time to explore the city's delicious food. Head to Dong Xuan Market for some street food, or check out one of the city's many restaurants for a taste of traditional Vietnamese cuisine. Whatever you choose, make sure you leave room for dessert—Hanoi is famous for its deliciously addictive sweet treats!
A tour to Ho Chi Minh Mausoleum
After a quick stop by your hotel to freshen up, it's time for your first destination: Ho Chi Minh's Mausoleum. This is the most iconic attraction in Hanoi, and it's a must-see.
The mausoleum is in the center of Ba Dinh Square, which is also home to Ho Chi Minh's former residence and the Presidential Palace. You can easily walk there from your hotel, or you can take a taxi.
When you arrive, you'll need to go through security. Be sure to follow the instructions of the security officers; they're very strict about what you can and can't bring into the mausoleum.
Once you're inside, be sure to observe all the rules: no photography, no talking, and no hats or sunglasses. The wait can be long, but it's worth it.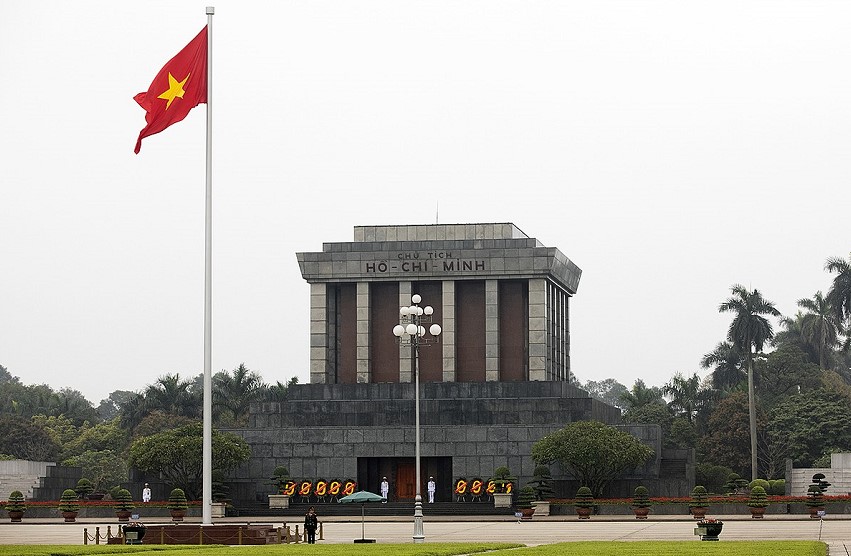 An exploration of Hoan Kiem Lake and surrounding Areas
Hoan Kiem Lake is one of the top places you need to see while visiting Hanoi. The beautiful lake is located in the heart of the Old Quarter and is surrounded by temples, parks, and other historical sites.
You could easily spend a whole day exploring the area, but if you only have a few hours, I would recommend starting with a walk around Hoan Kiem Lake. Make sure to visit Ngoc Son Temple, which is located on an island in the middle of the lake.
After that, stroll through Hoan Kiem Park, and take some time to rest and people-watch. If you're feeling up for it, you can also check out the nearby Opera House and Water Puppet Theater.
Get a taste of authentic street food
No trip to Hanoi is complete without experiencing the city's delicious street food. And while there are plenty of options to choose from, these are some of my personal favorites that you definitely won't want to miss.
Bún chả: grilled pork and noodle salad
Bánh mì: Vietnamese sandwiches made with French bread
Phở: rice noodle soup with meat and vegetables
Gỏi cuốn: summer rolls with shrimp, pork, and veggies
Bún bò Huế: noodle soup with beef brisket and lemongrass
Trust me, you'll want to try them all! And the best part is that most of these dishes are incredibly affordable, so you can try as many as you like without breaking the bank.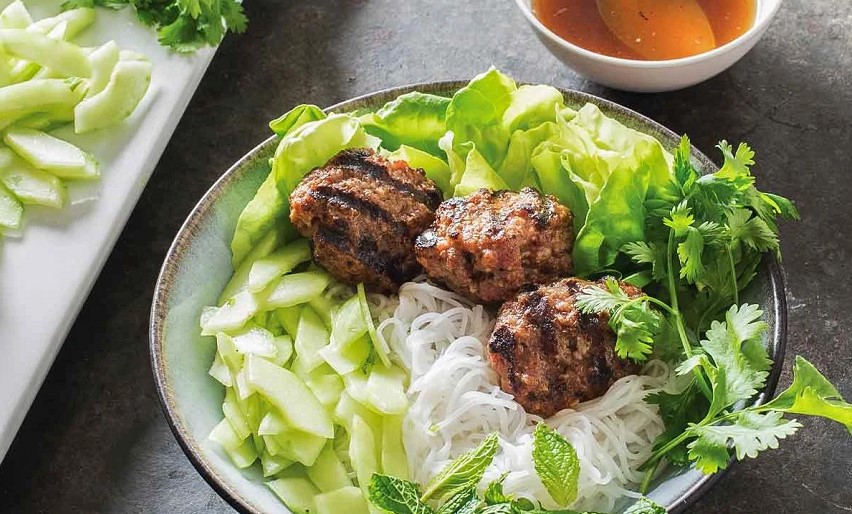 Which is better, Hanoi or Ho Chi Minh?
If you're going to Vietnam for the first time, Hanoi is a better choice. It's more interesting, historic, and traditional than Ho Chi Minh, which is more modern and cosmopolitan.
For one thing, visiting Hanoi has the advantage of being less crowded than Ho Chi Minh. There are no high-rises here—just narrow streets packed with colonial buildings and temples dating back hundreds of years.
Also unlike its southern counterpart, Hanoi has plenty of old French villas left over from its colonial past that still give it an air of charm that many other cities lack these days (although they're often occupied by Vietnamese families now).
Discover the unique charm of Train Street
If you're looking for something a little bit off the beaten path, then you'll want to check out Hanoi Train Street. This unique spot is located in the old quarter of Hanoi, and it's worth a visit.
What makes Hanoi Train Street so special? Well, for starters, it's one of the few places in the world where you can see a working train line running through the middle of a residential area. Yep, that's right – there are houses on either side of the tracks, and every day, trains travel down this narrow street.
Of course, it's not just the trains that make Hanoi Train Street worth a visit. Train Street is one of the most curious and picturesque spots in Hanoi, and it's worth taking some time to explore. There are plenty of little cafes and shops to check out, and it's just a really fun place to wander around.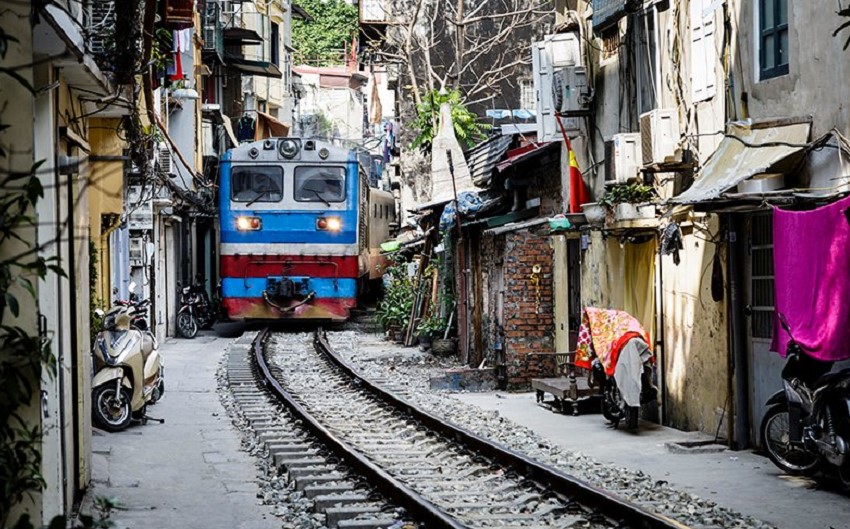 3 days in Hanoi
If you're looking for a quick trip to Vietnam, then 3 days in Hanoi is all you need. The city boasts an incredible history, architecture, and food culture that will leave any visitor wanting more. If you have more than 3 days in Hanoi, consider spending some time exploring the nearby Halong Bay or Ninh Binh province.
A little bit about this 3-Day Hanoi itinerary
Hanoi is a city of incredible historical value, adorable buildings, amazing cuisine, and the warmest hospitality in Southeast Asia. There is something for everybody, including relaxing lakes with ornate temples and museums and an interesting and unusual theater.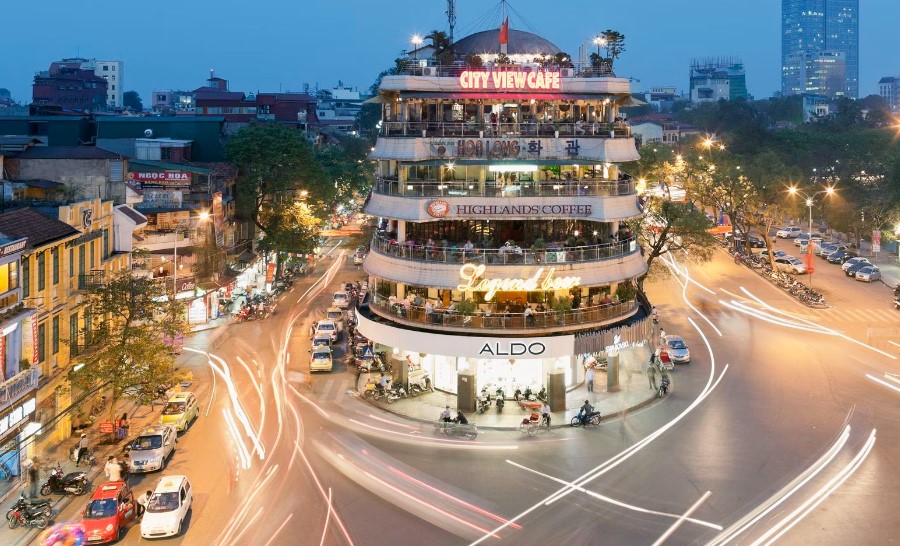 1st-day Hanoi itinerary
Start your day by visiting Hoan Kiem Lake.
After that, head over to Tran Quoc Pagoda.
Next on the itinerary is Vietnam Military History Museum.
For lunch, check out the Old Quarter and enjoy some delicious Vietnamese food!
Old Quarter
The Old Quarter is Hanoi's main shopping district and a great place to pick up traditional souvenirs. While you're there, don't miss out on the best local cuisine in all of Vietnam! The Old Quarter is also one of Hanoi's most popular tourist attractions, so it can get crowded during peak hours.
The Old Quarter is a great place to shop for souvenirs and traditional Vietnamese crafts. While you're there, don't miss out on some of the best local food in all of Vietnam! The Old Quarter is also one of Hanoi's most popular tourist attractions, so it can get crowded during peak hours.
The Old Quarter is home to tons of cafes and coffee shops – take your pick and indulge in some traditional Vietnamese coffee. Vietnamese coffee is one of the most popular drinks in Hanoi and is available at any café. However, it's worth trying some local specialties like ca phe sua da (iced coffee with sweetened condensed milk) or ca phe trung (or egg coffee).
For those who want something more substantial, make sure to try bun cha, a dish made of grilled pork and rice noodles served with herbs and vegetables on the side.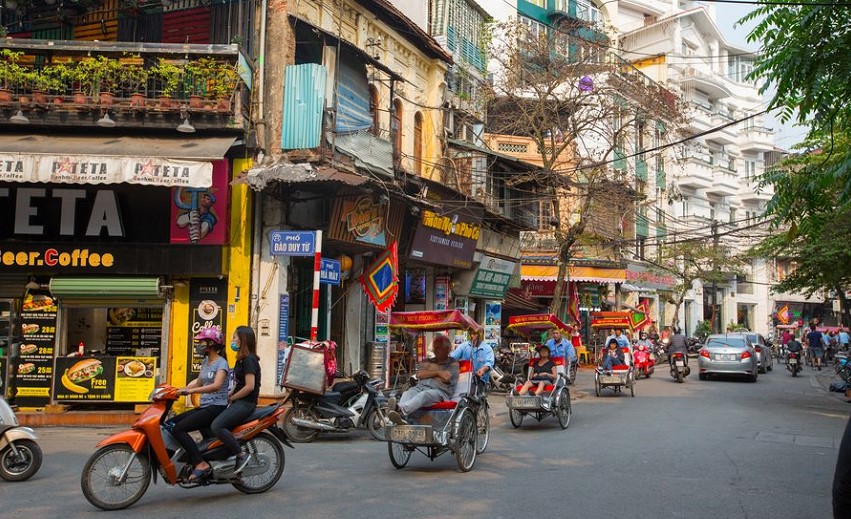 Hoan Kiem Lake
You'll find Hoan Kiem Lake in the heart of Hanoi, just a short walk from Hoan Kiem Street. There are plenty of places to eat and drink around here, so you can spend your time exploring the city as well as relaxing by the lake.
If you want to enjoy more wildlife than just humans and pigeons, then we recommend visiting during the early morning or late at night when there aren't too many people around. The Turtle Tower is one of Hanoi's most famous attractions—and it's right on Hoan Kiem Lake!
The tower is home to several turtles that have lived there for hundreds of years; they've also been lucky enough to receive royal protection over the years (the last emperor gave them special status).
Tran Quoc Pagoda
If you want to visit one of Hanoi's most visited attractions, then consider visiting Tran Quoc Pagoda. Located near the West Lake and with a history of over 1000 years, this Buddhist pagoda is an active place of worship. The pagoda was built in 1049 and dedicated to Bodhisattva Avalokitesvara (Goddess Quan Am).
The temple is open from 6 am until 9 pm and admission costs around $0.60 per visitor during the weekdays and $1 on weekends and holidays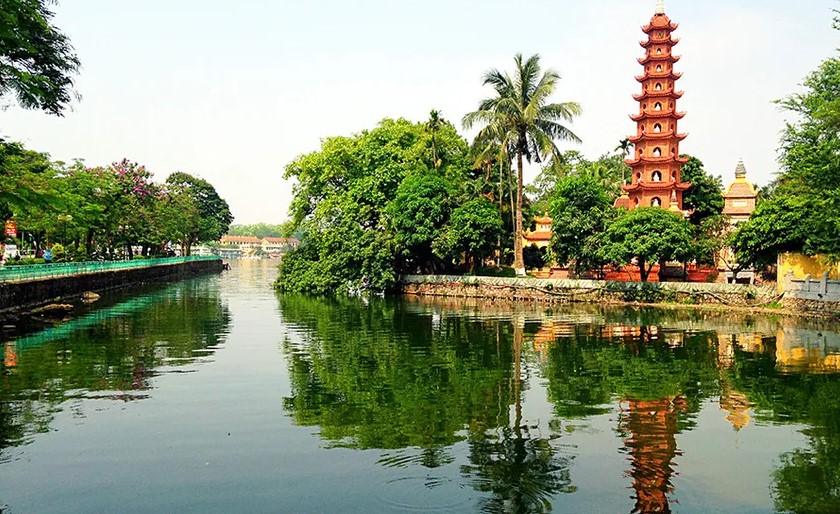 Tran Quoc Pagoda
Hanoi has numerous temples, but its biggest attraction is Tran Quoc pagoda. This temple is the oldest Buddhist temple in Hung Hoang with a history dating from the 6th century.
The ancient temple was relocated along the Red River and now sits on several islands on West Lake. To enter the shrine, the pilgrims must then enter the Causeway that connects the islands to the lake shore. Due to their age, some pagodas have had to be renovated, including the highest pagoda at the shrine.
Hoa Lo Prison Memorial
When you go to Hanoi you cannot ignore Vietnam's historical past and the main attraction is the Hoa Lo Prison. This prison is now memorializing the United States prisoners of war, which earned it the nickname the "Hanoi Hilton".
Originally, the prison was used to shelter Vietnamese prisoners in France's days of colonial expansion. Take a tour inside if you want to see Vietnamese history. Walking around the jail will show how the prisoners live and what their experiences are today about Vietnam and the country.
French Quarter
To experience the different sides of Hanoi, it's best to go down to the French Quarter in the city center. It may feel like you were in a whole different city when French colonization began.
In those humble houses and merchant streets, you trade in grand government houses and upscale shops as well as many luxury hotels, restaurants, and nightlife venues. You will probably not have any real attractions in the Hanoi region, but you'll like the simplest things.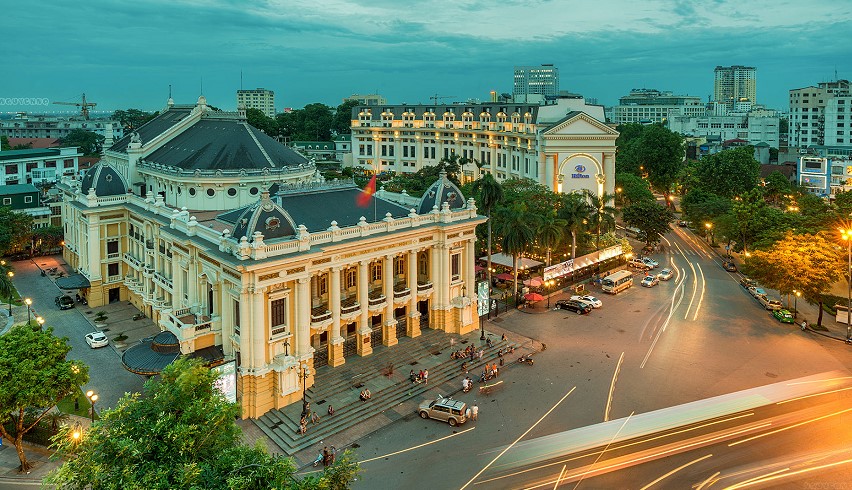 Day 2 in Hanoi
Start your day with a visit to the Military Museum, which is located on the west bank of West Lake and houses over 6,000 artifacts.
Then head to Ngoc Son Temple for sunset – in addition to its stunning architecture, it overlooks West Lake and has an impressive collection of Buddhist relics.
Ngoc Son temple translates to Temple of Jade Mountain Afterwards, head out to experience some local nightlife by visiting Hoan Kiem Lake (also known as Turtle Lake), where you can enjoy some traditional Vietnamese street food while watching locals practice tai chi or play chess.
Vietnam Military History Museum
This museum is located on Hoang Quoc Viet Street in Ba Dinh District, and it's open daily from 8:30 am to 5:00 pm (closed Mondays). This historical site was established in 1991 and showcases the rich culture of Vietnam's military history through its artifacts, documents, objects, photos, and models.
The museum provides both an educational experience as well as a chance for visitors to appreciate all things related to Vietnam's rich military history firsthand. The entrance fee is free of charge!
The museum boasts a large collection of artifacts and documents that date back to the country's independence movement in the early 20th century. In addition, many photos show Vietnam's military history from 1945 onwards, including those taken during the wars against France (1946-1954), America (1965-1973), and China.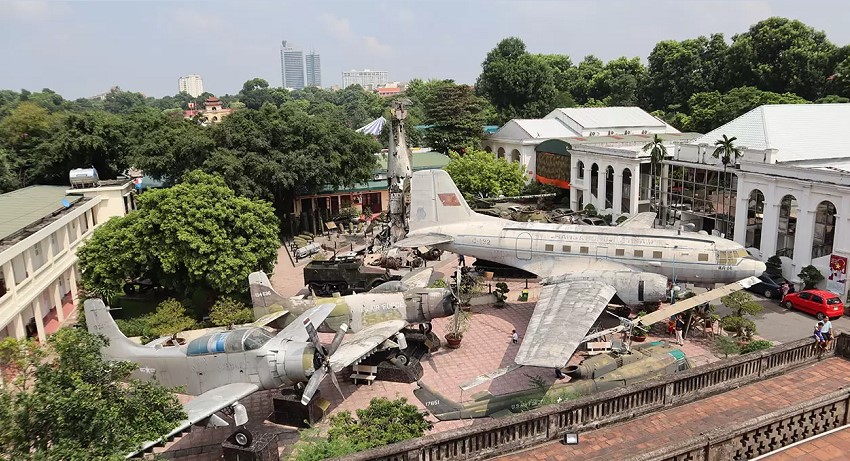 Vietnamese Women's Museum:
This museum is a must-visit for anyone interested in Vietnamese culture and history. It offers an intriguing glimpse into the lives of Vietnamese women throughout history, from their roles as wives, mothers, and members of society to their struggles and triumphs.
Ho Chi Minh Mausoleum and Museum
There is no greater figure in Vietnam than Ho Chi Minh. Following leading the Vietnam independent party, he was president of the DR Vietnam Communist Party. Several decades after its construction, the Mausoleum became the final burial site for his descendants.
To this day, the body is visible to the public through an enclosed glass mausoleum protected by an honor guard. A few kilometers outside the mausoleum, there is the Ho Chi Minh Museum, a place to enjoy exhibitions devoted solemnly to the life of Ho Chi Minh.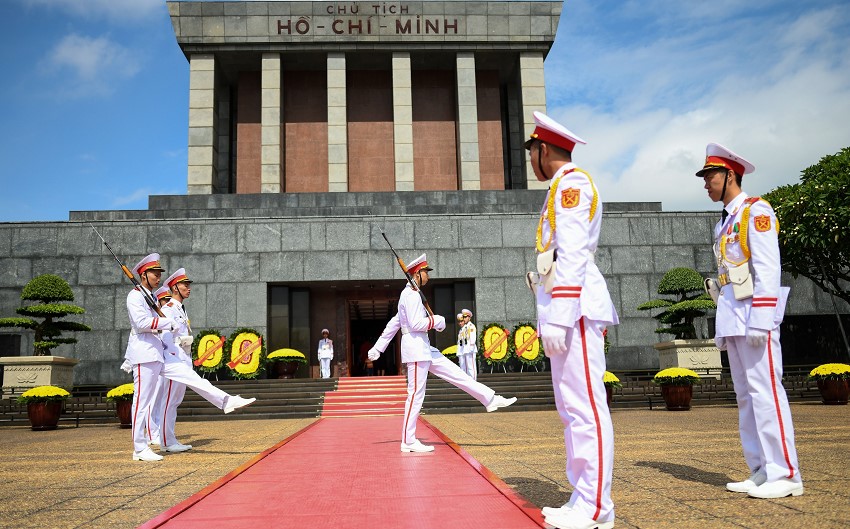 One-Pillar Pagodas
The one-pillar pagodas located just outside the Ho Chi Minh museum have been deemed to be among the best-preserved monuments. Built to look like a lotus flower, the pagodas are positioned around a single pillar in an area near the pond.
Dating back to the 11th century, the temples are thought to represent the biggest temples of Vietnam and are a source of several local legends connected with kings and even Buddhas.
West Lake
West Lake (Hanoi)
Location: West Lake is located in the heart of Hanoi, just a stone's throw from Hoan Kiem Lake. It's easily accessible via taxi or by foot from Old Quarter.
History: The lake was built in the 17th century by Emperor Le Thai To as part of his imperial capital, Hanoi. He also built a palace on its shores, which was later converted into the Temple of Literature—a school that trained future bureaucrats for Vietnam.Today it's one of Hanoi's most popular temples and draws crowds daily thanks to its historic significance and stunning architecture.
Things to do: Make time to go kayaking around West Lake while admiring its beauty from above; take some time out from exploring nearby attractions like Tam Coc (see below) or Halong Bay, or simply stroll around this picturesque area enjoying life on land for once!

Hanoi Night Market (located on Hang Dao Street)
Hanoi Night Market:
The night market is located on Hang Dao Street and is open every night. It's a great place to grab some cheap street food or a drink or to do some souvenir shopping. You'll find everything from local crafts to clothes, trinkets, and even antiques!
Hanoi Old Quarter:
The Hanoi Old Quarter is one of the best places to go if you want to see what life was like in Hanoi in centuries past. You'll find locals selling everything from street food to clothes, shoes, and jewelry as well as artisans doing their thing!
The Temple of Literature:
This temple is dedicated to Confucius and has been around since 1070 AD. Inside are courtyards and pavilions that contain many statues celebrating Vietnam's history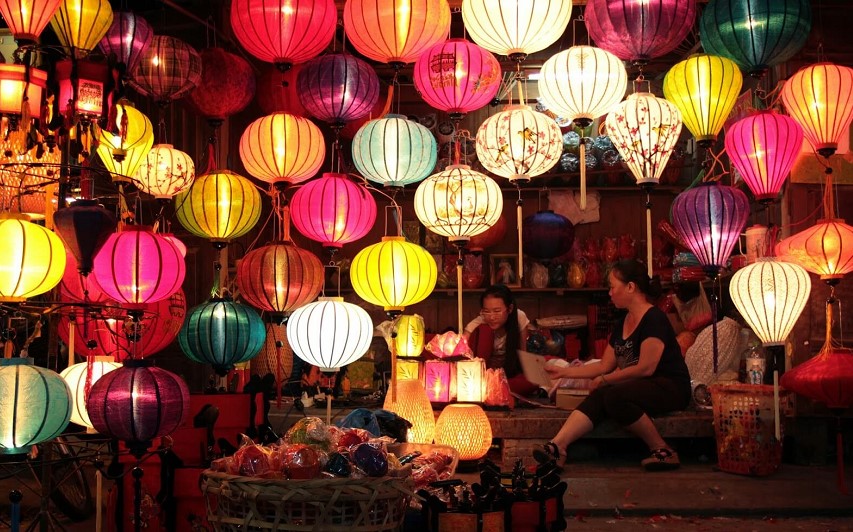 3rd-day Hanoi itinerary
The best way to get there is by train or bus. The train takes two hours and twenty minutes, while the bus ride lasts around three hours.
Make sure you get there in the morning, as it's easier to see everything when it's not as hot outside.
Half-day trip to Ha Long Bay. As soon as you arrive at Halong Bay, make your way through town toward your first stop: Surrounded by mountains and situated on a colossal rock formation on the coast of Halong Bay is Thien Canh Son Cave (also known as "The Cave of Giant Stalactites & Stalagmites").
It's one of many scenic caves in Halong Bay, but worth seeing—you'll be able to get incredible views from inside this cave!
Local Market (Dong Xuan Market)
You'll need to get there early because the local market is a madhouse at the best of times. It's the largest market in Hanoi, and it houses everything from fresh fruit and vegetables to souvenir shops selling traditional handmade crafts, clothes, and even designer knockoffs.
You'll find just about anything here—from noodle stalls where you can sit down for a quick bite or snacks like dried squid to clothing boutiques with items ranging from sportswear to evening gowns.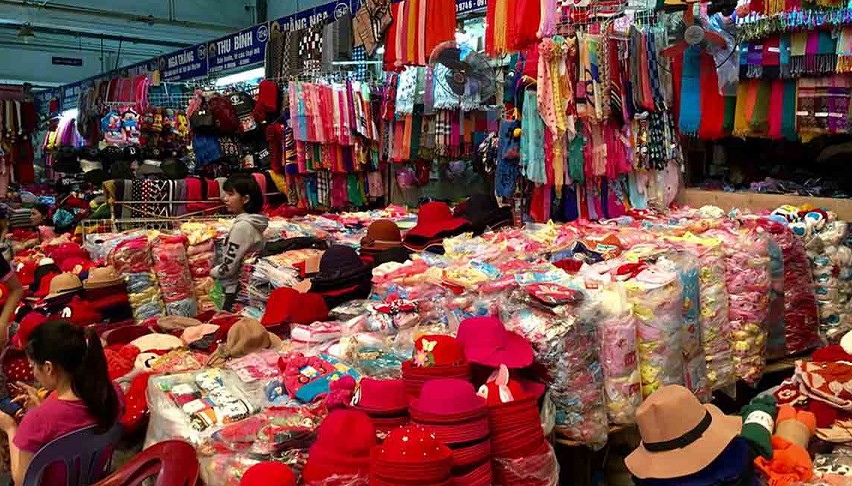 Half-day trip to Ha Long Bay (via Bai Chay wharf)
Ha Long Bay is one of the most-visited destinations in Vietnam, and for good reason. The bay is home to thousands of limestone islands that have been carved into majestic shapes by continuous erosion over hundreds of years.
It's also been a UNESCO World Heritage Site since 1994, so if you're interested in learning about its history and importance to Vietnamese culture, this is the place to start your day trip from Hanoi (via Bai Chay Wharf).
Hanoi Botanical Garden
Behind the Ho Chi Minh Mausoleum and One-Pile Pagoda lies the Hanoi Botanical Gardens. This wonderful garden is situated on many small lakes, with walking paths that lead to various trees and vegetation. At times there will be lanterns hanging around, but sometimes it is easy to see the locals using them to enjoy recreational green space.
Other attractions in Hanoi's Downtown
The city has several attractions and a few temples. We did not have enough room for all these attractions. The plan will happen for those interested.
St Joseph cathedral – Hanoi – An 18th-century neo-Gothic church with 31 m tall bell towers.
The Church is the oldest in Hanoi, built by French officials in 1886. Temples of literature offer a wonderful place of culture, history, and structures of a rich cultural heritage.
This is another idea that you can add to an already-completely planned Hanoi itinerary, giving you the option of taking an excursion to explore Hanoi. The Hanoi Jeep Tours are excellent. It's the highest building in Vietnam. Go to the observation tower in front, to have panoramic views of the city. Vietnam Museum: Modern museums that explore Vietnamese culture and fashion.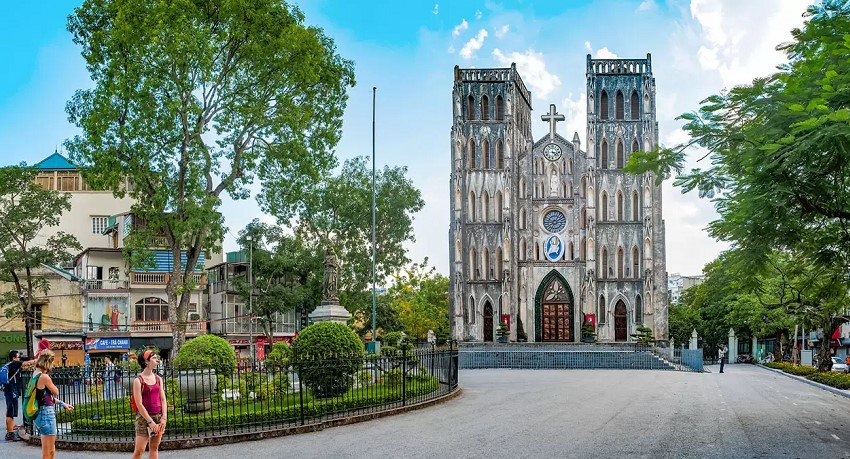 Conclusion
With so many different things to see and do in 3 days in Hanoi, it is the perfect destination for any traveler. From beautiful temples, mouthwatering street food, Vietnamese coffee, and markets, to amazing attractions like Ha Long Bay, there's something for everyone in this city.
There are also many ways to get around town: by foot or bike (which is what we did), by motorbike taxi (moto xeo), or even on an electric scooter!