8 best beaches on Koh Tao – a real paradise for a traveler
If you enjoy tropical destinations, Thailand is the place for you. Thailand beach vacations are packed with culture and adventure.
Whatever sort of lodging you select, the service will be superb. Hotels are vibrant and full of color. Beach bungalows are classic and serene.
There are several lovely beaches in Koh Tao, and you can choose from the list of top Koh Tao beaches below.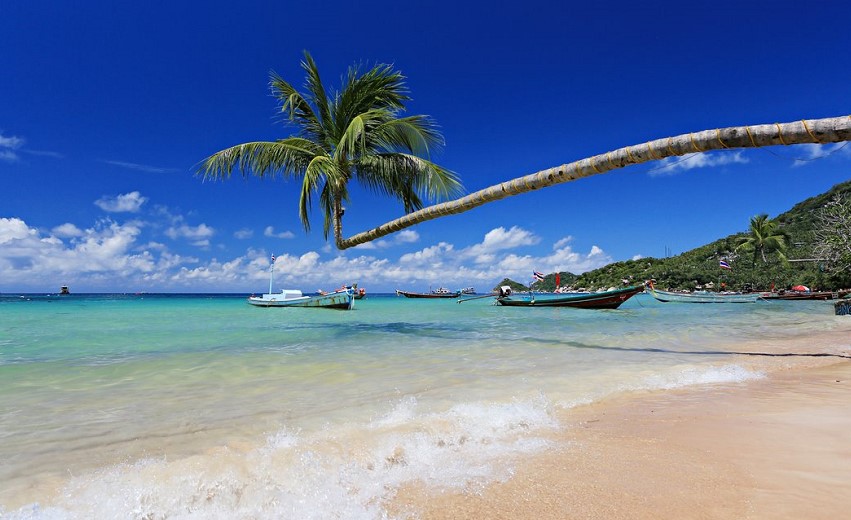 Koh Tao beaches
You might be shocked to learn that some of Koh Tao's best beaches are also among the greatest in Thailand!
This collection of beaches on Koh Tao will undoubtedly spark your interest in the area, whether you're seeking to go swimming, cliff jumping, snorkeling, or just relaxing after a day of diving.
One of the most stunning islands in the Gulf of Thailand is Koh Tao, sometimes known as Turtle Island because of its turtle-like shape.
In addition to being one of Thailand's top diving destinations, Koh Tao is renowned for its palm-fringed, white-sand beaches.
List of Koh Tao's top beaches for your vacation. When we arrived at this lesser-known Koh Tao beach, we were pleasantly surprised.
Sairee beach on Koh Tao island
The beach that receives the most visitors and attention is Sairee Beach, which is located on Koh Tao's west coast. With confidence, it can be referred to be the island's major beach.
It becomes extremely crowded during the peak travel season, but it immediately becomes fairly calm outside of that time.
Mae Haad Pier is located along a 10-minute stroll along Sairee Beach's longer than 1.11 miles promenade.
With its white sand and shade-giving palms, Sairee Beach is a great choice among beaches in Koh Tao for sunbathing.
The sunsets here are incredible, so make sure to stop by one of the beach bars to sip on a drink as the sun sets in front of you.
The beach is rather calm during the day because most guests are on diving excursions, but after dark, it comes alive with nightly beach parties every day.
For those who want to go out at night and are youthful at heart, Sairee Beach has become one of the greatest places to stay on Koh Tao for them.
You should stay away from this area and choose alternative beaches if you want a peaceful and relaxing vacation.
Numerous hotels, tour companies, dive resorts, restaurants, and beach bars can be found on the sandy beach.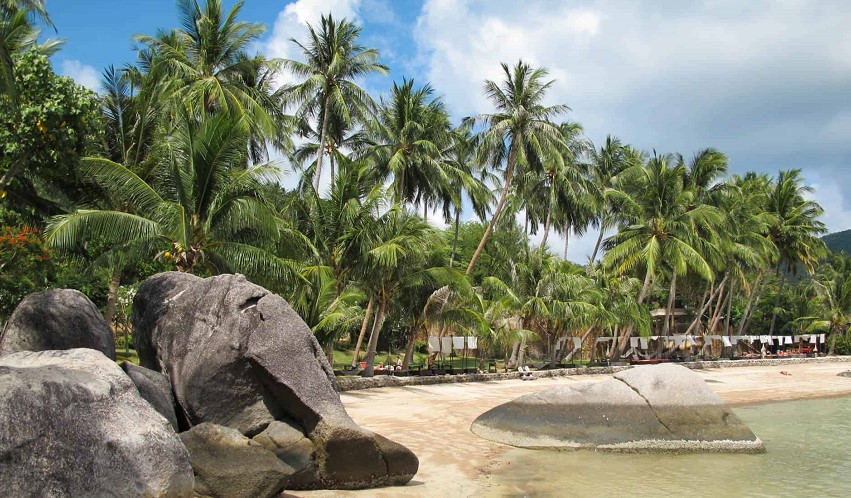 Shark Bay beach on Koh Tao
The southern side of Koh Tao is where Shark Bay is situated. Shark bay is well-known for its snorkeling opportunities and the Black Tip Reef Sharks that frequent the shallow water in the mornings.
If you want to learn how and when to visit this beach if you want to swim with the sharks, check out this post.
A 100 THB entry charge per person is required to enter the beach, which may be reached via a longtail boat or on foot by a short walk of Beach Club Haadtien. Here is a private beach hidden within the cliffs.
You can stay at either Shark Bay, which is a private area that is part of the Haad Tien Beach Resort, or the nearby Beach Club by Haad Tien.
The resorts include roomy villas with their balconies and are bordered by palm groves.
There is a bamboo boardwalk that goes around the shore of the bay and over the sharp rocks until you reach the ocean.
Once you get to the flat rocks, you can choose to relax and go snorkeling in the bay, or you can continue exploring the area in search of minor cliff jump locations that are about 39 inches high.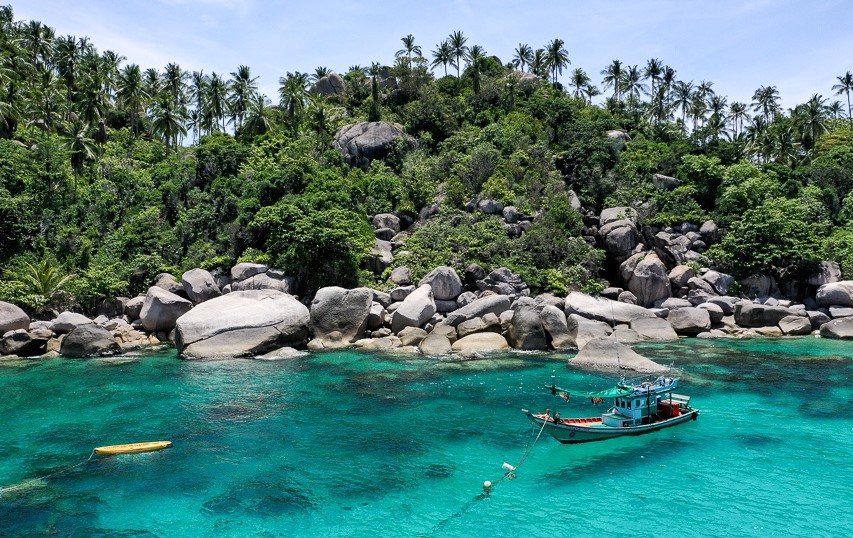 Freedom beach on Koh Tao island
An isolated area of beach called Freedom Beach is located close to Chalok Baan Kao Bay. One of the most visited locations among beaches in Koh Tao is this.
With only 0.03 miles in length, Freedom Beach is extremely short compared to other beaches but exceptionally lovely. It is one of the most popular small beaches on Koh Tao beaches map.
Freedom Beach is on the opposite side of Shark Bay and can be reached by riding about 3 minutes passed the turnoff to OK2 Bungalows.
Beach is a private beach located on the southern end of Koh Tao Island in Thailand.
There is a laid-back vibe at Freedom Beach. A little further out, the beach boasts white sand and is good for snorkeling and swimming.
Bring your snorkeling gear or rent it from a neighboring restaurant for 150 THB.
Freedom Bar, a restaurant that is the lone establishment on Freedom Beach, is perched on some rocks. Sadly, the prices of the food and beverages here are outrageous.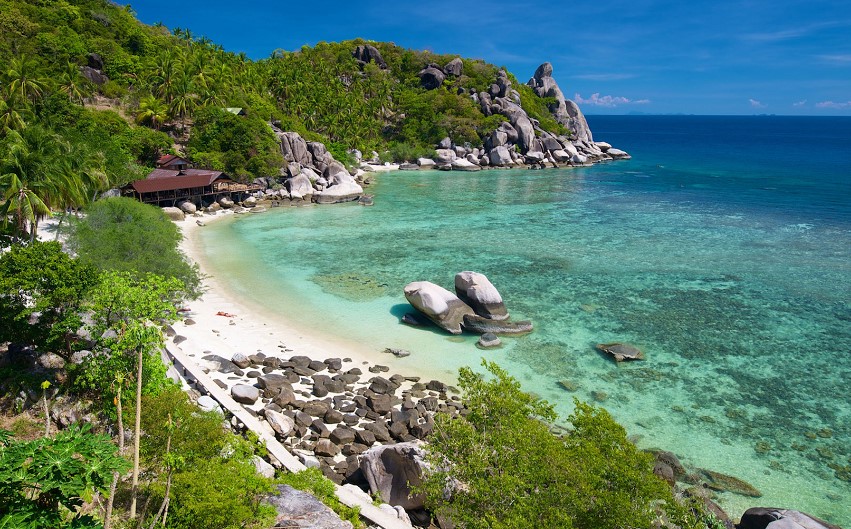 Nang Yuan beach on Koh Tao island
Undoubtedly, one of the most well-known offshore islands is Koh Nang Yuan (Nang Yuan Island), which is located northwest of Koh Tao.
Many advertisements and magazines for Thailand travel may have used images of the island. Koh Nang Yuan has a stunning beach and a breathtaking vista.
Actually, a little island unto itself, Koh Nang Yuan is only joined by another tiny island with a few sandbanks.
Due to the large number of tourists arriving by speed boats from Koh Samui and Koh Phangnan during the day, it can become very congested.
Nangyuan Island Dive Resort is the only comfortable lodging option on the island, although a journey there is ideal for a day excursion because it only requires a short boat ride.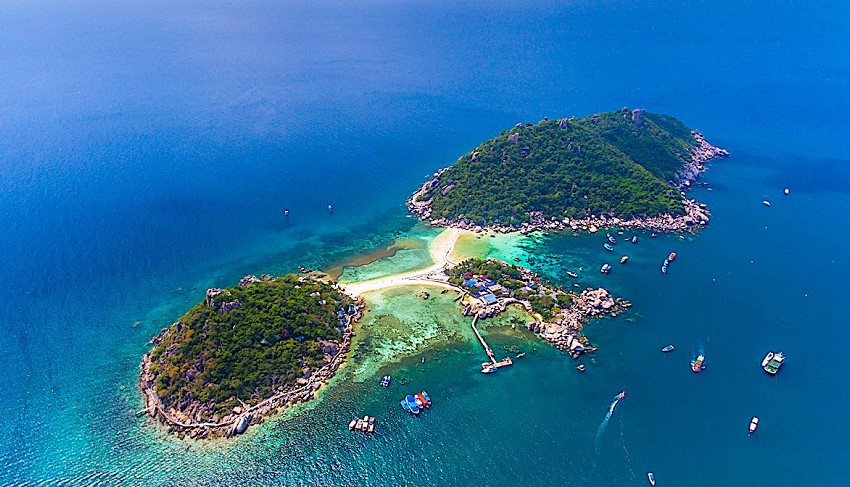 Ao Tanote Bay on Koh Tao island
One of Koh Tao's busiest bays is Tanote Bay, which is located on the island's east coast. The beach is 0.1 miles long and exceptionally wide. Large sandy beaches and unusual rock formations can be found there.
The beach is fantastic for snorkeling, swimming, and sunbathing. A few meters separate the beach from the reef.
The view of the ocean floor improves as you go farther out, and you may find some fantastic fish. The maximum diving depth is 16.5 meters.
Tanote Bay is close to several eateries and pubs where visitors may get food and drinks. Additionally, there are a lot of diving schools right on the beach.
Tanote Bay is now the location of some resorts. The resorts in this area are reasonably priced during the off-season, and if you book well in advance, you will receive a modest discount.
A rocky, sandy path leads to Tanote Bay. Taxis from Mae Haad pickup points cost 200 THB per person and travel to Tanot Bay in about 30 minutes.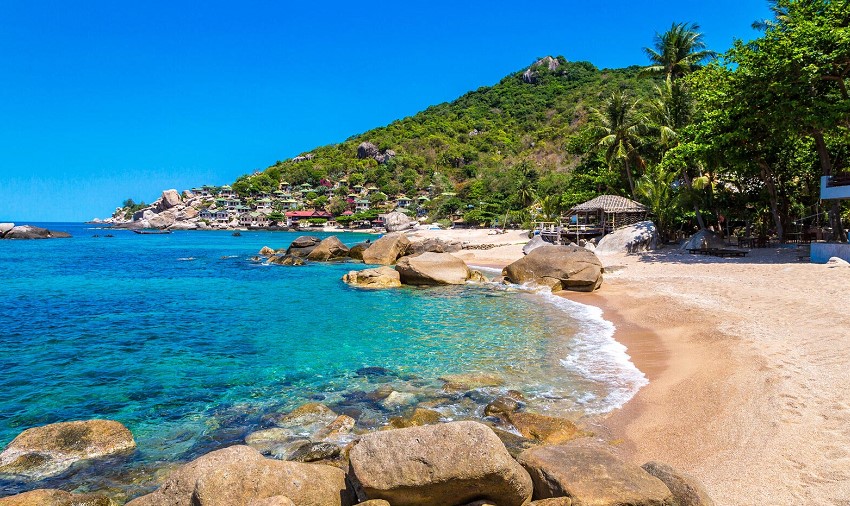 Hin Wong Bay on Koh Tao island
On Koh Tao, there is a small rocky beach at Hin Wong Bay, another magnificent bay. Due to the enormous hill, you must bike up to get there, this location on Koh Tao is a little more tranquil than the other beaches.
Hin Wong Bay, meaning Bay of Round Stones, is not a swimming beach as it's mainly rocks.
At the Hin Wong Apartments Dive & Snorkel Resort, you can spend the night with a view of the ocean, pool, or garden.
Self-catering flats and dorm rooms are both available at this family-friendly resort. Indian, European, and Thai cuisine is available at the on-site restaurant. The hotel offers boats for rent as well as snorkeling equipment.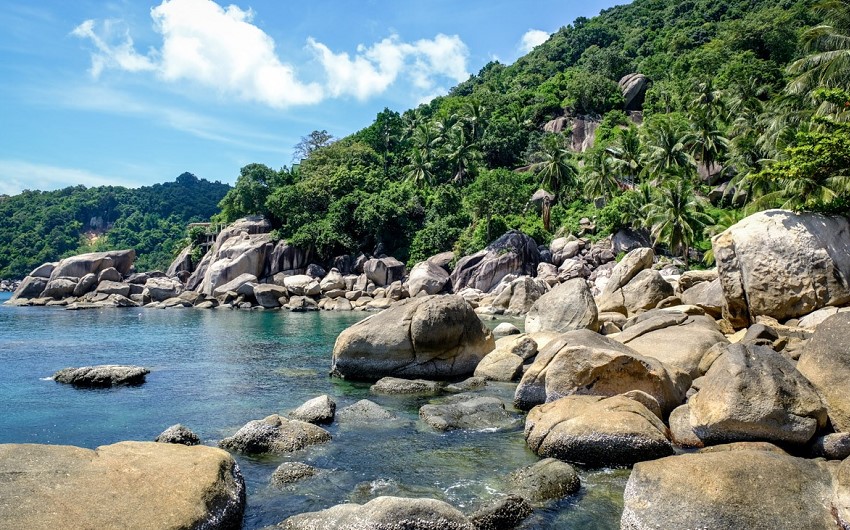 How to get
From the main part of Sairee Beach, ride in the direction of Smile Mart to come to Hin Wong Bay. Continue riding up the hill and along this main route, passing Smile Mart.
You will probably need at least a 110cc scooter to get up this one because it is fairly steep.
Before riding down the opposite side of the hill into Hin Wong Bay, you can take in the breathtaking views of Sairee from the top of the hill.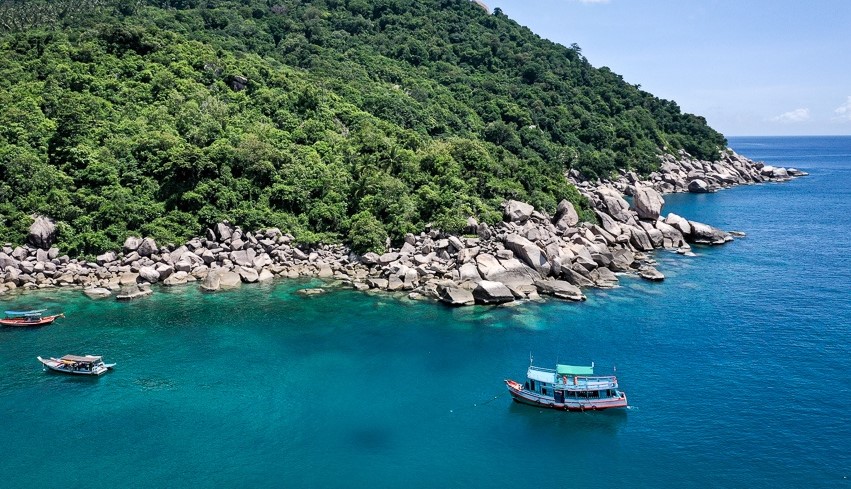 Sai Nuan beach on Koh Tao island
Sai Nuan Beach has a fantastic ambiance and is situated in a little bay. The beach is divided into the adjacent Sai Nuan 1 and Sai Nuan 2 sections.
Swimming and snorkeling are especially advised in both locations. You can most certainly spend a few hours here. Bars and resorts can be found nearby.
A few beach huts and welcoming hammocks complete the picture of this laid-back beach destination on Koh Tao.
Due to its challenging access, Sai Nuan Beach is referred to as Koh Tao's Secret Beach. You may stroll to Sai Nuan Beach from Jansom Bay after descending some rough mountains.
You can stroll through the Sai Thong Resort on the trail. To get here, you should get help from a native on the island.
Mango Bay on Koh Tao island – one of the most beautiful beach among best beaches in Koh Tao
Mango Bay, which is on the island's north side, got its name from the numerous mango trees that have populated its hill.
One of the best beaches in Koh Tao for snorkeling is Mango Bay. Many vibrant coral reefs and diverse fish species can be found here.
The easiest method to get to Mango Bay is by longtail boat because getting there on a scooter can be extremely challenging due to the steep pathways and gravel roads. You won't find mass tourism here because of the slightly more challenging journey.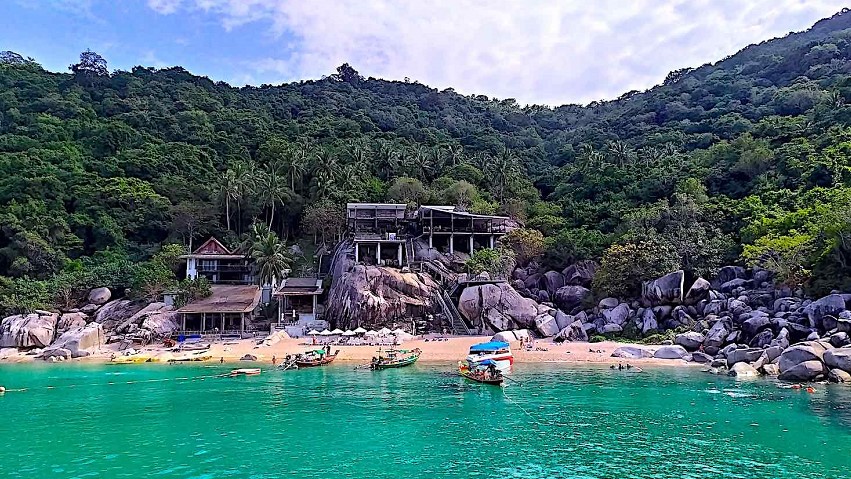 Conclusion
Every traveler plans a trip to see the white sand, attractive rocks, and emerald waterways, and find the most beautiful beach.
There are numerous stunning tourist beaches on Koh Tao that draw visitors all year long.
Beautiful beaches in Koh Tao are not an exception. Discover Koh Tao's top attractions to better get ready for your upcoming trip to Thailand.
One of the best things to do on Koh Tao beach is to explore the magnificent marine treasures just waiting to be discovered or to relax and have a refreshing drink from one of the many beach huts there.
Choosing the proper season to visit Thailand can be important for your vacation. There are dry and wet seasons; the dry season, which lasts from November to March, is when people prefer to travel.
Before making a reservation, make sure you are well informed by reading our advice on the ideal time to visit Thailand.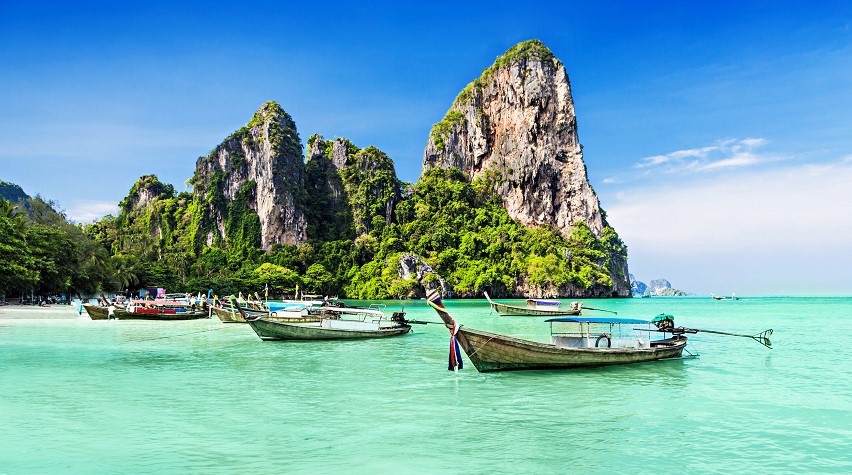 FAQs
Is Sairee beach good for swimming?
Since Sairee Beach is the main Koh Tao beach, it is logical that good eateries, lodging options, and other amenities line its shores.
This beach is perfect for relaxing and soaking up the sun. It's also well-liked for swimming and volleyball, though the snorkeling here isn't as good as in some other places on the island.
What is the best beach on Koh Tao?
The Best Beaches on Koh Tao
Shark Bay (Haad Thien Beach)
Freedom Beach.
Koh Nang Yuan.
Tanote Bay.
Hin Wong Bay.
Chalok Bay.
Sairee Beach.

Where can you swim in Koh Tao?
An almost 1.24-mile-long sandy beach with numerous restaurants, bars, and stores is nearby. Warm and somewhat shallow, the ocean.
The tide is typically low, and there is soft white sand. Good for swimming and bathing with children.
Where can I see turtles in Koh Tao?
On Koh Tao, you can discover the green sea turtle. At numerous dive locations near Koh Tao, including White Rock, Twins, Hin Pee Wee, Hin Wong, Shark Island, and Aow Leuk bay, divers can spot the magnificent Green Sea Turtle.
Is Koh Tao a party island?
In the Gulf of Thailand, there is an island called Koh Tao that is serene and quiet. And while Koh Phangan and Koh Samui, two of Koh Tao's surrounding islands, are well-known in the backpacker party scene, Koh Tao is more relaxed and well-liked by an older audience.

The best places to stay at Sairee Beach
It's up there with one of the best beaches on Koh Tao, as it's the most popular and close to everything happening. Here you can stay:
Blue Tao Beach Hotel
Palm Leaf Resort Koh Tao
Indie Hostel – Koh Tao
Can anyone go to Shark Island?
Shark Island is a tiny, rocky island close to Koh Tao's eastern shore in Thailand. It's a fantastic place for kayaking and snorkeling excursions.
All visitors must pay a landing charge of $7 per person in order to visit Shark Island. 0 to 4-year-olds are free. Shark Island is accessible from dawn to dusk every day. Advance reservations are required.