Things to do in Vietnam with kids. Best places for family holidays in Vietnam with younger kids and older kids
Vietnam is considered one of the best countries to visit with children. Here you can enjoy beautiful landscapes, cultural programs, and delicious Vietnamese food. More about things to do in Vietnam with kids will be discussed in this article.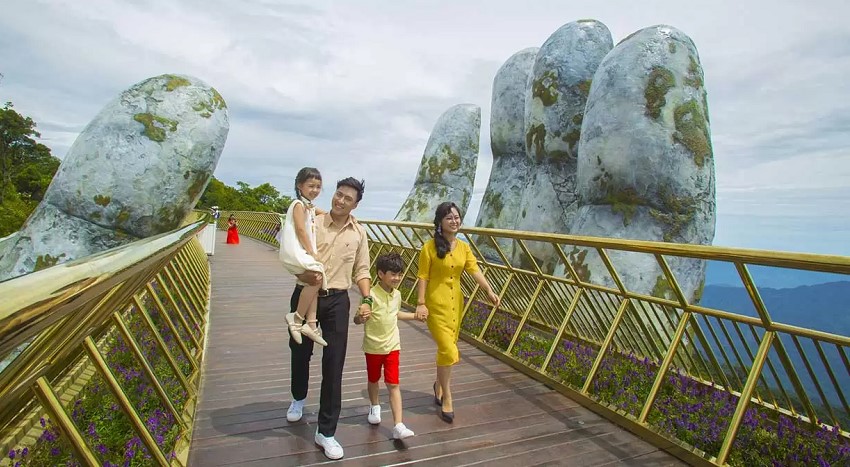 Recommendations before the trip
Before proceeding to the question, of things to do in Vietnam with kids, you should familiarize yourself with a few topical tips. Namely:
choose hotels where there is a swimming pool. This allows children to splash out energy;
use the taxi app to know how long you have to wait for a car;
pre-buy a SIM card that is valid in Vietnam;
drink water that has been filtered. For fruits, choose only those that are peeled. Especially if you try it on the market. At home, all fruits must be washed;
put children in trekking sandals;
dress your children in comfortable clothing. It can be shorts and a t-shirt. Additionally, have a windbreaker and swimming trunks in which you can swim;
be sure to add a beach holiday to the route;
to cross the road, take the child in your arms. This is due to the huge traffic;
be prepared that the locals will be attentive to your children. This is not bad, so you should not be angry;
bring a high-quality mosquito repellent.

The best tourist destination during visiting Vietnam with kids
If you decide to visit Vietnam with kids, it is better to make a travel plan in advance. More details about the best Vietnam highlights will be discussed below.
Making lanterns
In Hoi An, you will find something to do with children. Here you can enjoy excellent local cuisine, a variety of entertainment, attractions, and friendly locals. You can book a tour, during which you will be taken to the atmospheric local market.
After, you can climb the mountain, which is located among the fields of rice.
Some guides may bring you to their homes to meet relatives and cook outdoors. Believe me, you will feel the warmth that comes from these people.
You can talk with the locals on various topics. However, be prepared that you will have to pay for everything. The locals may take everything of value from you. Therefore, take a minimum of cash with you, and refuse to wear jewelry.
In this region, an interesting activity is quite common – making lanterns, which will appeal to children. You can also taste sugar cane, which will saturate children with energy. If you order a guide from a local company, then there will be no trouble in the future.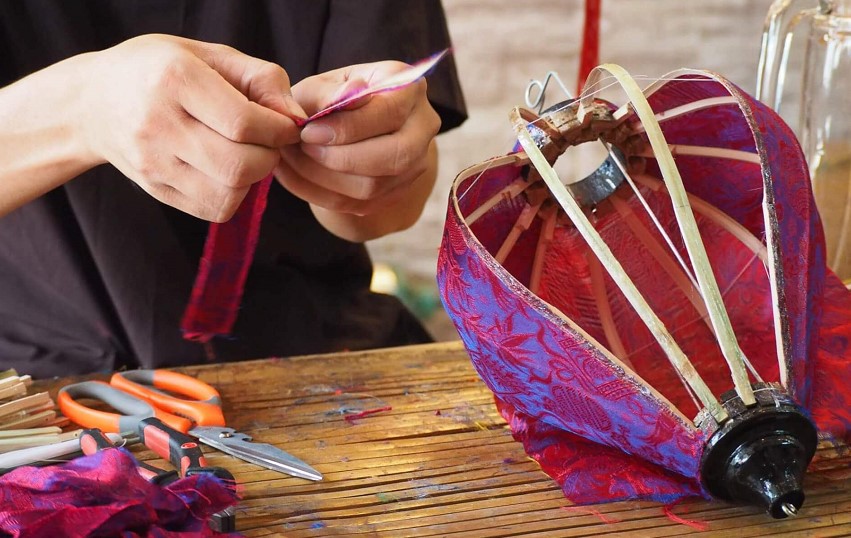 Amazing things to do in Vietnam with kids: Kayak around Lan Ha bay
If you look for interesting things to do in Vietnam with kids, start your journey from Cat Ba Island. Here you can go kayaking around the colorful bay. Halong Bay is especially popular. However, Lan Ha was a rather rare item on the list of interesting places. And in vain.
There are practically no crowds of tourists and cruise ships. This is the best place for those who prefer a quiet holiday.
First, you should rent a boat and go to the center of Lan Ha Bay, where there is a floating pontoon. This is where your adventure should begin. The entire family can go kayaking here. It is possible to rent single or double kayaks. It all depends on how old the children are.
You can enjoy exploring the surroundings and also enjoy excellent views. Many beaches are complemented by white sand. Some of them are deserted, so you can be one of the first to walk along the coastline.
After getting off the kayak, you can sunbathe on the beach. When you find Vanboi Resort, you can taste the fresh lunch served on the veranda. It offers an excellent view of the sea. Renting a kayak is easy. You can do this through a city agent, or you can go to the panoramic port of Ben Beo, where prices are very affordable.
Prices for kayaks vary and are negotiable. On average, a daily kayak rental will cost $10. Additionally, you have to pay $2 per person to be in the harbor area.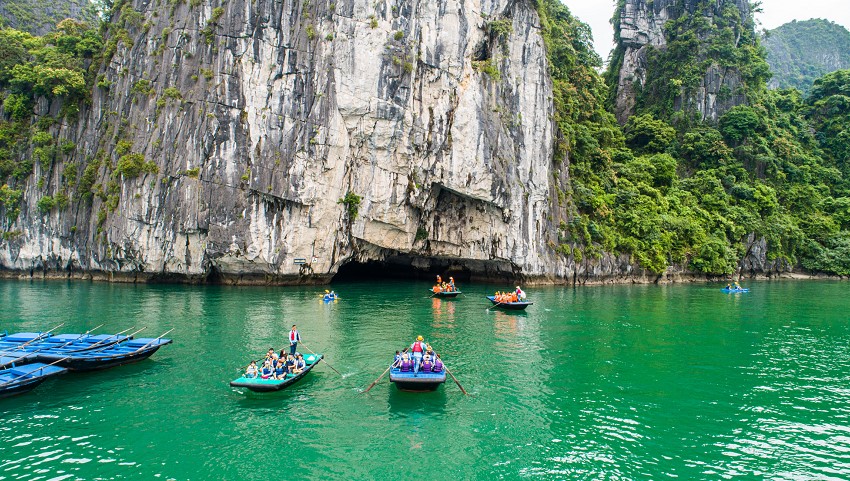 Shopping at Cai Rang floating market in the Mekong Delta
In one of the largest cities in Vietnam – Can Tho, there is a Cai Rang floating market. It is considered the largest of those located in the Mekong Delta. The entire family is delighted after visiting it. The market in the Mekong Delta consists of numerous boats that are loaded with various vegetables and fruits.
Small boats are selling various drinks and snacks. Some girls cook pho in small boats. It is recommended to come to this place at dawn. Be prepared to get up early. If you oversleep, you run the risk of getting stuck in a traffic jam, and you cannot appreciate the full benefits of the floating market.
All Vietnamese tour operators can lead you to this market. On average, the cost of the tour is $10 per person.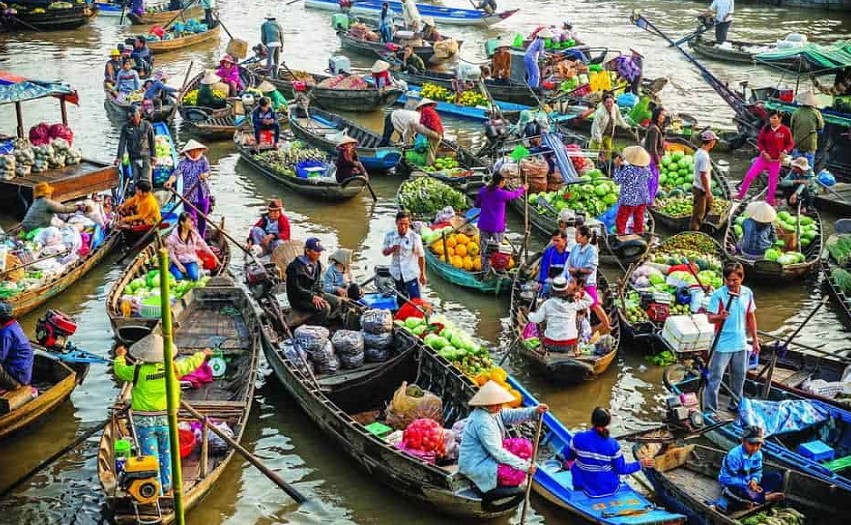 Great things to do in Vietnam with kids: crazy house in Dalat
As you know, children like interesting places. So, they must visit the crazy house, which is in Dalat. At the entrance, you fall into a coffee shop, which will smoothly flow from the public museum. Here you can also rent a room to relax.
The complex will appeal to children, because it differs in curved stairs, beautiful towers, strange paths, etc. Throughout the territory, there are original buildings and bright artistic installations. Kids will accurately evaluate the entire assortment. If you notice that the child feels bored, you can take him or her to a bizarre cafe.
In the crazy house, you can drink, or try delicious ice cream with natural components. You can taste the order in the central garden, which contributes to relaxation. It must be remembered that some high stairs have no railing. Therefore, keep the children under supervision for security purposes.
The ticket cost is 2 dollars per person. There is a place from half past nine in the morning until 7 pm.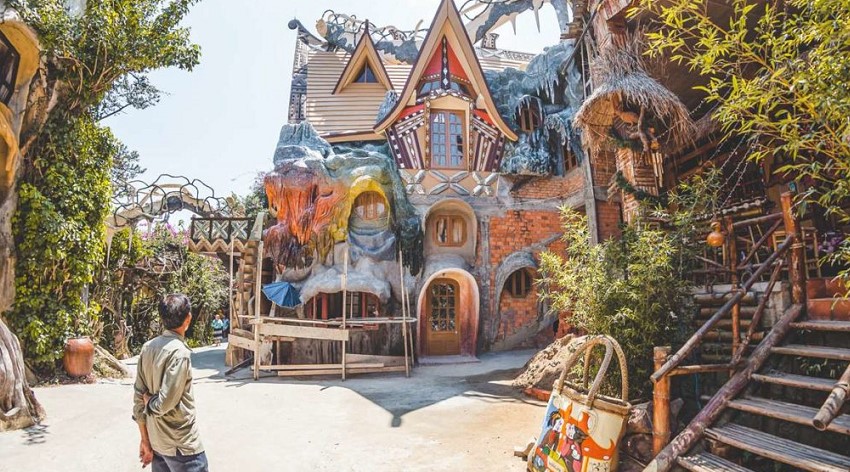 Cable Road in Fukuoka
There is the longest cable car in the world, which is located in Fukuoka. It will appeal to children. The path passes through several islands, which are part of the Academy of Sciences of that. The attraction is located in south Vietnam.
The length of the cable car is 4,97 mi. The path from one edge to another takes about a quarter of an hour.
Below are fishing villages, and a sea with turquoise water. You look at numerous boats and perceive them as a piece of paper on the water. At the end of the journey, you can get to the snow-white beaches located on the island of Hon Tom. There are several interesting playgrounds that children will definitely like.
A ticket for the cable car will cost about 150 thousand dongs for adults. A children's ticket costs 100 thousand dongs. You can get to the point where the cable car begins, from Fukuoka, by bus, taxi, or bicycle.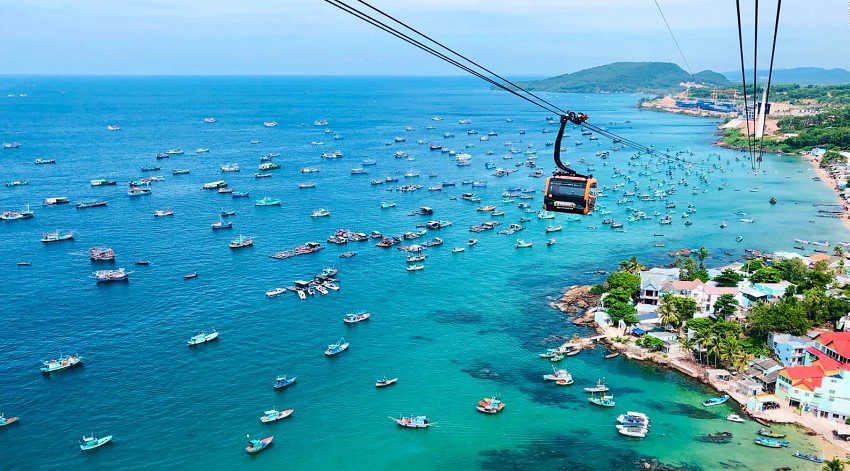 Nice things to do in Vietnam with kids: Tam Coc boat ride
The river Tam Coc has calm waters, so this is the best place to swim on sailboats. You remember this walk, filled with various landscapes. The cruise takes about 3 hours. The boat is made of wood. The path runs through 3 caves, various limestones, and fields of rice.
Most of all, tourists are remembered through the caves. It is fashionable to meet bats, stalagmites, and stalactites in them. All the caves through which the path passes are natural. And they all differ among themselves. Children will accurately appreciate the walk-in dark caves filled with a mysterious atmosphere.
On the way, you will meet different stops. Therefore, young kids can relax there. Many people like to go ashore to enjoy beautiful temples and pagodas. Drivers of boats are pleasantly about children. All passengers put on life vests and can enjoy the most scenic boat rides. And children are forbidden to shoot them. Water riding helps to calm children.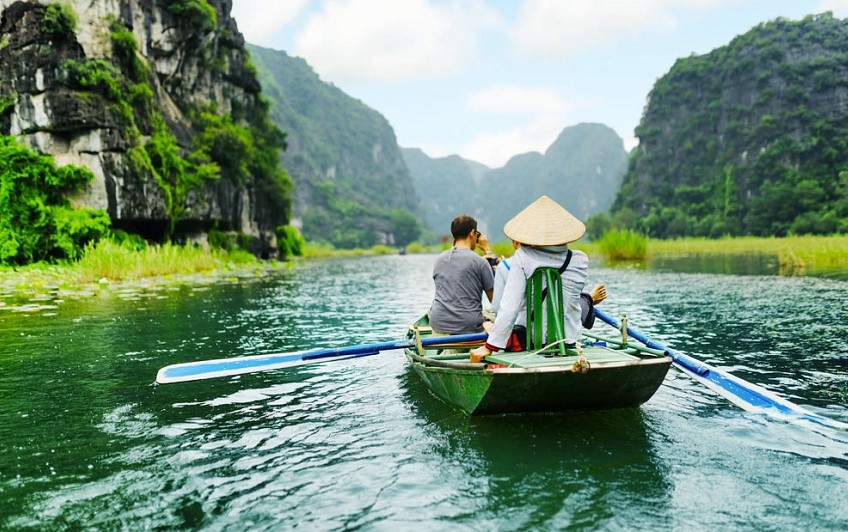 Safari at night in National Park Kattyen
The National Park itself is located to the northwest, moving from Ho Chi Minh. This is the best place for family travelers that prefer a calm and peaceful atmosphere. In the National Park, there are many animals under the protection of disappearance.
In the National Park, you can arrange a "night safari." Its essence is that tourists are immersed in a truck. The guide helps to see many interesting animals, including samba deer, wild pigs, barking deer, porcupines, and caresses. However, you will not violate their peace.
The duration of the tour is 1 hour. The ticket cost is $10-15 per person. The path to the park takes about 3 minutes if you go from the main island. You can take children of any age on an excursion. You can stop at the Green Bamboo Lodge hotel. There are many different rooms from which the view of the Dong Ny River opens.
The main entrance can be reached in just 4 minutes. Here you can clarify all the information. If you stay in Vietnam with kids for only 3 days, be sure to include a safari in the national park in your program. Especially if you are in northern Vietnam or south of the country.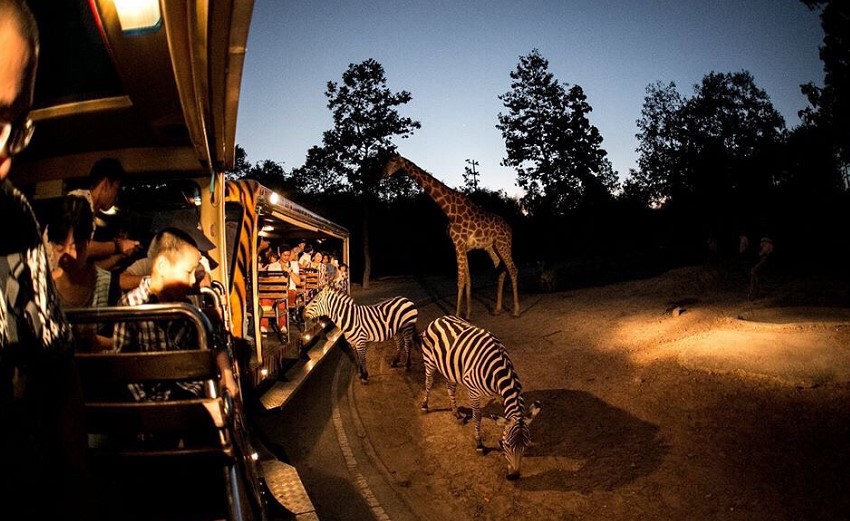 Puppet play on the water
If you travel along Vietnam with a family, be sure to visit the puppet performance, which is held on the water. This event has so much fun, and everyone can get to it. Yes, the performance will be held in Vietnamese.
However, you will still understand what the story is about. Puppeteers are located behind the screen. An orchestra plays in the background. The dolls themselves are in the water.
Similar ideas are carried out throughout Vietnam. However, the greatest demand is the ideas in Thang Long and the "Golden Dragon", which is in Hoshchein. Regardless of the age of the children, they will like the performance. The duration of the show is only 1 hour.
However, the child will stare at the stage all the time. The theater itself is located in the open air, so you will not feel discomfort due to the heat. During the entertainment, water splashes may fly at you. And, believe me, you will remember these emotions for the rest of your life.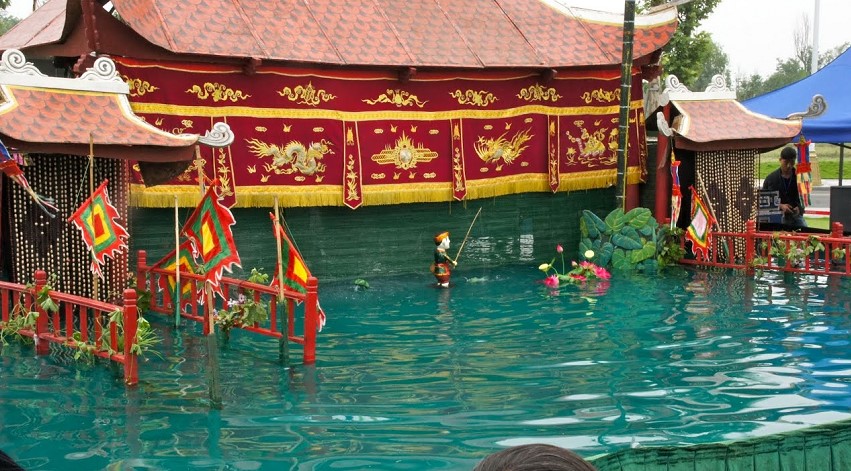 Skating in Ho Chi Minh City
In Ho Chi Minh City, at Landmark 81, there is a rather noticeable building. It is considered the highest in all of Southeast Asia. The height of the building is about 461 meters. It ranks 14th on the list of the tallest buildings in the world.
Children will appreciate a visit to Ho Chi Minh City because it offers the most stunning views in Southeast Asia.
Be sure to visit the first floor, where the real ice rink is located. It works from 9:30 am to 10 pm. You can rent skates and go for a ride. It is possible to bring protection and a helmet with you, especially if you are skating for the first time. You can take skating lessons to improve your skills.
Skating is carried out to disco-style music that plays in the background. The entrance ticket for adults is $7. A children's ticket costs $5. If you don't know how to ride at all, you can wait for your relatives using free Wi-Fi.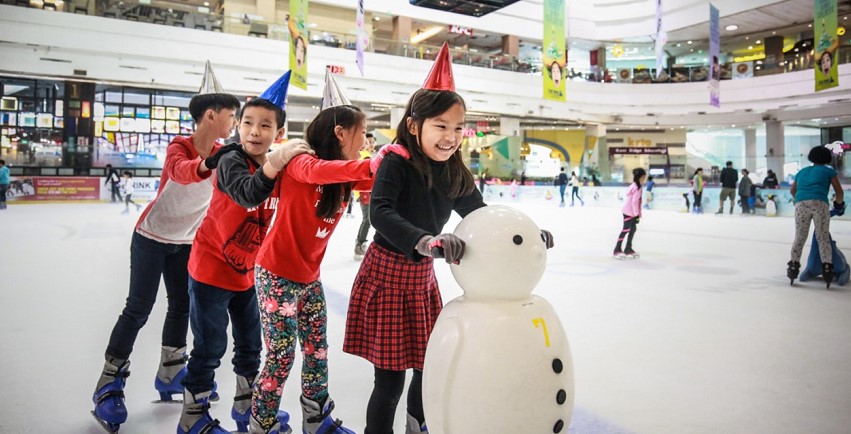 Alpine slides to the Dasara waterfall
If you are in Vietnam, be sure to visit Bao Loc. Here is the Dambri waterfall, which is in demand among tourists. There is also Dasara waterfall in the area. The Dambri is about 230 feet high and consists of powerful cascades of water. Nearby is the Dasara waterfall, which has calm waters. It is surrounded by beautiful forests.
Tourists prefer to get to Dasara by riding alpine slides. You can swim up to the base of the waterfall. Each trolley holds 2 people. Speed adjustment is carried out using a manual lever. This is the best solution for lovers of extreme sports.
Here you can also appear on the Ferris wheel, or go rowing. For this, there are original boats in the shape of a swan. You can play classic Vietnamese games like walking over the bar or balancing on the balance beam. There is a separate area for children, where there are many attractions. However, they are all old and in need of renovation.
There is a water slide that smoothly flows into the pool. The cost of an adult ticket is $8.6, and a child ticket will cost $5.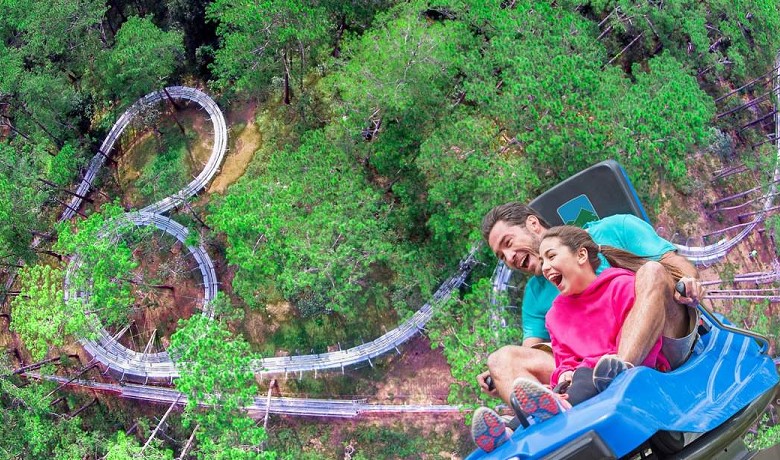 Vietnamese cooking class in Hoi An
Hoi An regularly hosts cooking classes. Throughout the old city, there are cooking kids club that children from 5 years old can attend. The Vietnamese cooking class begins with the fact that all participants go to the local market. Cooking class allows children to correctly recognize quality and fresh foods.
When all the components are assembled, everyone goes to the kitchen. All participants may have different levels of training. However, teachers are happy to help you chop food and spices, mix sauce, or cook meat. In some schools, it is possible to choose a menu in advance. Children can stop for fresh rice paper rolls.
You can also sign up for a workshop that takes place at a local lodge. The territory is ennobled with a beautiful garden where children can play. Participants can take part in the sowing of rice, as well as making rice paper. In the end, you can ride a buffalo.
The cost of the cooking class depends on which school you choose. On average, the cost varies from $35 to 55. The price includes tuition per day trip. If you choose the Red Bridge school, then children under 7 years old participate for free.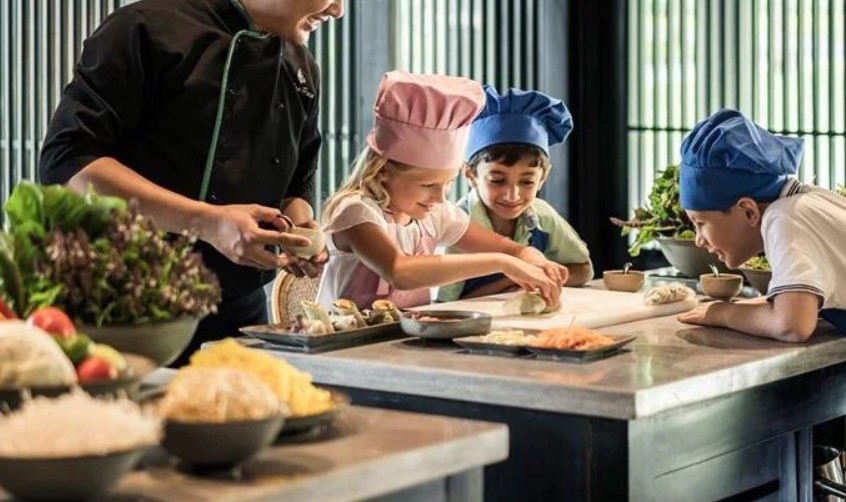 Swimming on the Perfume River
Many families with children like to travel along the Perfume River, which is located in Hue. Here you can rent a classic Vietnamese boat and ride it along the Perfume River. Stops during the boat ride can be made at Thien Mu Pagoda, which is located in the Imperial City. If necessary, you can get off the boat, take a walk through the Imperial City centre, and then hit the road again.
All family members on the boat ride on Perfume River can relax during the walk and watch the waves. Almost all boats are rented with a driver. On average, the cost of a boat road for four costs $35-40. You can pre-arrange the time by which the boat should be served.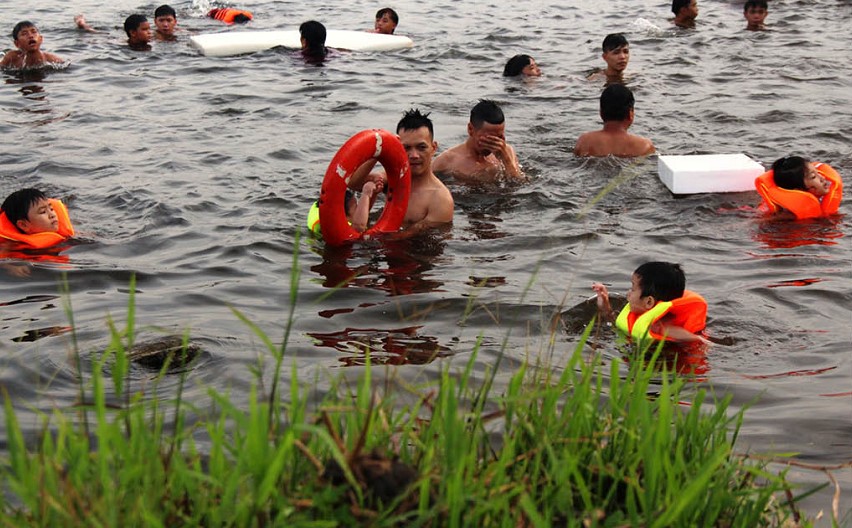 Journey through Halong Bay
Halong Bay is located in northern Vietnam. You can enjoy beautiful emerald-colored waters, as well as numerous tropical islands in Halong Bay. Almost all tourists coming to Vietnam cannot pass by Halong Bay.
The bay is supplemented with limestone karsts. The attraction is included in the UNESCO World Heritage Site. You can fully enjoy the bay during your half-day tour. There are many cruise operators in the area. You can choose any of them. Most of the operators are engaged in tours from Hanoi to Halong Bay. The Halong Bay cruise takes 4 hours.
Along the way, you see beautiful landscapes. You can go kayaking or swimming in the bay. You can taste fresh seafood. All ships are clean and comfortable. Sunset is best seen on the upper deck.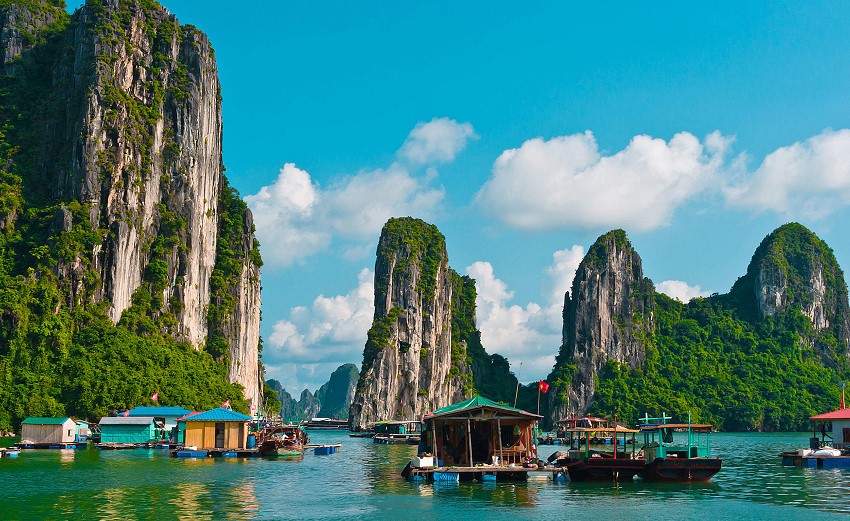 Rides and games at Sun World Ba Na Hills
On the territory of this attraction, there is a beautiful bridge called the Golden Hand. It fits perfectly into the picture of social networks. It rests on two huge hands made of stone.
Sun World Ba Na Hills is built to resemble a small village in Europe. There is a German-style beer garden here. It is possible to walk around the French castle, which has its wine cellar, and the architecture is made in the Gothic style.
Children can enjoy a variety of entertainment here. There are several ropeways in the park that children will definitely like. Live performances are regularly held on the streets. There is a three-story park that accommodates rides and arcade games.
There is a climbing rock and an alpine slide. All games are already included in the price of the entrance ticket. Therefore, you do not have to pay extra for many hours of children's play. You can get to Sun World Ba Na Hills from Da Nang city, and the journey takes only 1 hour.
The cost of an adult admission ticket is about $32. Children have to pay $26. Paid admission for children over 3,28 ft tall. If the child is small, then admission is free.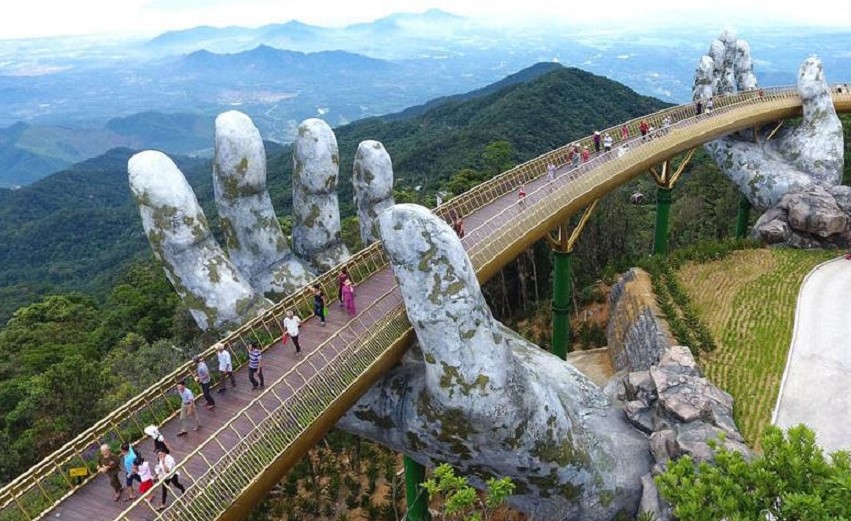 Relax on the beach
Vietnam is considered a country with over 200 miles of coastline. Here you will find numerous bays, clear waters, and white beaches. If you decide to travel around the country with children, be sure to make time to soak up the white sandy beach.
The most popular destinations for a beach holiday are Trang, An Bang, and Mui Ne. Many people like to relax on the southern beaches of Phu Quoc island. It is better to find in advance the best resort that will appeal to all family members. You can stay at the Green Bay Resort, which is very comfortable for children.
In the rainforest, you can soak up the bungalow. Luckily, there are options for every budget. There is a children's pool on site. The staff is very friendly. However, the main advantage is that the territory has a shallow private beach. Here you can also borrow kayaks for free to ride along the coast.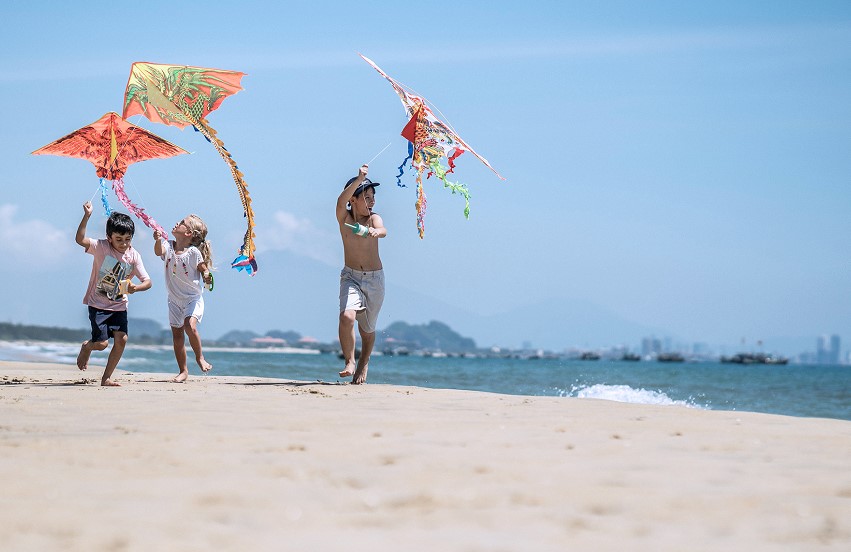 Cu Chi tunnels
This type of attraction will not be appropriate for everyone. This place is more suitable for children over 6 years old. Cu Chi tunnels are considered part of a huge tunnel network. Cu Chi tunnels were used by Viet Cong soldiers to win the Vietnam War.
This is where the base of operations was located. There was a communication point, a hospital, living quarters, and supplies. There is evidence that some soldiers lived in the Cu Chi tunnels for the entire 4 years that the war was fought. By visiting the Cu Chi tunnels, you can roughly understand what the soldiers felt.
The tunnels vary in length, and some of them have widened to allow people to enter. Be prepared that you will not go all the way right away because the atmosphere will be a little depressing. At the exhibition, you can see the traps used by the soldiers. There is an opportunity to shoot at the shooting range with weapons from the war.
Be prepared that the volume from the shot will be significant. There are even a few American tanks left over from the defeat of the US Army.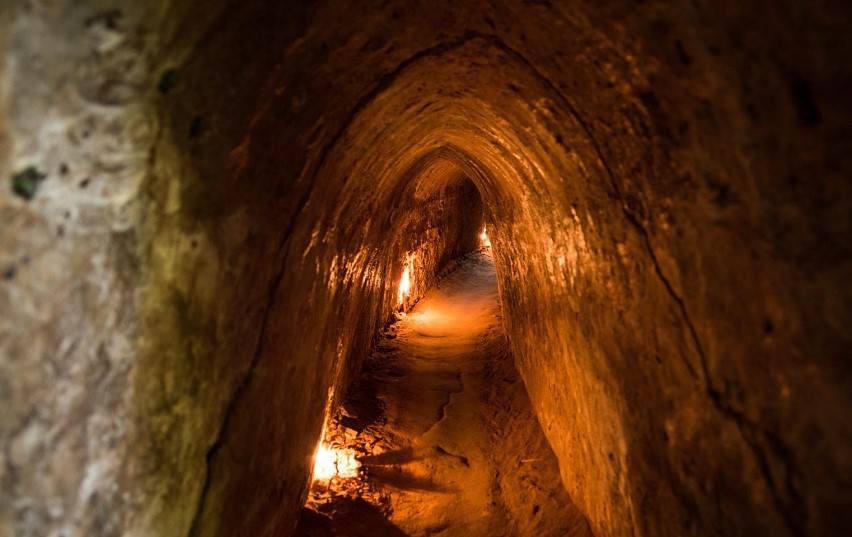 Street food walking tour
If you travel to Vietnam with kids, be sure to take a stroll through the streets and enjoy delicious street food. Especially if you stay in Hanoi. Believe me, not only children will like this activity, but also you.
As you know, Vietnamese food reveals the character of the country better. If you are in Vietnam for the first time, do not deny yourself the pleasure of trying street food. It's inexpensive and the portions are generous.
On average, the cost of the tour will be $20 per person. If you will be walking with children, it is better to book a private tour. This allows you to independently adjust the pace of the hike, and stop at different places. Children can communicate with the guide all the time and learn a lot of interesting things.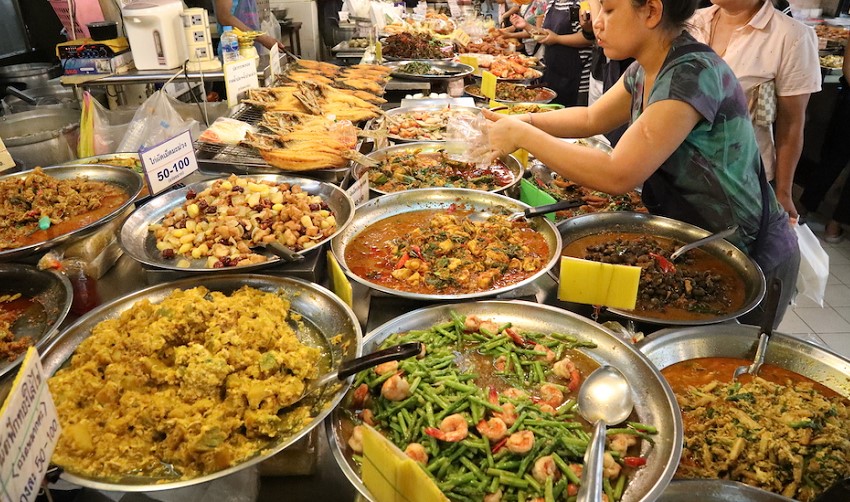 Military Museum in Ho Chi Minh City
This place is quite impressive and immediately catches the eye. Get ready to experience incredible emotions. If you bring small children with you, chances are they cannot appreciate the full scale. They won't understand what is being said. But older children can ask questions that interest them.
Not all parents decide to take their children with them to Ho Chi Minh. You also need to understand that displays are built on a graph. And some situations will not coincide with what is written in the history books.
This museum reveals the second side of history, which no one knows.
The outer facade of the building is supplemented with tanks and helicopters. There are even bombs. In this place, small children will be interested. After all, you can get closer to the exhibits to view them. There is even a prison that features multiple images. There is a description of what preceded the Vietnam War and how it began.
There is a wealth of information displayed inside the museum. There is even a bombing display. Older children can view all the exhibits themselves, relying on their preferences. On the outside of the rooms, there are places where children are not allowed to enter at all. Often, employees stand at the entrance and notify about it.
Almost all employees speak English. Therefore, it will be comfortable for you to communicate with them and ask questions.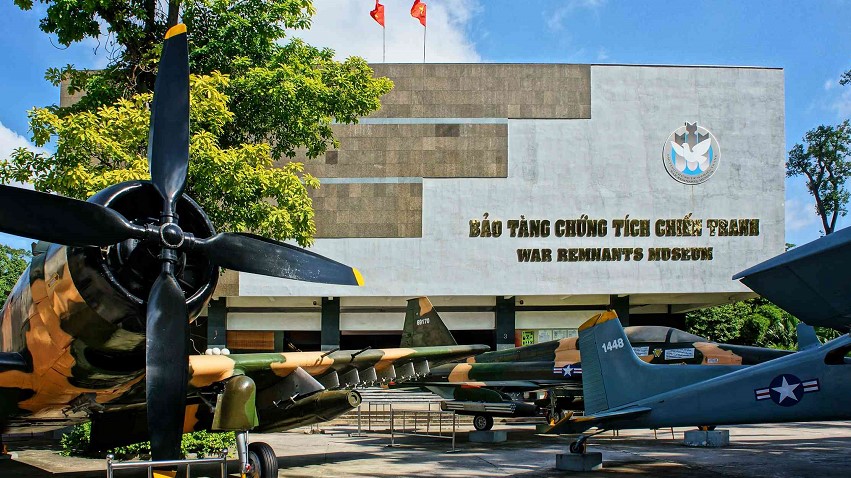 FAQ
When you travel to Vietnam with younger kids, various questions may arise.
Is Vietnam good to travel with kids? Vietnam is considered to be one of the best places in the whole world which are designed for traveling with children. Depending on age, all family members will be in love with this country. Here you can see huge rainforests, beautiful beaches, and attractions and enjoy delicious street food.
Is Vietnam a good place to visit with family? Vietnam is a beautiful country. Vietnamese culture and history. If you ever come here, you will always come back. It's not just beautiful beaches. You can learn a bit of history, as well as stroll through the cute markets and streets, where you will be greeted by smiling locals.
How do I plan a family trip to Vietnam? If you decide to plan a family trip to Vietnam with the whole family, it makes sense to start with preferences. Check with a relative what they want more. Fortunately, Vietnam is considered a versatile country, so here everyone can find an interesting hobby for themselves.
Are 3 days enough for Vietnam? It is better to free up at least 10 days for traveling around Vietnam.
Results
As you can see, Vietnam is a very friendly country. It doesn't matter if you are traveling alone or with children. You can always have fun.