What are the best campgrounds in Richmond, VA?
Richmond is the capital city of Virginia's Commonwealth. This city offers a wide variety of activities. You may check out the Edgar Allan Poe Museum, see a performance at the Performing Arts Center, or visit one of the many Civil War battlefields.
However, camping is the only way to truly experience Virginia's natural side. This state's camping options are quite diverse. In this article, you will learn about 12 of the best RV sites and campgrounds near Richmond for you to stay in during your next trip!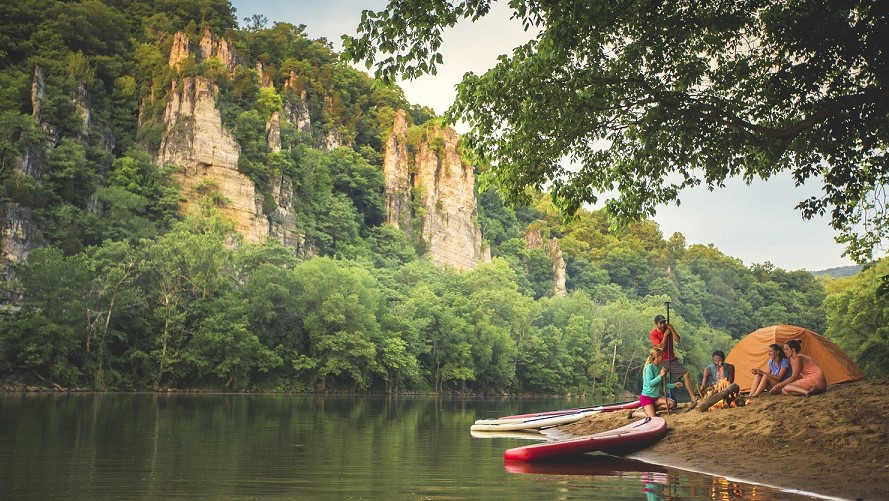 Top 12 campgrounds near Richmond, VA
Pocahontas State Park
One of the best campgrounds near Richmond (only 20 miles from it) that gives campers a delightful experience with verdant, tree- and plant-filled surroundings is Pocahontas State Park.
The facilities are contemporary and well-maintained, and RV sites provide electricity and water.
There are 8,000 acres to explore, 3 lakes to swim in, and spacious, isolated campsites at Pocahontas State Park.
All three lakes provide exciting chances for boating, swimming, and fishing, that's why the park has numerous boat rentals. You might also just lounge on the sand to sunbathe.
You will have a lot of exploring to do because the network of trails of Pocahontas State Park totals more than 64 miles. For history fans, there are several battlefields of the Revolution and Civil War nearby.
Located in: 10301 State Park Rd, Chesterfield, VA 23832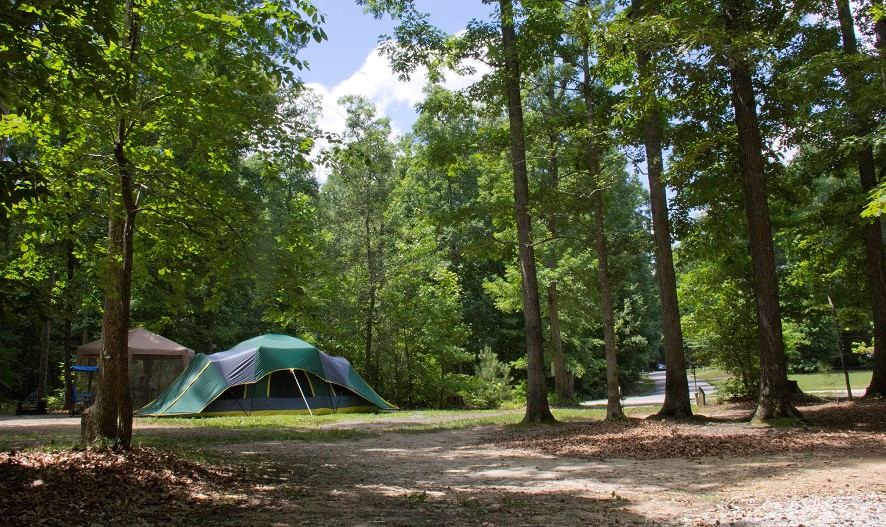 Chesapeake Bay RV Resort
It is a 280-acre RV park with campsites that are situated along the banks of the lovely Piankatank River.
In addition to full hookup sites, Chesapeake Bay RV Resort also offers tent camping and rental cottages.
You can find almost everything here, from a hot tub to a game room.
Most importantly, this RV park in coastal Virginia has tidy, well-maintained facilities. The pleasant, amiable team is available around-the-clock.
Piankatank River is ideal for boating, water skiing, jet skiing, swimming, crabbing, and fishing. This RV park is about a quarter-mile away by boat from both freshwater and saltwater fishing.
Three "living history" towns with exceptional historical significance are close by. The "Historical Triangle" of Virginia is made up of Colonial Williamsburg, Yorktown, and the Jamestown Settlement. Make sure to check them out if you have some extra time!
Located in: 12014 Trails Ln, Gloucester, VA 23061-2618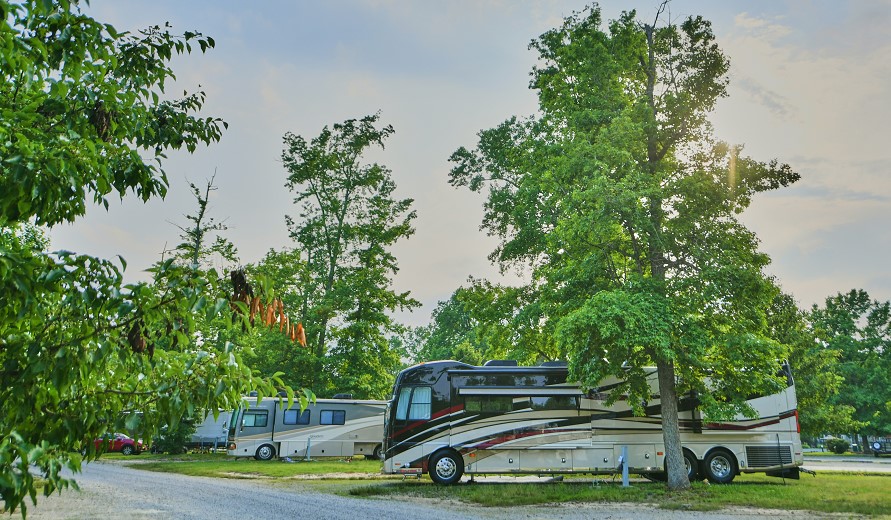 Gwynn's Island Campground & RV Resort
Gwynn's Island makes a great camping spot for couples, friends, or families. Even for your winter break, it's a fantastic option.
Water is the major, but not the only, draw at this location due to its island location. All amenities are up-to-date and well-kept.
This RV resort offers loads of enjoyable activities for you to partake in, like walking tours, or tree-sleeping options. There are galleries, museums, shops, top-notch dining establishments, and laundry facilities.
Given that this RV park is situated directly on the Chesapeake Bay, guests may experience the warmth of the sun as it rises over the horizon each morning.
Located in: 551 Buckchase Road, Gwynn, VA 23066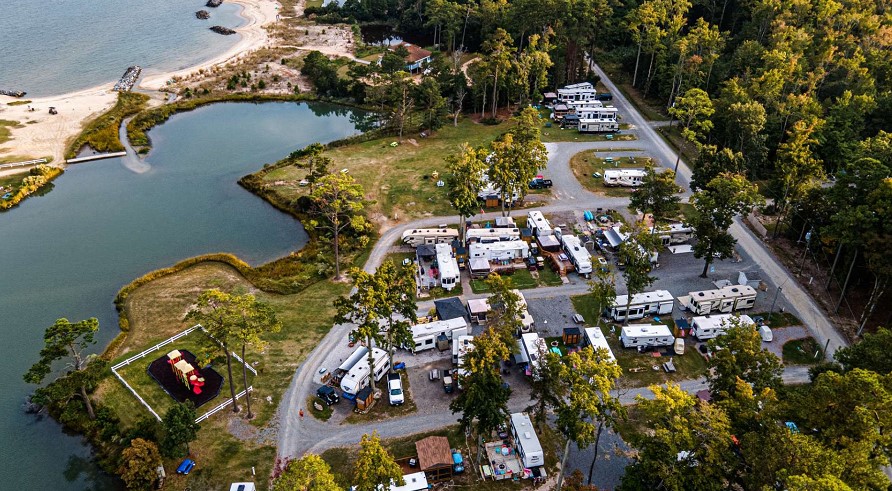 Lake Anna State Park
About an hour's drive from the city, Lake Anna State Park is a wonderful choice when looking for the best campgrounds near Richmond to stay in.
The park is home to a lovely beach along one of Virginia's most well-known lakes.
It has 6 cabins, 10 two-bedroom cabins, 4 yurts, and two lodges with six bedrooms for campers.
Access to water and electrical hookups is available at every campground.
At Lake Anna State Park, there's a huge amount of options for camping enthusiasts, such as hiking (15 miles of nature trails), biking, horseback riding, swimming, boating, and a lot of other fun activities.
The Visitor Center hosts ecological and historical community events and displays throughout the summer so that you may find out more about the park and its animals.
Located in: 6800 Lawyers Rd, Spotsylvania Courthouse, VA 22551
Picture Lake Campground
The entire family will have so much fun at this charming small RV park.
Picture Lake Campground is close to Pamplin Park, Fort Lee Military Base, and Petersburg Township School Battlefield, all of which are fantastic day trip destinations.
Along with a lake where you may swim, fish, and boat, there is also a recreation center with a pavilion where other events can be held. There is also a large swimming pool here!
In this campground, groceries and other necessities are available in the on-site shop. There are also laundry facilities and a propane refill station nearby.
Located in: 7818 Boydton and Petersburg Plank Road, Petersburg, VA 23803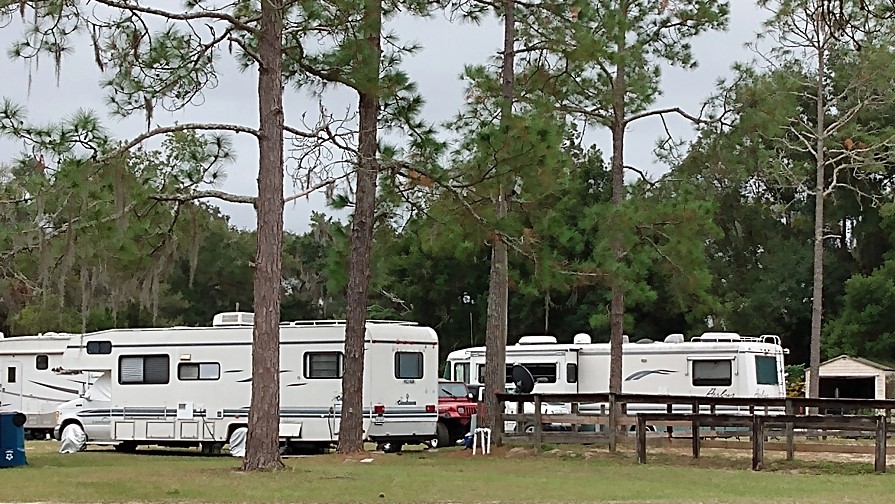 Shenandoah River State Park
With more than 1,600 acres and 5.2 miles of shoreline, Shenandoah River State Park is located on the South Fork of the Shenandoah River. When choosing one of the campgrounds near Richmond, this park is another beautiful option.
This is a well-liked site for families, fishermen, and canoeists since it has a sizable riverside picnic area, picnic shelters, pathways, river access, and a car-top boat launch.
There are twelve riverside tent campsites, as well as cottages, and a campground with water and electricity. You can even find a hot tub here!
Just like other RV parks, it has a lot of opportunities for hiking, biking, equestrian riding, and adventure, with more than 24 kilometers of paths.
Located in: 350 Daughter of Stars Dr, Bentonville, VA 22610
First Landing State Park
About an hour and a half from Richmond, on the Chesapeake Bay, lies the stunning and historic First Landing State Park. This is the location of the first English colonist landing in North America.
About 200 campsites can be found in First Landing State Park, which is one of the top camping spots in Virginia Beach and the Tidewater area.
You can find 20 cabins on Shore Drive, which is on the other side of the campsite. There are 50 RV sites, which also have access to electricity and water for pleasant camping.
There are four cozy yurts with queen-sized mattresses, water access, power, and indoor cooking facilities in the area close to the Chesapeake Bay.
Additionally, the park offers some of Virginia Beach's top hiking paths.
Located in: 2500 Shore Dr, Virginia Beach, VA 23451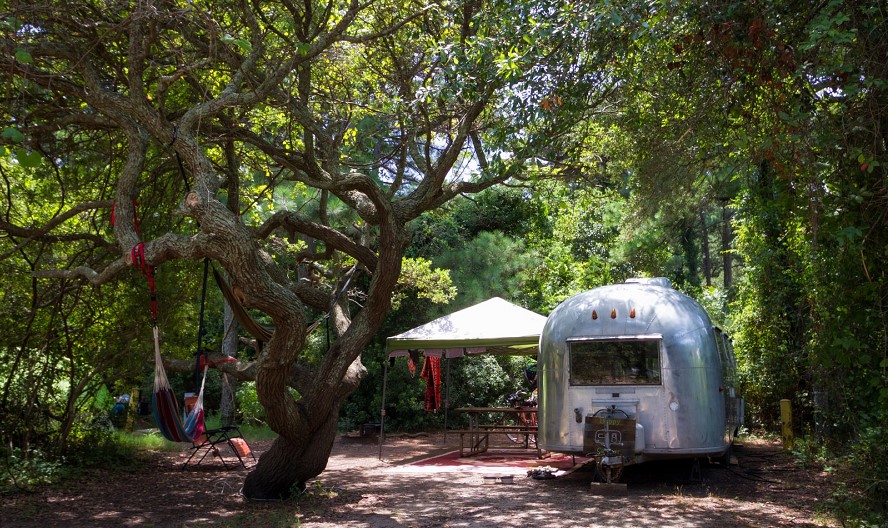 Americamps RV Resort
Americamps RV Resort is approximately 17 minutes from Richmond by car, along Route 95. Once you get there, you're at a fantastic and luxurious RV resort. A broad variety of facilities and events are available in the park all year long to make your weekend or trip very enjoyable.
This well-kept RV Resort provides campers with 79 easy-access back-in sites, 105 pull-thru sites, 8 tent sites, laundry facilities, a bathhouse, a large pool, and internet.
You have access to a BBQ area, fitness center, bikes, children's playground, and much more thanks to the experienced and passionate staff.
Located in: 11322 Air Park Rd, Ashland, VA 23005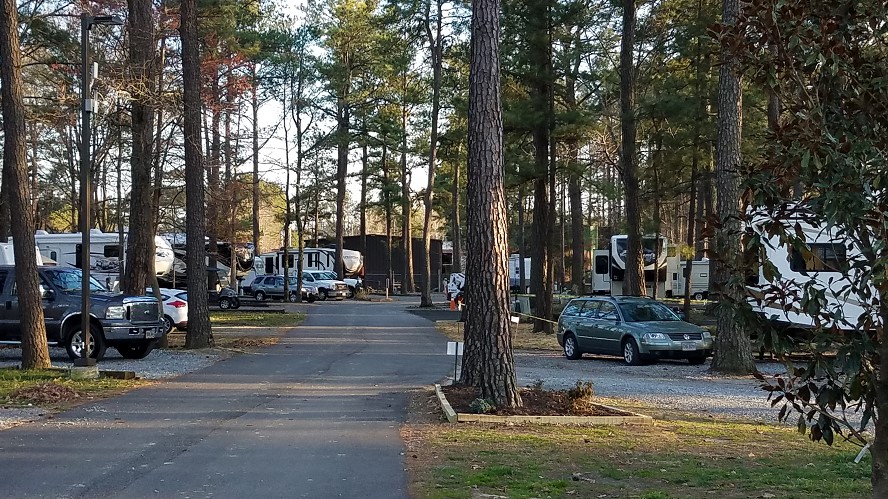 Camptown Campground
Another family-oriented campground in Richmond is Camptown Campground. Due to the campfires and dense woods, it provides the finest sense of home.
It is fairly roomy and has several trees that give off ample shade for relaxation.
Everything at Camptown exudes a sense of being close to nature, even the calm, secluded campsites.
Camptown Campground is among the best campgrounds near Richmond for a family vacation. You may either go on an expedition in the woods with your kids to explore some of the most fascinating nature trails or spend the day playing games with them.
If you are interested in history, there are several Civil war battlefields near the park that you can visit.
Try the hot tub or go swimming. At Hatcher Run, you may go boating and fishing as well. If you need to go to a retail store, take your time browsing or go to a restaurant for a delicious dinner.
Located in: 22819 Camptown Drive, Petersburg, VA 23803
South 40 RV Campground
The calm, rural Virginia scenery encompasses 40 acres at South Forty RV Campground.
There are many things to do while on vacation at this RV park, which provides a tranquil and relaxing camping experience.
This park offers some of the greatest RV camping in the Richmond, Virginia, region because of its various amenities, first-rate facilities, and friendly staff.
To make the most of your camping trip, South Forty offers a variety of activities, including swimming, fishing, and boating.
You won't need to leave the campground while on vacation as the park has a restaurant and a grocery store on-site.
Located in: 2809 Courtland Road, Petersburg, VA 23805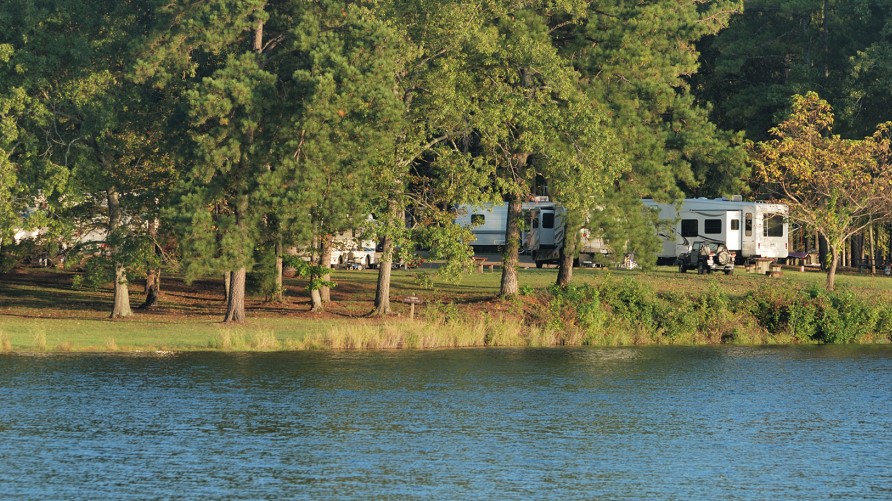 Bethpage Camp-Resort
This is the best-rated waterfront RV resort in Virginia, which has been crowned the greatest RV resort in the US three times.
Your attention is drawn to the stunning freshwater lake, beach, water park, and aqua trampoline.
Movie night, arts and crafts, live entertainment, swimming, volleyball, corn hole, crabbing, fishing charters, hayrides, kayaking, yoga…
There are countless options! Visit Bethpage Miniature Golf & Ice Creamery with your whole family to play miniature golf and indulge in 20 different flavors in the ice cream stands.
Located in: 679 Brown's Lane, Urbanna, VA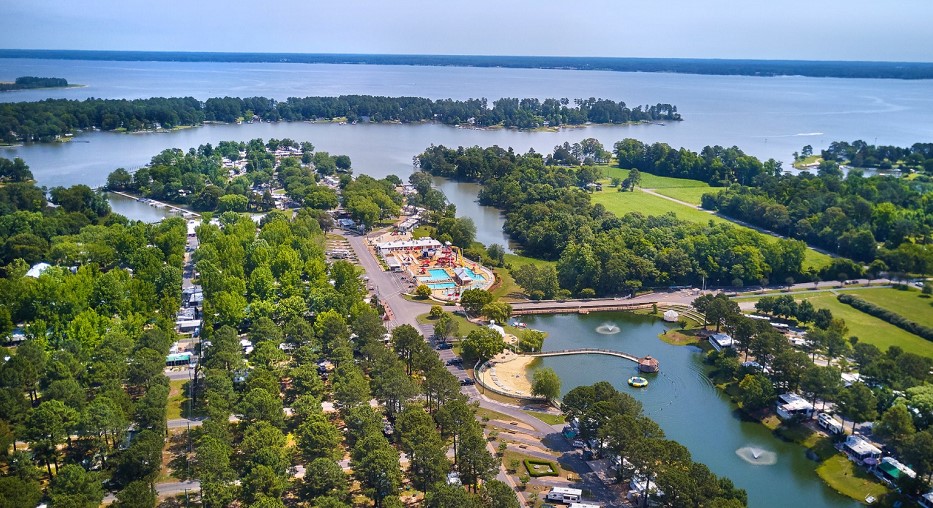 False Cape State Park
False Cape State Park, one of the last remaining unspoiled places along the Atlantic coast, is tucked between Back Bay and the Atlantic Ocean.
The park has campsites spread out across four distinct, widely spaced areas. Camping is permitted all year round.
This park has no vehicular access. Only pedestrians and bicyclists are permitted through the Back Bay National Wildlife Refuge, and only during the daytime.
There are 12 sites available in the park for tent-only, rustic camping.
Before camping at this campground, all campers must get their confirmation letter and information package.
In the sanctuary, animals are not permitted.
Located in: 4001 Sandpiper Rd, Virginia Beach, VA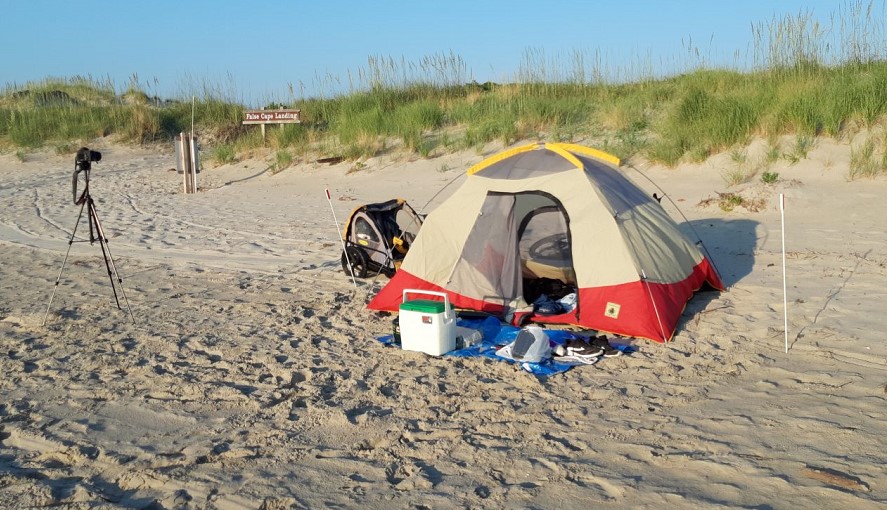 Features of camping in Richmond, VA
The greatest possibilities for camping during the fall are during the week;
Sewer hookups are available in the campsites Kiptopeke and Hungry Mother;
Primitive camping is available all year round without a bathroom;
Except for Douthat State Park, Hungry Mother State Park, Pocahontas State Park, and Shenandoah River State Park, which offer full-service campsites available year-round, full-service campgrounds (with bathhouses) are only accessible from the first Friday in March through the first Monday in December;
Park campsites are pet-friendly (only False Cape has some restrictions);
Camping with kids is allowed.
What do I need to know before camping in Richmond, VA?
The natural vegetation shall not be harmed by any of the equipment while it is inside the boundaries of the campsite;
Six people can fit at a campsite at a time;
Developed campsites have access to bathrooms, grills, and picnic tables. The majority of campsites include water and electricity hookups;
Pit toilets, picnic tables, fire rings, and non-potable water are all the amenities typical for primitive campgrounds. Sky Meadows and False Cape both provide hike-in camping. James River State Park offers drive-in camping, and Belle Isle, Caledon, New River Trail, and Powhatan state parks provide hike-in and canoe-in campsites.

It's best to check before camping on the mentioned campgrounds if you have electrical hookups. If not, you can consider taking a

generator

with you. But of course, in terms of using a generator check campground rules first.

Are reservations needed?
It's advisable to book a spot as early as possible, and reservations are advised.
You can reserve a campsite from 11 months in advance and up until 2 p.m. on the day of arrival.
On weekdays from 10 a.m. to 4 p.m., you can book a site online or by phoning the customer service center.
The total amount due must be paid at the time of booking.
What about transitions and cancellations?
You can modify or cancel your reservation over the phone during business hours, online till the day before you arrive at 11:59 p.m., or by phoning the customer care center.
Transferring a reservation to a different day or campsite is free of charge. Canceling a reservation will cost 10 dollars, and canceling a group site reservation will cost 30 dollars.
On the day of arrival, you can cancel a reservation and get a refund minus one night's cost. Transferring between the group and non-group sites necessitates cancellation (with associated penalties) and rescheduling.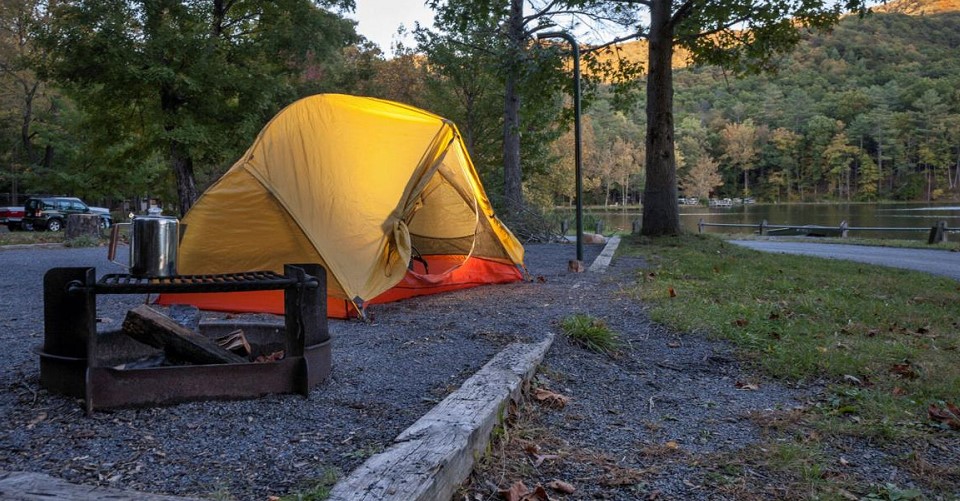 Frequently asked questions
Which Virginia State Park campgrounds are open year-round?
What is a year-round campsite? At least for some sorts of camping, a year-round campsite is a campsite that is open 365 days a year.
There may be limitations on the kinds of camping that are permitted during the colder months of the year, depending on the specific area. The cost of overnight camping can frequently change seasonally in campgrounds open all year.
Here are some of the Virginia State Park campgrounds that are open the whole year:
Shenandoah River State Park
Pocahontas State Park
Picture Lake Campground
False Cape State Park
Americamps RV Resort
Bethpage Camp-Resort
Remember to get in touch with the park for additional details.
How much does it cost to camp at Richmond Raceway?
Great racing action can be found at Richmond International Speedway, which also values the fan experience. It offers two weekends of NASCAR racing and is one of the most well-liked venues in all of motorsports among drivers and spectators.
Most importantly, RV camping is available at Richmond International Speedway. The Meadowridge RV Parking Lot J has open daily and overnight parking spots over the weekend. During NASCAR weekends, the price is $90 per night.
Where can I park my RV in Richmond VA?
In Virginia, you may camp in an RV with resort-style amenities like cable TV or on well-maintained tent sites with power and water hookups.
Some of the campgrounds and resorts that allow RVs include:
Pocahontas
Picture Lake Campground
Bethpage Camp-Resort
Lake Anna
Americamps RV Resort
First Landing
Gwynn's Island Campground & RV Resort
Shenandoah River
Chesapeake Bay RV Resort
South 40 RV Campground
For further information and precise measurements, go to the "overnight facilities" section of the specific park page to learn more about size, amperage, water, and other details.
Conclusion
Virginia is a beautiful and historic state. The greatest way to dive into its mesmerizing nature is to stay in one of the RV parks, or campgrounds near Richmond, for instance.
Finding the ideal campsite or RV park to stay at might be difficult even for the most experienced camping enthusiasts due to the abundance of options for RV sites and campgrounds near Richmond and the city itself.
The best thing to do is to figure out which characteristics and amenities appeal to you the most and then locate which place would meet most of your wishes. We hope that this article will help you with that!