All landmarks in Australia in one article
Australia is the only country that occupies the territory of an entire continent. It's washed by the Pacific and Indian Oceans and many seas.
Australia also includes the large adjacent island of Tasmania and numerous smaller islands located around the mainland.
As the country occupies a very large territory, it's difficult to visit all the famous landmarks in Australia located throughout the continent's territory during just one vacation.
But after reading the article, you can choose only those that interest you and plan your trip optimally. Use the map to get a better idea of ​​the location of the most popular Australian landmarks.
What is the famous Australian landmark?
The Great Barrier Reef is one of the seven wonders of the world and one of the most famous natural landmarks in Australia visible even from space.
Great Barrier Reef on a list of UNESCO World Heritage Sites since 1981 as the world's largest and longest coral reef.
You can reach the Great Barrier Reef from the city of Cairns, the major entry to the reef, but also Townsville city and Port Douglas.
The Great Barrier Reef islands offer luxury resorts with white sandy beaches for the best rest and instructive cruises for the curious.
You'll need a few days to see the best points of the largest coral reef system.
More than 1500 species of colorful fish (Potato cod, Moorish Idol, Coral cod, manta rays, Cardinalfish, clownfish), mollusks and starfish, turtles, dolphins, and sharks live in the Great Barrier Reef.
Great Barrier Reef is one of the most iconic Australian landmarks that are worth visiting first of all!
The most famous landmarks in Australia are in Sydney. It's the largest city in Australia and the capital of the state of New South Wales.
The most famous buildings are there in Sydney.
Sydney Opera House
The iconic Sydney Opera House with an unusual shape of roof in the form of a shell is the most famous Australian landmark in a city.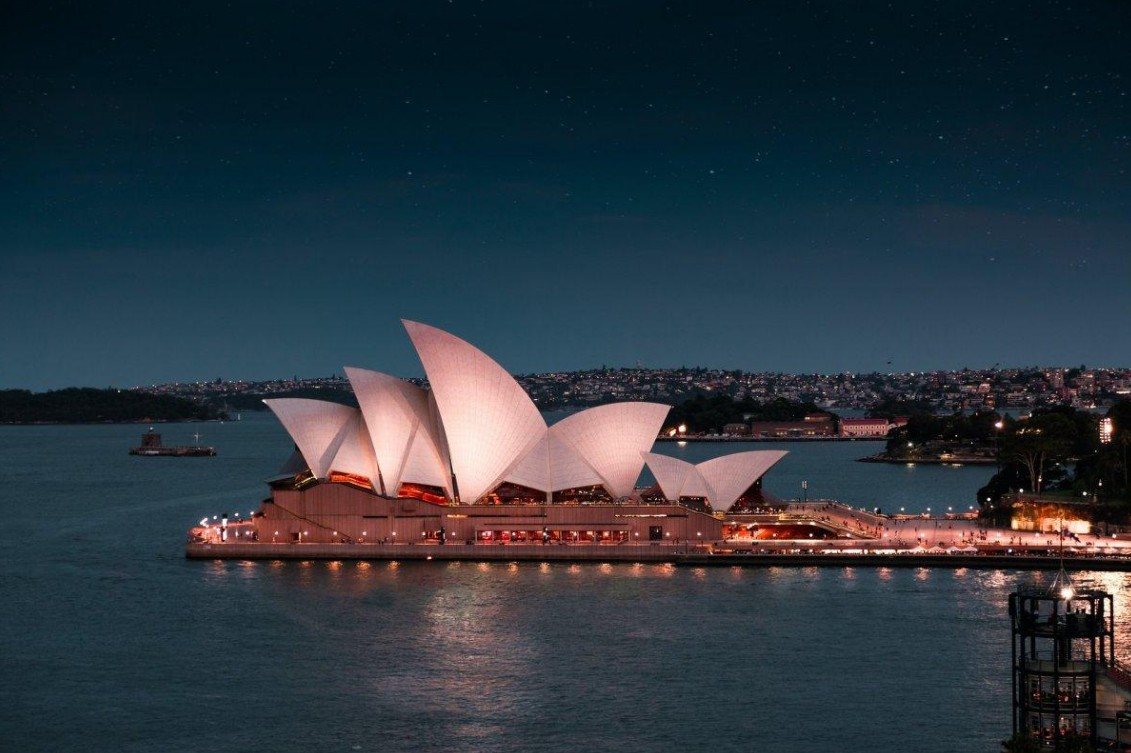 This original architectural work was designed by Danish architect Jorn Utzon in 1957.
In 1973 the building was opened by Queen Elizabeth II and in 2007 it was listed as a UNESCO Heritage Site.
Sydney Opera House consists of some performing venues and about 1500 shows are held here in a year. About 10.9 million performance viewers strive to get there every year.
As it is located on Sydney Harbour, the Opera House is now the symbol of the city, and one of the most recognizable Australian landmarks.
Sydney Harbour Bridge
Sydney Harbour Bridge is the second of the most iconic man-made landmarks in Australia. Locals call it a 'coat hanger' because of its shape.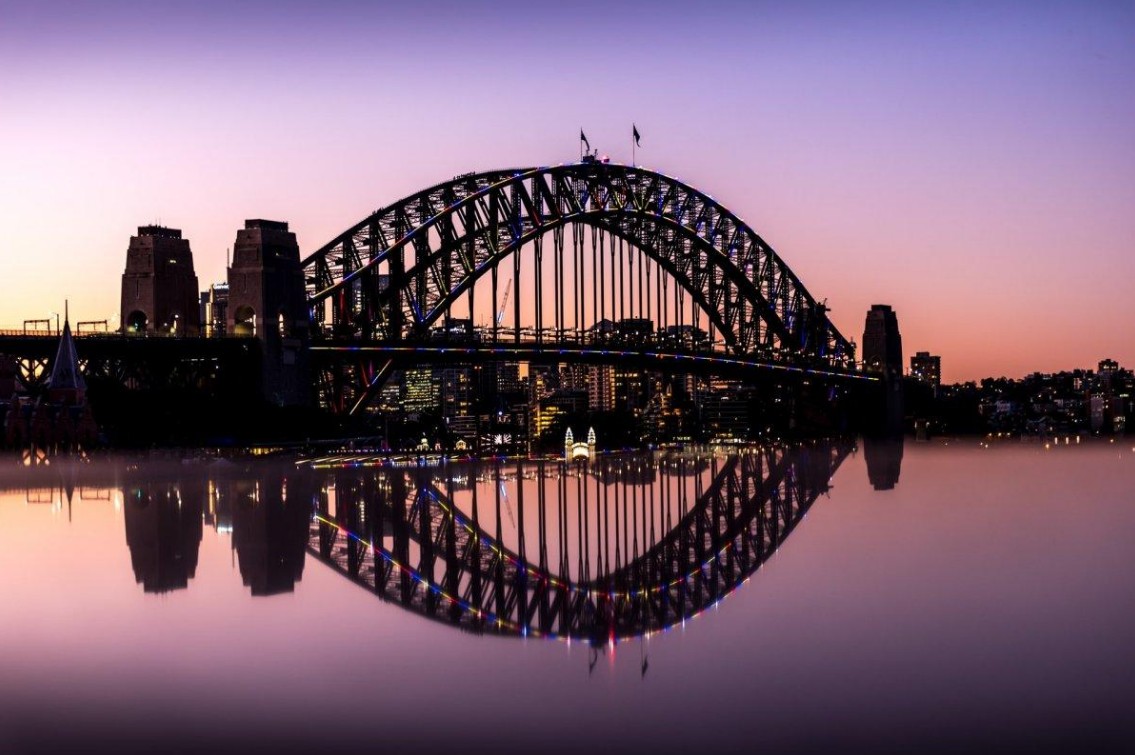 Sydney Harbour Bridge was constructed in 1924 and opened in 1932.
Sydney Harbour Bridge is the largest arch bridge of steel in the world that unites the northern and southern parts of Port Jackson Harbour.
Try to climb to the top of the bridge to see stunning views over Sydney and take photos of the sunset from the Pylon Lookout.
Sydney Tower Eye
The Tower Eye is the tallest building in the city that was completed in 1981 to resist earthquakes. Its height is 305 meters.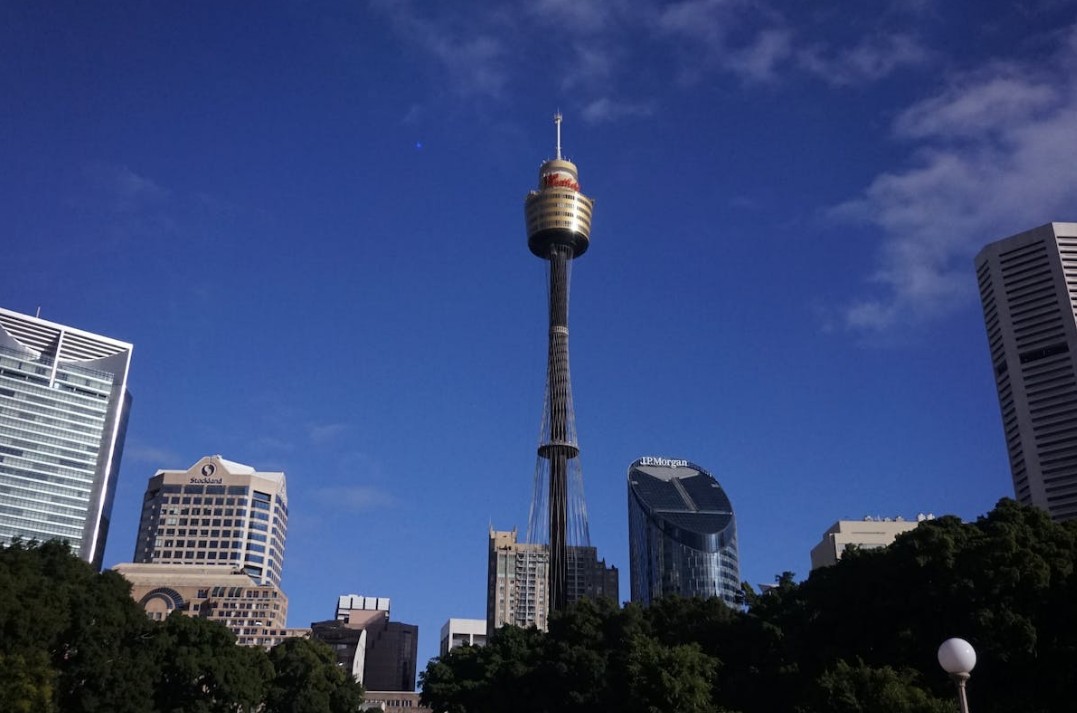 From the top of it, you can see an incredibly beautiful panoramic view over Sydney at the Observation Deck. You can also try the Skywalk – an outdoor platform with a glass floor.
Darling Harbour
Darling Harbor is a harbor adjacent to the center of Sydney, New South Wales. It consists of a large entertaining and pedestrian area located on the western side of Sydney's central business district.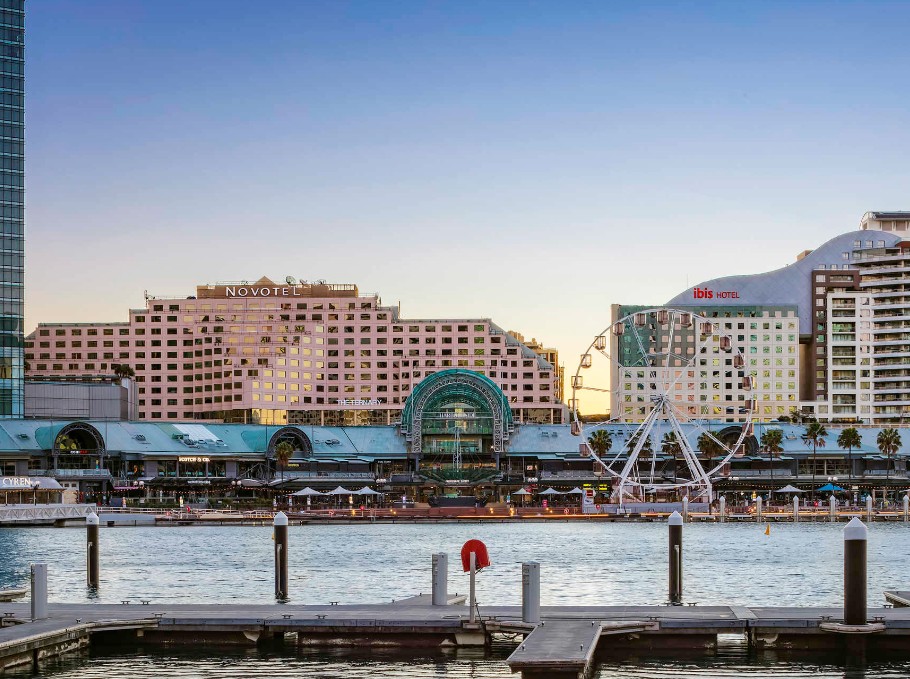 It's worth visiting if you want to discover unique Australian animals, waterfront restaurants, thrilling history, and exciting nightlife.
Queen Victoria Building
Queen Victoria Building is a late 19th-century UNESCO World Heritage-listed building designed by architect George MacRae and located in the Sydney CBD in the Australian state of New South Wales.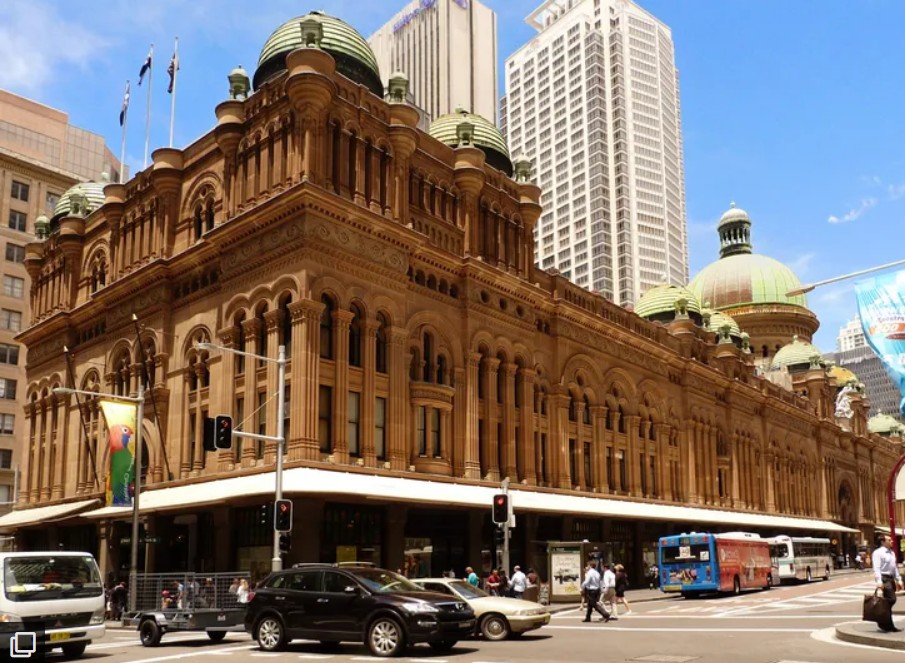 Visit this famous sight not leaving the city for its beautiful architecture or just stay for the shopping. Enjoy coffee at the numerous cafes, and listen to the Royal Clock strike.
Royal Botanic Gardens
Royal Botanic Gardens are located in the very center of the city and are the main of the three largest botanical gardens in Sydney.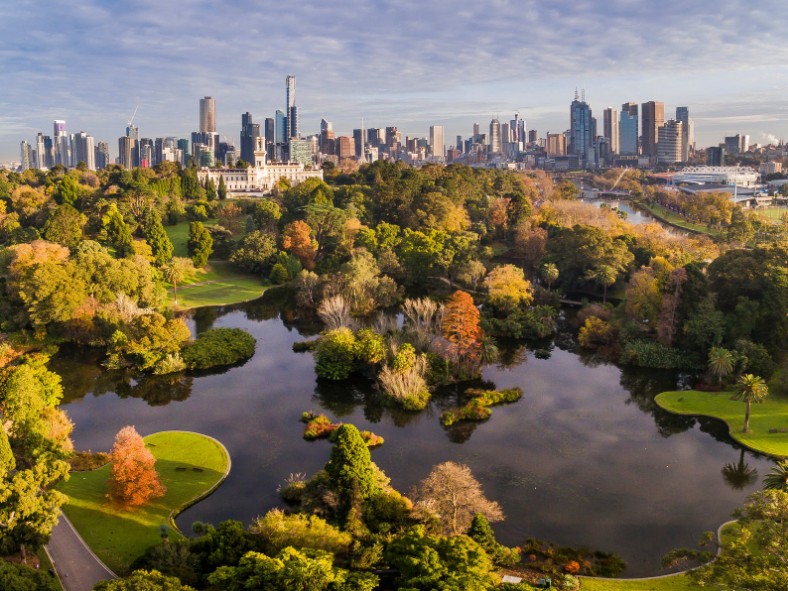 It was opened in 1816 and now is the oldest scientific establishment in Australia and one of the most important historic botanical establishments in the world.
The park is working for visitors free of charge around the clock.
You can come here for different events, or to learn about science, gardens, and plants.
Famous Australian landmarks in Canberra
Canberra is the capital of Australia and the country's largest inland city. It is the seat of the Australian government, the Parliament of Australia, and the Supreme Court.
Numerous ministries and agencies are located on its territory. The city is also home to public and cultural institutions of state importance.
Australian War Memorial
The Australian War Memorial in Canberra near the Parliament House is an often-visited history museum.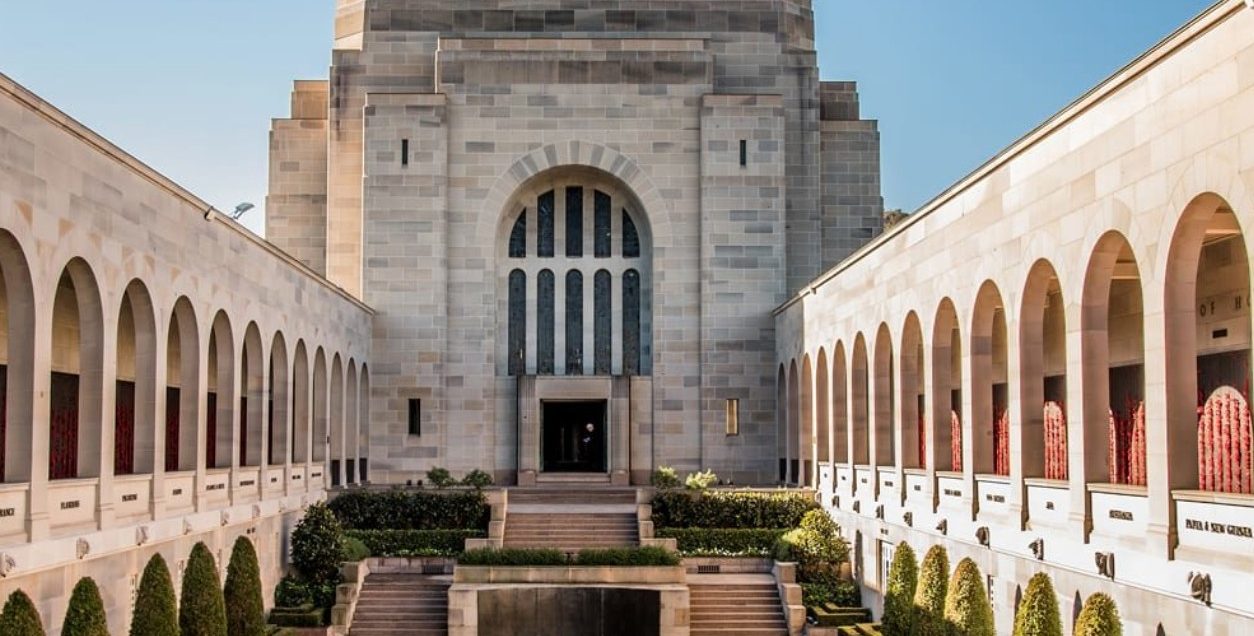 It was opened in 1941 and since then it's become the place where Australians esteem soldiers dead in world struggles.
The War Memorial includes the Commemorative Area. There you can visit a memorial pond with an eternal flame in the center of it and several galleries.
The galleries include World War I, World War II, Conflicts from 1945 to the present day, etc.
Parliament House
Another of the main landmarks in Australia is the Parliament House in Canberra. It was opened in 1988 by Queen Elizabeth II.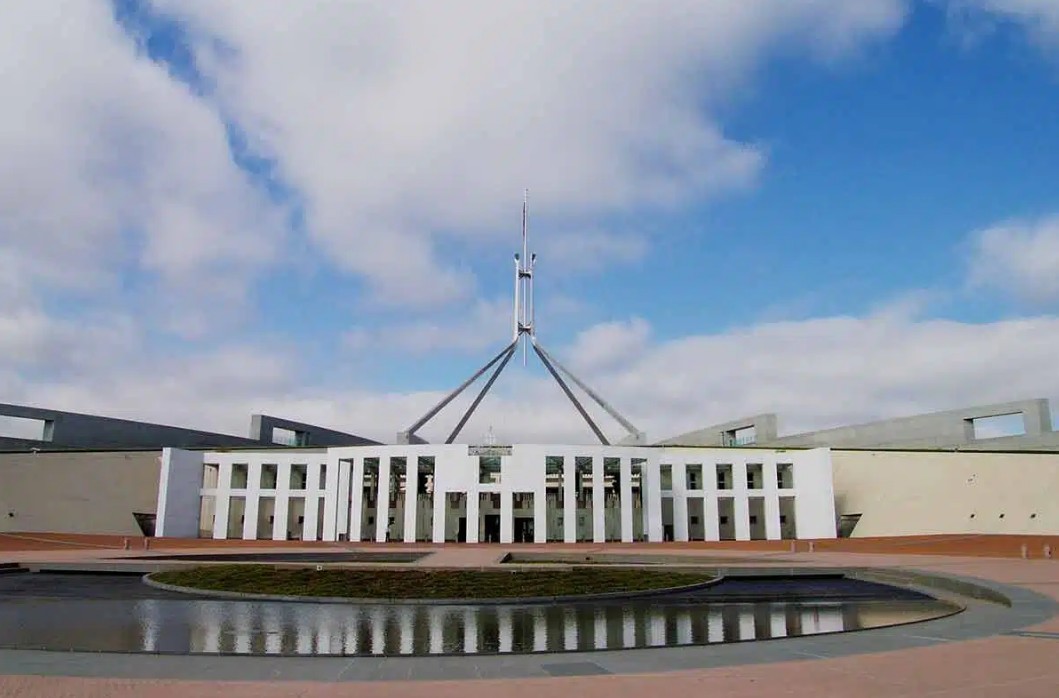 The Australian Parliament House is the place where the most important events are held. The building is like two boomerangs, and there is a high flagpole on its top.
Parliament House has 4,700 rooms, and most of them are working daily for the public. You can see Australia's finest historical treasures and contemporary art in the parliament's galleries.
Australian landmarks list of other famous places in Canberra can be continued.
National Gallery of Australia – evolves collection of over 170,000 works of art by more than 15,000 artists.
National Museum of Australia – preserves and interprets Australia's social history, exploring the key issues, people, and events that have formed the nation.
Questacon – National Science and Technology Center – an interactive center of scientific communication with interactive exhibits related to science and technology and many scientific programs designed to inspire children to love science.
National Library of Australia – preserves Australian heritage for the past, present, and future to discover and understand the Australian story.
What is the oldest Australian landmark?
It's impossible to name only one or two of the oldest landmarks in Australia. There are a lot of them.
Uluru Rock, Uluru Kata Tjuta National Park
Uluru Rock (Ayers Rock) is one of the largest oval-shaped monoliths in the world. It's a spectacular natural Australian landmark formed more than a billion years ago of red color sandstone.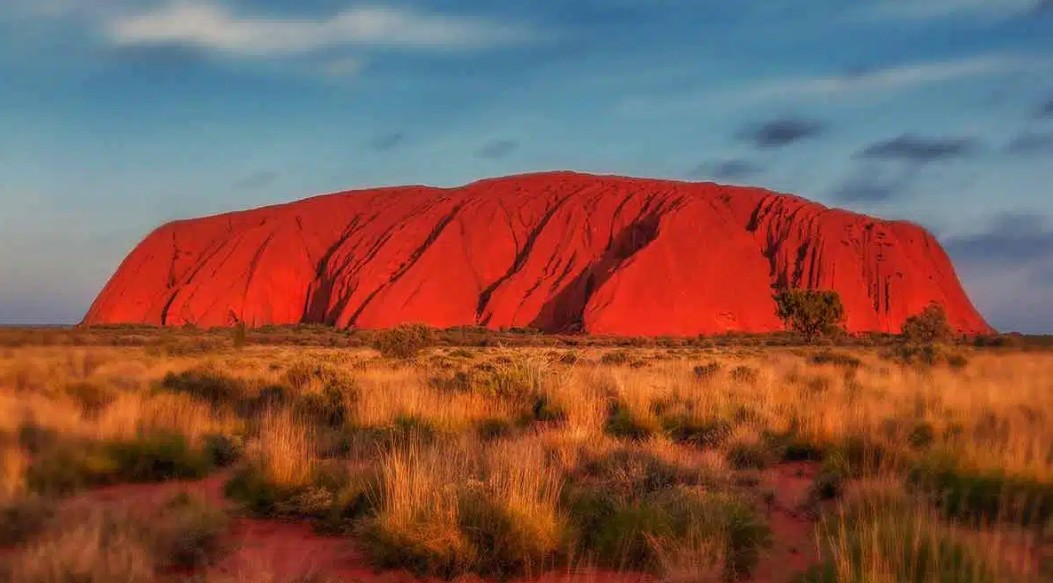 This iconic natural rock wonder comprises rare plants, unusual animals, religious sites, and caves where walls are covered in ancient rock paintings.
Amazing gorges, great canyons, deep craters, and waterfalls are everywhere among the steep dry mountain ranges around Uluru.
Ayers Rock is a holy place for the Anangu (Aboriginal people of this area) for more than 550 million years.
Visitors are required to respect the culture. That's why, since October 2019, it's prohibited to walk or climb on this holy rock.
Great Ocean Road
The Great Ocean Road (Surf Coast Highway) is an Australian National Heritage site. It's perfect for a long road drive trip along the coast bringing unforgettable feelings of adventure.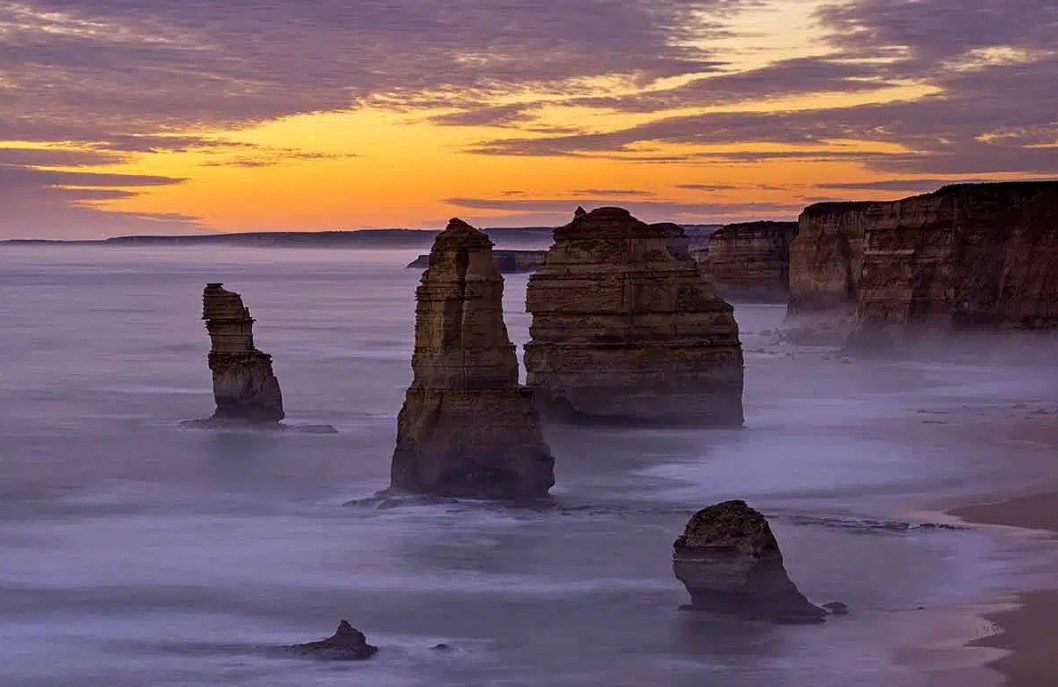 There are many scenic places, such as the Port Fairy fishing village, the iconic limestone riding crops of rocks known as the 12 Apostles in Port Campbell National Park, Loch Ard Gorge, the Bay of Martyrs, the waterfalls of Great Otway National Park, and the Apollo Bay.
The 12 Apostles, which are twelve limestone monuments that protrude from the Southern Ocean, are incredible formations hewn out of a rock. They are 15 to 20 million years old and are the highlight of the trip.
Kakadu National Park
Kakadu National Park is the largest national park in the Northern Territory of Australia.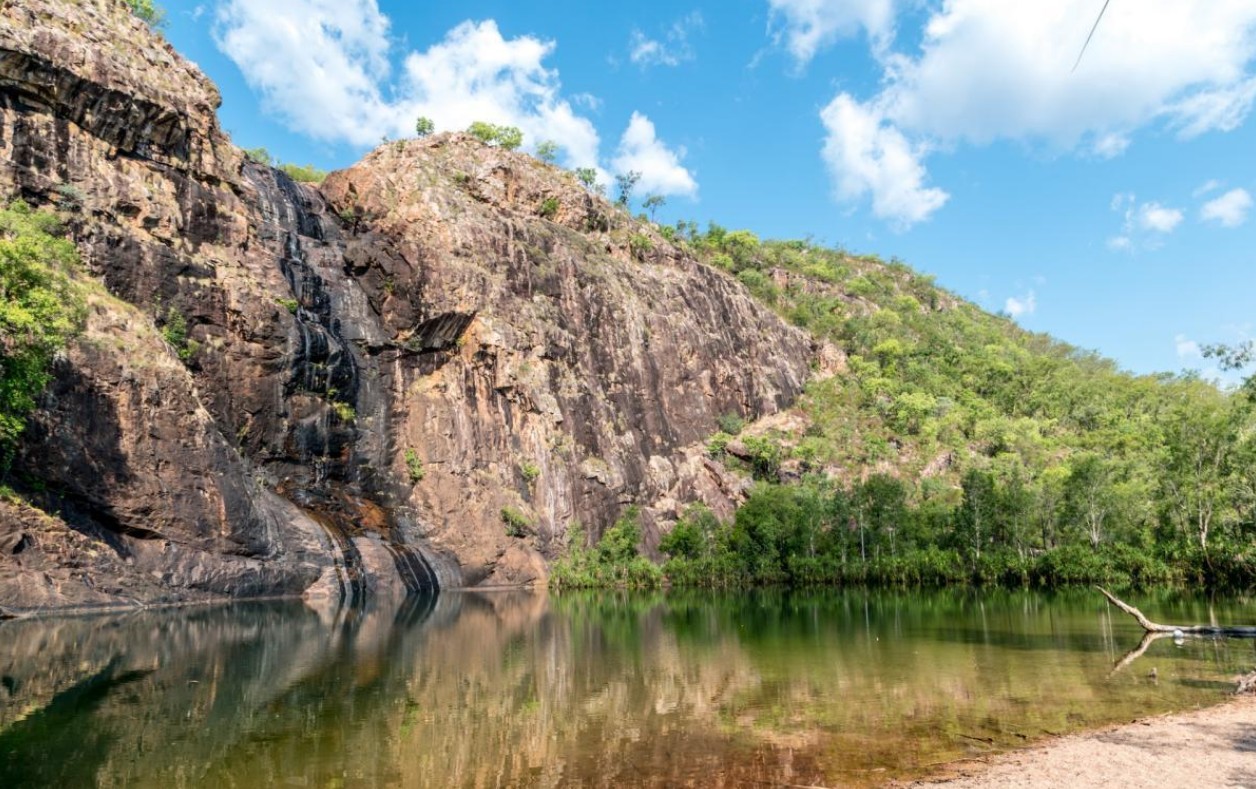 It's been a World Heritage-listed area since 1981. You can admire refreshing waterfalls, rainforests, wetlands, exotic animals, and the world's oldest aboriginal rock art.
Visit the park and learn about Australia's ancient cultures, go on a river tour to watch crocodiles, explore nature, and dive in the pool.
It's a unique place in the world made of cliffs, and waterfalls and has a very varied fauna.
You can watch thousands of species of insects, freshwater fish, amphibians and reptiles, crocodiles, snakes, and over 280 species of birds.
Blue Mountains
The Blue Mountains is a World Heritage Site and is another great landmark in Australia. They are a part of the Great Dividing Range, Australia's longest mountain range.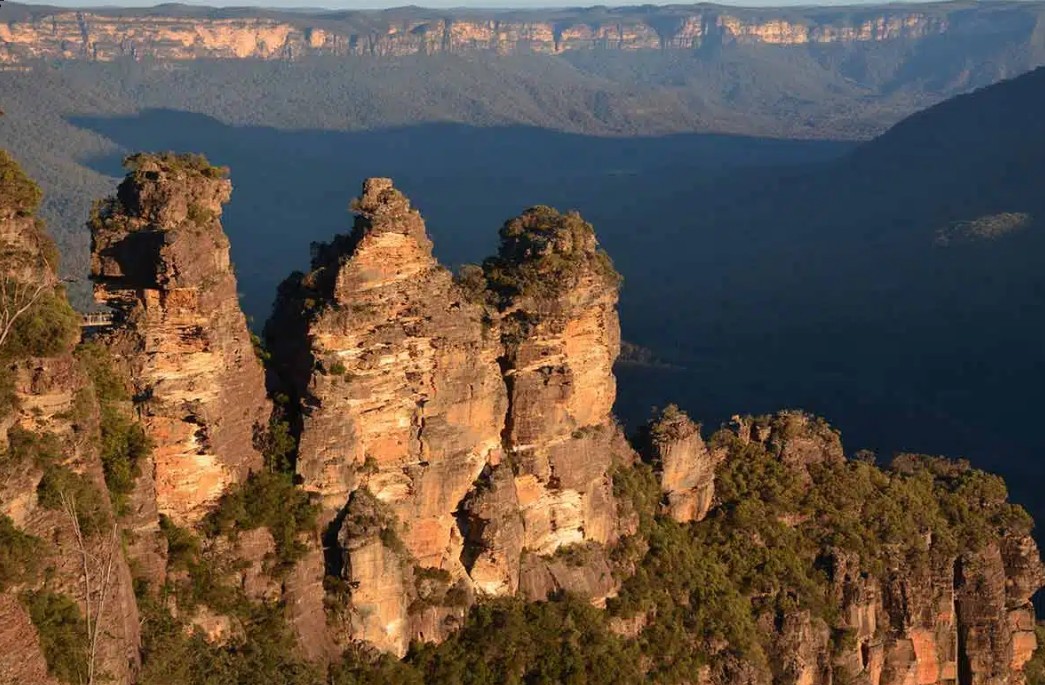 The Blue Mountains National Park covers an area of one million hectares. The whole area is filled with tall eucalyptus trees, sandstone cliffs, waterfalls, streams, and canyons. Several well-marked walking trails go through gorges and caves.
You can climb to the top of the Blue Mountains, to Echo Point or Three Sisters. These stunning rock formations rise high above the Jamison Valley.
The three sisters (Michni, Gunnedu, and Wimla) are three vertical pillars. The Three Sisters are one of the most visited natural landmarks.
The story of the landmark refers back to an Aboriginal legend about three sisters who were turned into stone.
Besides, there you can watch some rare animals such as possums or kookaburras.
The Pinnacles Desert, Western Australia
The Pinnacles Desert is situated in Nambung National Park which is not far from Perth. An amazing landscape is formed with limestone formations that are a result of millenary erosion.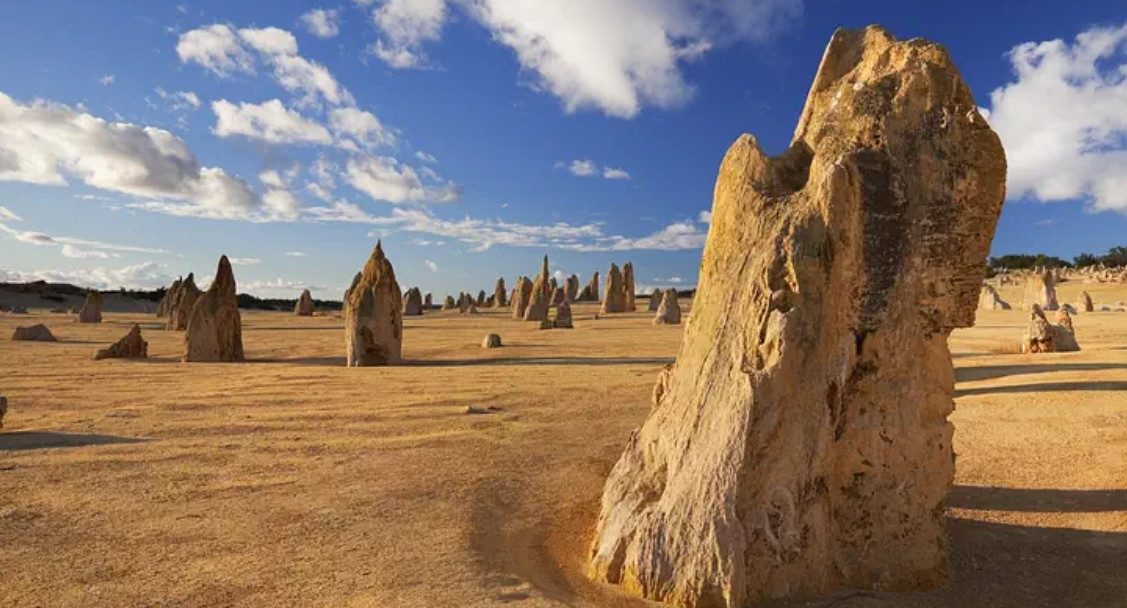 The highest and the sharpest stones reach up to 5 meters.
Geologists assume that these formations were formed about 30,000 years ago.
There is a large discovery center in the park where you can find out everything about the geology of the Pinnacle Desert formations and the history of the area. Besides, there you can encounter kangaroos, lizards, and emus.
Visit the Pinnacles Desert in springtime when the wildflowers and acacias are in bloom.
The Pinnacles Desert is one of the oldest and the most famous natural landmarks in Australia and is considered to be Western Australia's most-visited attraction.
Flinders Street Railway Station, Melbourne
Flinders Street Railway Station in Melbourne was opened in 1854 and was the first in Australia.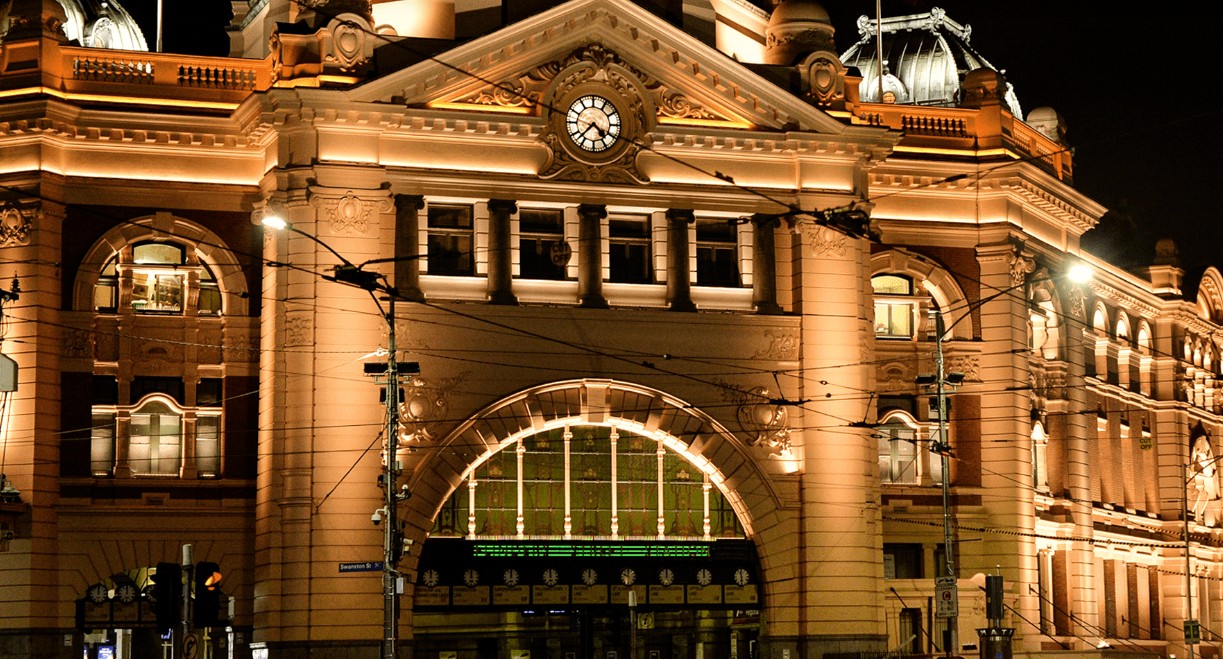 It became the busiest train station in the world in 1926 and surpassed Grand Central Station in New York and London's Liverpool Street Station.
Today, it enchants visitors with its original exterior and green copper roof.
This historic iconic Australian landmark is also listed on the Victorian Heritage Register for having a long railway platform that is in fourth place in the world.
Daintree National Park
Daintree National Park is located in Queensland. It's a famous landmark with the oldest rainforest which ranks third in the world with unique flora and fauna.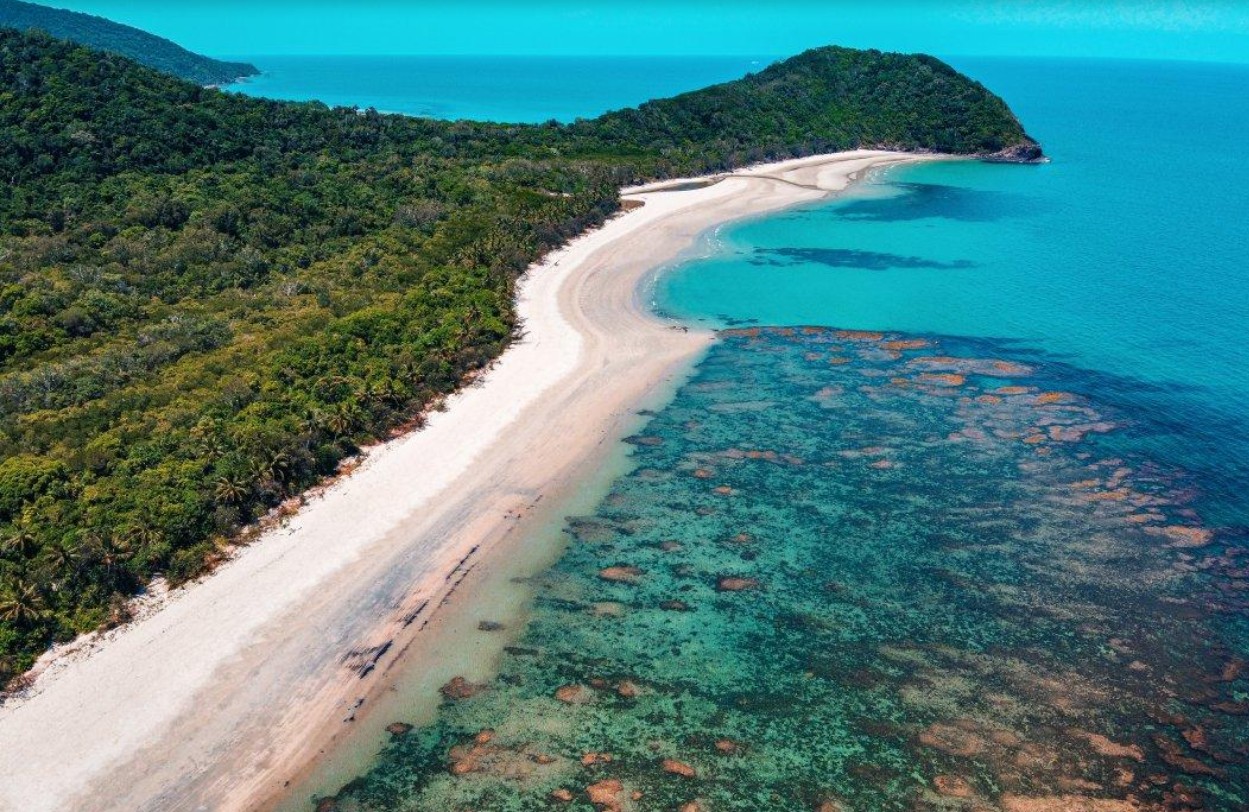 It is also listed as a UNESCO World Heritage Site.
The Daintree National Park is a native place to thousands of rare plants and unusual animals, including crocodiles, frogs, snakes, lizards, bats, and more. It is also a paradise spot for birds and bird watchers.
There are a lot of activities to do including watching saltwater crocodiles on a Daintree River tour, moving through the tropical thickets of the rainforest, and flying through the trees on a zip-line.
It's famous and the most visited landmark in Australia.
Karijini National Park, Western Australia
Karijini National Park (formerly Hamersley Range) in Western Australia is the second largest park north of Perth. Its landscape was formed more than two billion years ago.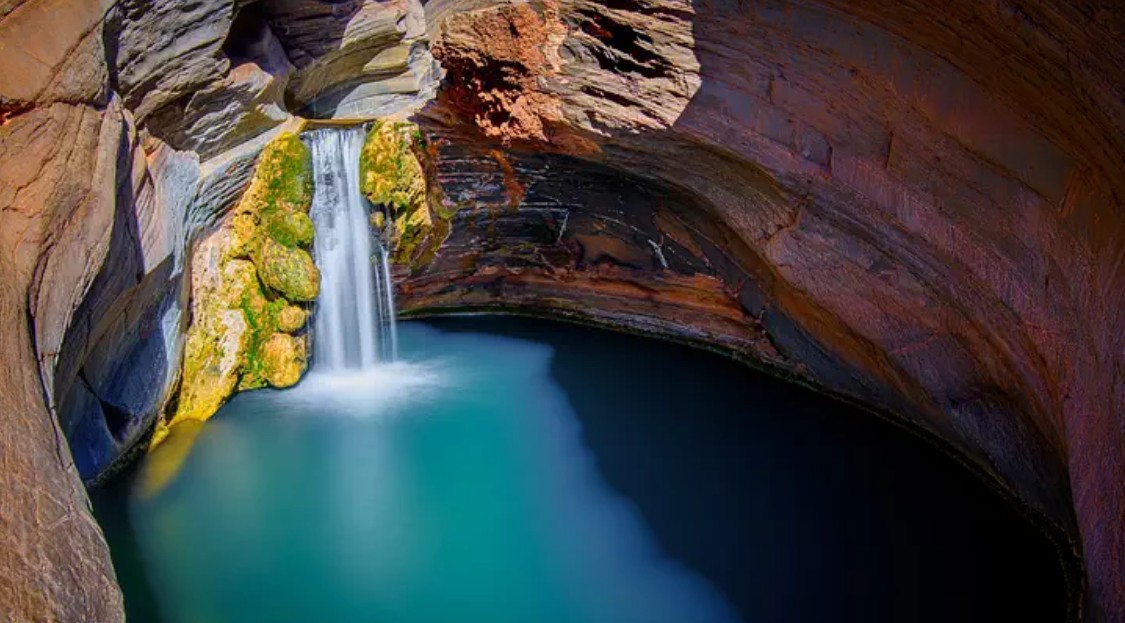 It's a great place for adventurers with ancient cavernous gorges, the oldest rocks on Earth, and cascading waterfalls.
You can also try the 'spider man walking' in the park and navigate through an extremely narrow gorge and plunge into a pool surrounded by natural walls.
If you want to get unforgettable impressions, then this impressive Australian landmark is for you.
Olive Pink Botanic Garden
Olive Pink Botanic Garden is a 16-hectare botanical garden in Alice Springs in the Northern Territory of Australia, where plants that grow in the waterless region of central Australia are grown.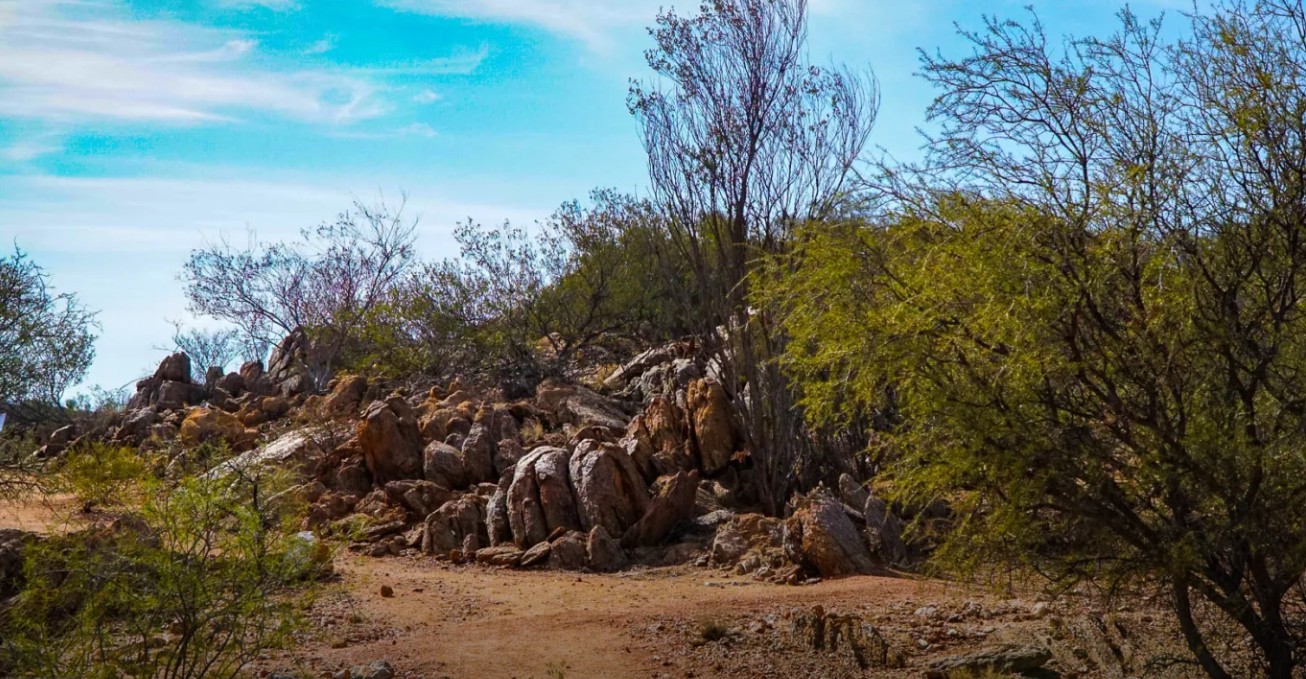 It was developed in the 1950s and now is home to different species of cacti, various garden flowers, shrubs and bushes, and trees native to Australia.
In the Botanic Garden, you can climb up the hill that provides breathtaking views of the area from above.
You can also go to other walking paths and walk through shrubs and flowers, learning more about the history of plants.
After long walks, you can have a rest in the shade or visit the information center and a cafe.
Port Arthur Historic Site, Tasmania
Port Arthur is located on a remote Tasmania island. It was established in 1830 as a logging that was converted into Australia's largest prison colony in 1833.
It's surrounded by water on three sides and isn't escapable. It was Australia's version of Alcatraz prison for Australian arrestees with heavy sentences.
It is known for users to have the most severe punishments in the country. That's why many prisoners died and were buried on a small nearby island (the Isle of the Dead).
Now it's a UNESCO World Heritage Site and one of the most famous landmarks in Australia which tells the history of the convicts' hard daily lives.
Maybe, it's not an enjoyable place for visiting but is a reminder of the country's dark past.
In the 1890s, several breakings and destruction caused by fires and earthquakes left the foundations hollowed out. In 1996 it became scandalous for killing over 30 visitors to Port Arthur by a gunman.
Nowadays, Port Arthur is a prison museum, a separate prison for punishments, a church, a cafe, and a souvenir shop.
There you can go on a ghost trip having only lanterns, visit the museum, or walk through the ruins to find out about the history of the Australian nation.
Sovereign Hill
Sovereign Hill is a converted mining town located in Ballarat, Melbourne. It was founded in 1850. Now it is an open-air museum that turns you back in time and gives you a chance to experience the Australian gold rush.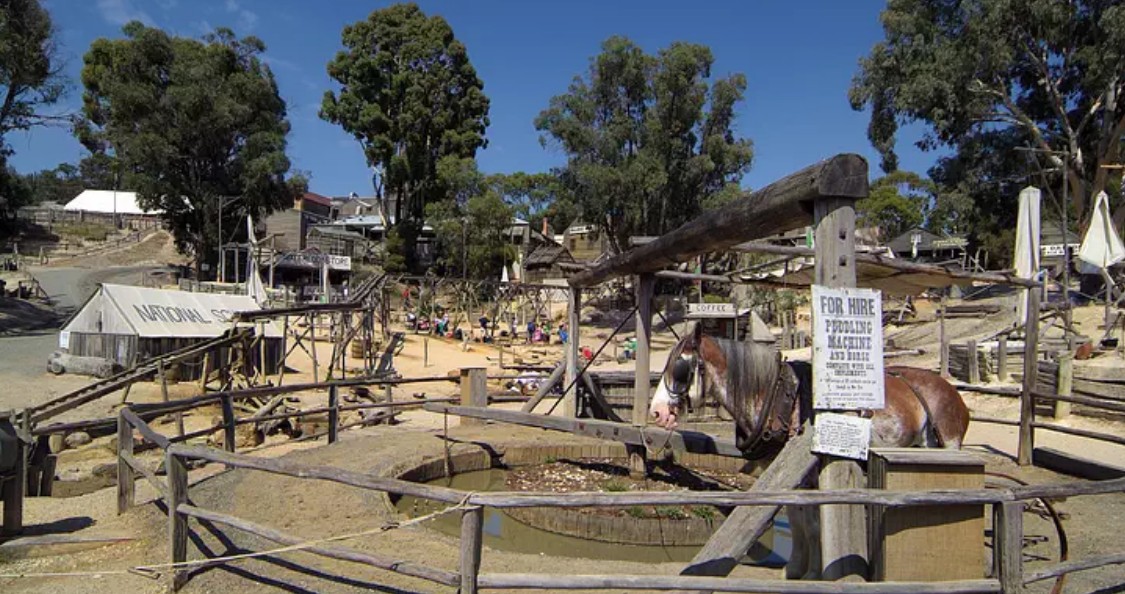 Sovereign Hill is one of the iconic Australian landmarks where you can enter an underground gold mine, play a gold digger and try your luck at the gold sand source wash, meet costumed characters and carriages of that time, talk to artisans, and visit the confectionery factory.
Shark Bay
Shark Bay is located in the Gascoyne region of Western Australia. It received the status of a UNESCO World Heritage Site in 1991.
Shark Bay is one of the most famous Australian landmarks that is known for its rare plants. It also has the most stable population of dugongs in the whole world, the oldest fossils on Earth, and the well-known Shell Beach.
It's also home to humpback whales, pelicans, turtles, and shark species.
Wineries of Yarra Valley
Yarra Valley is the oldest of Vicrotia's Vineyards region not far from Melbourne. It is known for its vineyards where famous vines like chardonnay and pinot noir are produced.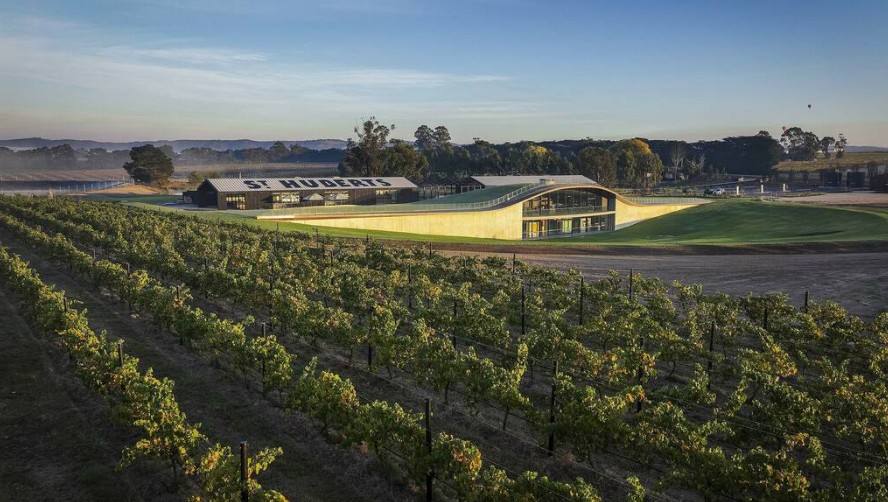 The valley has many wineries that offer remarkable tours and fine dinner packaged meals. During the tour, you can wander around the 19th-century wine cellars, taste the best wine, and enjoy a meal with a great view.
Other famous landmarks in Australia in brief
Kangaroo Island
Kangaroo Island is one of the most natural famous landmarks in Australia. The island is the third-largest island after Tasmania and Melville Island (Tiwi Islands) in the country.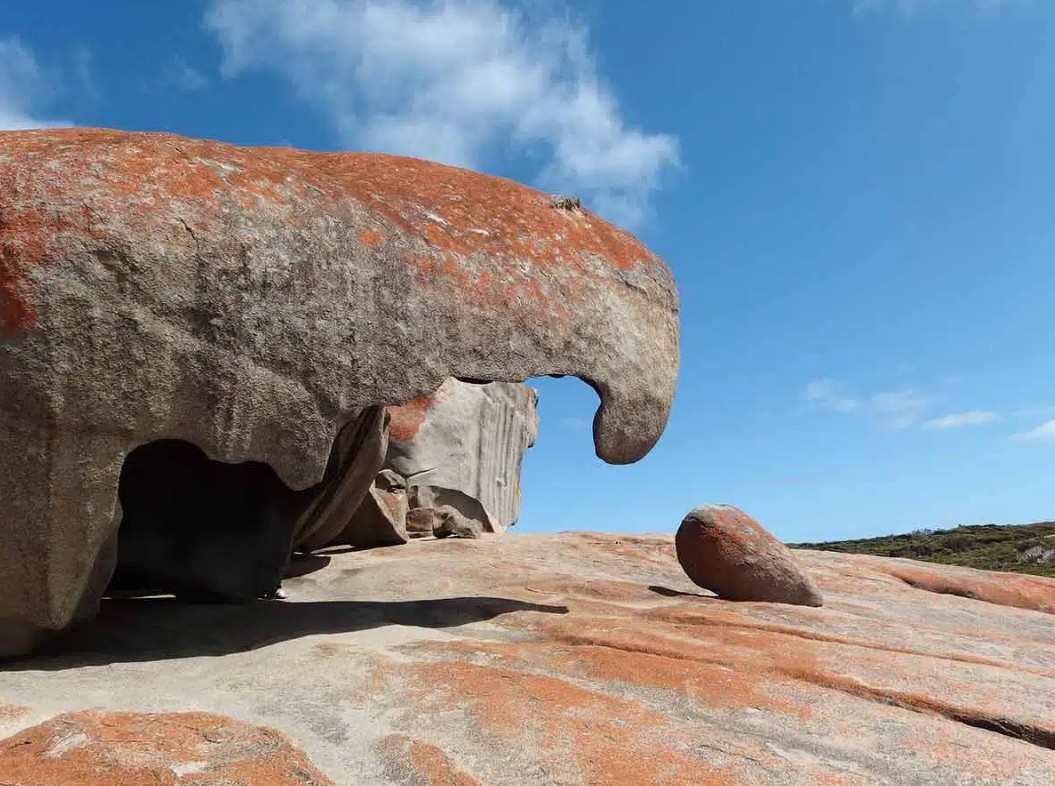 The island is very popular for its restaurants with seafood meals, local breweries, exciting walks, and wildlife.
During your visit, you can watch kangaroos, cute koalas, echidnas with their unusual short beaks, and endangered sea lions in their habitat.
Fraser Island
Fraser Island is located off the coast about 300 km north of Brisbane, Queensland.
This sandy island is the largest in the world. The fauna and flora are unique. You can swim in clear water lakes and enjoy the rest on the east coast beaches.
Among the best places on the island is Maheno Shipwreck. It was washed ashore on Fraser Island by a cyclone in 1935. Since then, wreck remains are a popular tourist attraction.
Lord Howe Island
Lord Howe Island is a real paradise spot in the Tasman sea. It's a small volcanic island in a shape of a boomerang and known for its white-sand beaches, wildlife, and the virgin landscape.
The island is only 11 km long and 2.8 km wide. The best way to get around the island is to cycle or just walk.
Watarrka National Park
Watarrka National Park is situated in the Northern Territory of Australia continent. It's a reserved and well-protected area of nature with picturesque landscapes, unusual animals, rare plants, gorges, and rock holes.
The park is mostly known for Kings Canyon. It is filled with adventurous hiking trails for beginners and advanced hikers.
But for all members of the family, it is better to try the Kings Creek or Kathleen Springs Walk during which you can find out about local aboriginal history.
Rottnest Island, Western Australia
Rottnest Island is located about 18 km off the coast of Western Australia. It's one of the most popular landmarks in Australia among locals. It's a car-free island where you can get away from busy city life.
Rottnest Island with about 63 white sand beaches is perfect for snorkeling, diving, and surfing. The island is home to the Quokka, which you can't find anywhere else in the world and to humpback whales.
FAQ
What are 3 famous man made landmarks in Australia?
Many man-made landmarks have already been named higher. But at the same time, there are some of them which are still not mentioned.
Bondi Beach Rock Pools
Bondi Beach in the shape of a crescent moon with white sand is a famous landmark about 7 km from Sydney.
Walking from the famous beach Bondi to Coogee Coastal is one of the best things to do there. It's a perfect place for sunbathing, surfing, swimming, and coastal walks.
The world's oldest surfing clubs and swimming clubs are there on Bondi Beach.
Bondi Beach with its amazing waves is a top place for surfers. It is also a well-known place for watching whales and dolphins.
You can also head to the rock saltwater pool (Iceberg) with the unique landscape and enjoy great views over the beaches of Tamarama and Bronte that attracts tourists and photographers from around the world, visit one of the beach cafes, big golf course, or swimwear boutiques.
Paronella Park
Paronella Park is a man-made castle located in Mena Creek, in the tropical part of Queensland. It was designed and built in the period from 1929 to 1935 by Jose Paronella.
Today, Paronella Park is a heritage-listed attraction that welcomes hundreds of tourists a day who wants to explore its unique architecture and exotic nature.
There are massive tennis courts, ponds, bridges, and many unique tropical plants in this amazing park. You can also have a chance to enjoy a picnic by one of the waterfalls.
Brighton Bathing Boxes
The Brighton Bathing Boxes are one of the most famous landmarks in Brighton, Australia. The boxes are colorful wooden Victorian beach huts. They are located on Brighton Beach and were first made for women to change their clothes before swimming.
Today, different people own them and use them as warehouses or art shops. But all the bathing boxes are still keeping their classic Victorian architecture.
Conclusion
Visit Australia and as many of the most recognizable Australian landmarks as you can. There are so many natural wonders and man-made landmarks that it's even impossible to count.
But many Australian landmarks which are the most popular are described in this article.
Visit this continent and learn about its interesting history and picturesque nature.
Imagine yourself as an explorer, like Captain James Cook or Willem Janszoon, and find out about the amazing world of Australia.
If you need to read about, the 8 best beaches on Koh Tao, please read our article.